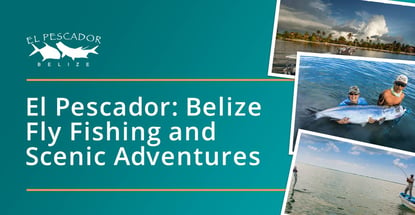 In a Nutshell: Even when we aren't writing about credit cards here at CardRates, we're often dreaming of great ways to cash in credit card rewards. And applying our credit card rewards toward unique getaways is one of our favorite ways to make our credit cards work for us. Recently, we learned about the El Pescador fly-fishing resort in Belize. The resort offers one of the world's best fishing spots for year-round bonefish, permit, and tarpon. It also provides plenty of reef-fishing opportunities for those who want to keep their fishing more traditional. But, El Pescador is much more than a place to fish. The family-friendly resort has all kinds of activities available to please everyone in the family, whether it's relaxing on a picturesque tropical island or exploring Mayan ruins.
They say a bad day fishing is better than a good day working. But when you're shoving off from a picturesque beach in Belize, there may not be such a thing as a bad day fishing.
As credit card enthusiasts, we're always looking for great ways to cash in on our credit card rewards, whether it be swapping in points for cash to buy cool products or turning those points into travel discounts. Admittedly, we're also travel enthusiasts, so when we come across notable or unique destinations we love the opportunity to share them with readers.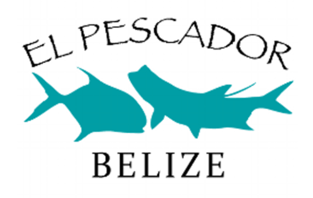 We recently learned about El Pescador, a fly-fishing resort in the scenic Central American country of Belize. But if angling isn't your angle, don't turn away just yet. The resort, located on Belize's Ambergris Caye, offers memorable experiences for the whole family without even having to cast a line.
We spoke with Christine Gentry-Spiro, one of the owners of the family-run resort, to learn more about El Pescador, fishing in Belize, ancient ruins, and picture-perfect beaches, among other things.
Gentry-Spiro's son and daughter purchased El Pescador from the resort's original owners in 1997, Gentry-Spiro said. And, by 2004, Gentry-Spiro and her husband Steve retired from their careers in the U.S. and joined their family in Belize to help run El Pescador.
"It is very much a family-run operation," Gentry-Spiro said. "And, it continues to grow. Yet, we remain focused on our core identity as a fishing lodge — nurturing of friendships, stewardship of nature, love of sport fishing, and all outdoor activities."
But, as we learned, El Pescador is also much more.
Anglers Can Enjoy Unique Fly-Fishing Opportunities
Gentry-Spiro discussed the unique fishing experiences available at El Pescador, including the opportunity to catch bonefish, permit, and tarpon. She said that El Pescador may be one of the only resorts in the world that has a year-round population of all three of the saltwater fish. She said that the flats surrounding El Pescador are one of the few locations in the world that have a year-round population of all three of the saltwater species that constitute the coveted "Gland Slam."
"At El Pescador you can achieve the angler's ultimate dream — a grand slam of bonefish, tarpon and permit," according to the resort website. "Belize's shallow water contains the only classic tarpon flats outside South Florida. Our flats are world-renowned for offering the opportunity to sight cast to tarpon 12 months a year."
For those unfamiliar, advanced anglers enjoy the challenge presented by catching certain species, and permit and tarpon are certainly among those. Gentry-Spiro said even novice anglers have a good chance of catching a bonefish during their stay.
"We're also very proud of the fact that Belize was the first country in the world to legislate catch and release practices for those three protected species," Gentry-Spiro said. "My daughter was very instrumental in making that happen. And since the legislation was passed in 2009, we've seen increasing numbers and relative size of all three species."
Gentry-Spiro said that, while saltwater fly fishing is not as well known as other types of fishing, it is practiced all over the world. But, for anglers who aren't ready to tie a fly, she said there are plenty of other fish to be caught as well.
"We offer really fun reef fishing for jacks and snapper, and other kinds of fish for the table, which you can catch and eat." she said.
Fun for the Whole Family, Including Picturesque Beaches, Mayan Ruins, and Eco Adventures
"I think something that sets us apart a bit from other world-class fisheries is that, often they are not venues where you could bring your family — your non-angling spouse or children," Gentry-Spiro said. "But we really do specialize in full family adventures."
She said that, in most cases, there is at least one member of the party that visits El Pescador who is very much into fishing. But, there is no shortage of activities for those who aren't as interested in reeling in fish.
"We may get a group of 10 diehard fishermen or it could be a guy with three little kids and a wife who have no interest in fishing, but he wants to fish a couple of days and spend the rest of the time with his family," Gentry-Spiro said.
For the non-anglers in the group, perhaps the most obvious attraction is simply the resort itself, with its access to the scenic beaches and tropical paradise vibe.
"And if you have a spouse that wants to learn how to dive or kids that are interested in learning about Mayan history and culture, or if you just want a massage, we offer all of this," Gentry-Spiro said.
Ambergris Caye is located about 30 miles off the coast of mainland Belize, Gentry-Spiro said. But visitors can easily take a day trip to the mainland and explore Mayan ruins.
Visitors can also choose from a wide range of eco-adventures during their stay, including parasailing, jungle exploration, kayaking, sailing, and snorkeling. And the El Pescador staff will arrange all the details, Gentry-Spiro said.
An Array of Accommodation Options and Packages, Including Private Villas and the Main Lodge
As with the array of activities available to El Pescador visitors, the resort also offers a wide range of options when it comes to accommodation.
Gentry-Spiro said that generally speaking, most visitors book their stay by selecting one of the resort's all-inclusive packages, but visitors can book one of El Pescador's private villas at nightly rates. The biggest value comes through the inclusive packages, she said.
"If you're staying at the lodge, it includes transfers from Belize International Airport to El Pescador, it includes three meals a day and complimentary hors d'oeuvres in the afternoon. It includes your local alcoholic beverages like beer or rum drinks. Then, your activities are an add-on to that."
So, people who just want to relax on the beach and enjoy an all-inclusive resort stay can do just that. And, when it comes to adding on the activities, Gentry-Spiro said there is a wide variety of combinations El Pescador can accommodate.
"We customize anything you wish," she said. "If you visit for six days, you could fish two days or five days, or you could dive three days and fish two days — whatever you want."
The resort is located right on the beach and has three pools, a restaurant, and a full bar.
"Each of the 14 main lodge guest rooms looks out to the sea and are just steps away from our swimming pool adjacent to the beach," according to the resort website. "All rooms have private baths, overhead fans, and air-conditioning."
And, Gentry-Spiro said that only about 200 yards from the shore is the second-largest barrier reef in the world, second only to Australia's Great Barrier Reef.
"The camaraderie that's created around the lodge has become an important piece of who we are and what our guests really enjoy," Gentry-Spiro said. "Many of our guests have come back year after year and try to come back with friends they've made, originally at the lodge. It's a very fun thing to see."
So, if you have some credit card rewards burning a hole in your pocket — and whether you're an angler or not — turning them into cash for a getaway to El Pescador may be worth considering.
Advertiser Disclosure
CardRates.com is a free online resource that offers valuable content and comparison services to users. To keep this resource 100% free, we receive compensation for referrals for many of the offers listed on the site. Along with key review factors, this compensation may impact how and where products appear across CardRates.com (including, for example, the order in which they appear). CardRates.com does not include the entire universe of available offers. Editorial opinions expressed on the site are strictly our own and are not provided, endorsed, or approved by advertisers.