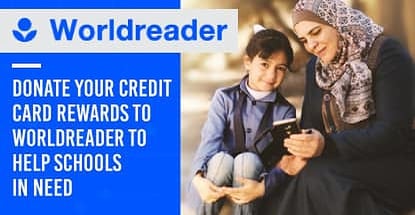 In a Nutshell: Reading is a luxury that many people take for granted. Books, whether printed or electronic, are readily available to most Americans through libraries, schools, and retail shops. But for many people in developing countries, books are a luxury that are not a part of everyday life. Worldreader is a nonprofit that works to electronic bring books via existing devices such as mobile phones and e-readers to parts of the world that lack regular access to them. Donations to Worldreader, which many credit card companies expedite through the use of rewards points or cash back, help fund reading programs as well as the purchase of e-readers and books for schools and public libraries. Worldreader selects donation recipients through a strict application process and provides materials that are relevant to the' specific needs of the recipient. To date, over 8.7 million people across 48 countries have read from Worldreader's digital library of over 35,000 local and international e-books. //
Some of my fondest childhood memories came from trips to the local library to choose my next book to read. The aged wooden shelves seemed to stretch for miles with limitless options for adventures, mysteries, or a good laugh.
If it weren't for those trips, and the occasional treat when the bookmobile would stop in my neighborhood, I probably wouldn't be a writer today. I'd hate to think of what I would have done without those books.
I am fortunate enough that I never had to consider a life without something to read or a library around the corner. Such luxuries are easy to take for granted. For many people in developing countries, these luxuries simply don't exist.
Worldreader is a global nonprofit with a mission to improve the world's access to reading materials. Monetary donations to the organization provide students and their families with a free digital library available on e-readers and mobile phones, complemented with a suite of programs that help support emerging readers.

Since 2010, over 8.7 million people across 48 countries have read from Worldreader's digital library of over 35,000 local and international e-books. The nonprofit works with device manufacturers, local and international publishers, government agencies, education officials, and local communities to support readers everywhere.
Worldreader recently released the results of its two-year Read to Kids study it conducted in India. The study found that reading on mobile devices was not only affordable and scalable, but that reading to a child from an early age vastly increased vocabulary and nurtured a love for reading.
If you've accrued credit card points or cash back rewards, donating to Worldreader to help children foster a love for reading may be easier than you think. Many credit card issuers make it easy to make tax-deductible charitable donations using rewards online. Others provide alternate ways to give.
Over 8.7 Million Readers Across 48 Countries
Worldreader provides e-reading solutions to schools and libraries through its BLUE Box initiative. Each BLUE Box contains50 e-readers loaded with 100 culturally-relevant books curated to meet the needs of the recipient, chargers and cases, project management tools, and technical assistance to ensure a lasting impact.
"This is based on the understanding and experience of school attendance levels, and how these devices can be shared in the institution — either housed in the school library or moving among classrooms," said Nadja Borovac, Director of Communications at Worldreader.
Worldreader also works on customized school projects in cases where a BLUE Box may not be large enough to meet the needs of the school's population.
"We look at the number of pupils who will be accessing the devices, and ensure that there is no more than a 3:1 student-to-device ratio within classrooms," Borovac said. "For instance, if the project is focused on schools with 180 primary students, and there are 60 students in each class, we would recommend 20 devices per school. This would allow each class of 60 to have a 3:1 student-to-device ratio, with the devices rotating among classrooms."
For libraries, Worldreader aims for no more than a 20:1 patron-to-device ratio. Each school and library must first pass a strict application and vetting process before receiving devices or books.
"When we have an interested school, they fill out a sponsorship application with their interest in the program, their needs, their infrastructure, and security measures they're taking," Borovac said. "This is to ensure that they have the capacity to manage and sustain an e-reading program there."
Custom projects typically include more components than just digital reading, such as academic and personal support, or health and wellness programming. Worldreader works with multiple partners to ensure those projects receive everything needed to guarantee success.
"Since 2010, we've reached over 26 million people with digital books," Borovac said. "By 2020, we will increase this to nearly 40 million."
Books that Serve Readers Across the Literacy Spectrum
Worldreader doesn't add just any book to its e-reading library for schools and libraries. The nonprofit looks for books that enhance the school's existing curriculum and suit a classroom setting. In total, the digital library offers books in 43 languages.
"We acquire books with the aim of serving readers across the literacy spectrum," Borovac said. "We always acquire books with an audience in mind and recognize that the preferences and needs of individual audiences will vary."
Use Your Rewards in a Rewarding Way
Worldreader is primarily funded through monetary contributions from donors around the world. The nonprofit's premier donor engagement opportunity is its BLUE Box program, which allows a donor to sponsor an e-reading program in a school in Kenya. Donors can sponsor a BLUE Box for $15,000.
"We also have our Digital Book Drive," Borovac said. "For $1, a donor can send a book to a student in one of our e-reading programs in either Ghana or Kenya."
Donors can also donate directly to Worldreader via www.worldreader.org/donate.
In 2017, Worldreader partnered with The Queen Rania Foundation to launch the Worldreader Read to Kids / Tuta Tuta Project, which provides Syrian refugee families and host communities in Jordan wutg free access to the nonprofit's mobile phone app.
The project, funded by the Stavros Niarchos Foundation, will work with schools, informal learning centers, and community-based organizations to bring 250 high-quality Arabic children's books to families on the app. The project will also promote discoverability of the collection through a digital reading campaign aimed to impact 30,000 households.
"The project will allow us to reach thousands of families impacted by the Syrian refugee crisis enabling parents to provide educational support to their children and help them reach their full potential, bringing us one step closer to creating a world of readers," Borovac said.
Advertiser Disclosure
CardRates.com is a free online resource that offers valuable content and comparison services to users. To keep this resource 100% free, we receive compensation for referrals for many of the offers listed on the site. Along with key review factors, this compensation may impact how and where products appear across CardRates.com (including, for example, the order in which they appear). CardRates.com does not include the entire universe of available offers. Editorial opinions expressed on the site are strictly our own and are not provided, endorsed, or approved by advertisers.