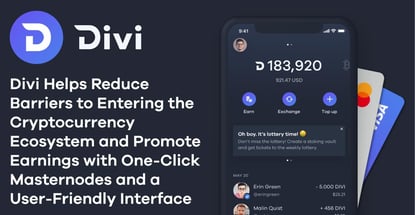 In a Nutshell: The idea of cryptocurrency is more widespread among the general public than it was just a couple of years ago. But many people are still unaware of the technical aspects of how it works, much less how to use it. The Divi Project is working to reduce those barriers by creating a user-friendly experience that allows nearly anyone to set up a master node and begin earning with the click of a button. And its forthcoming smart wallet will remove the pain points of the crypto transaction process so users can focus on their end goals and not the technical details that get them there. The company is working hard to promote the widespread adoption of cryptocurrency in the coming years, through both its innovative technology and its strong community of supporters.

Cryptocurrency is in a strange place.

On one hand, digital currencies seem ubiquitous in the news as price fluctuations are met with a deluge of articles featuring experts speculating on the staying power of crypto.

On the other hand, any action beyond purchasing and holding crypto is a mystery to many consumers.

Part of the problem is that cryptocurrency and blockchain technology are simply new concepts. And, as with many new developments, early adopters must have a bit more technical knowledge than the average person to understand and utilize the emerging tech.

That's why the Divi Project is working to make the benefits of cryptocurrency accessible to anybody. In fact, the company's motto is "Cryptocurrency made easy."

"Think of it this way: cryptos currently are like MS-DOS in the early 1980s. The Divi Project is bringing the user experience of Apple with the social genius of Facebook in its blockchain/smart-wallet system," according to the company white paper.

We recently spoke with Divi Co-Founder and CIO Nick Saponaro about the company's background, the innovative technology it's introducing to the blockchain ecosystem, and the future of Divi.

"We started out in 2017 with one goal in mind, which was to make digital finance more accessible to everyone — specifically cryptocurrency, of course, which is still, to a pretty major extent, inaccessible to non-technical users," Saponaro said.

With more traditional companies such as PayPal providing a pristine user experience, companies like Divi must strive to make something as good or better, he said.

Nearly Anyone Can Set Up a Masternode with Ease and Start Earning with Divi

One of the Divi Project's most innovative contributions to the crypto space is its creation of master nodes that anyone can use. Saponaro said this is an important component because it gets to the heart of what many crypto users are interested in — earning.

"We've developed the first one-click master node deployment," Saponaro said. "The concept of master nodes is very similar to mining. You're basically running a computer program that pays you back in cryptocurrency — in this case DIVI (the company's crypto token) — for supporting the network and helping verify and secure transactions on the blockchain."

Saponaro said the Divi Project's master node implementation makes the whole process much simpler.

"We created a mechanism that allows you to not have to learn any of that," he said. "You just click a button, pay a monthly fee, and you're off to the races earning crypto in about 12 minutes."

The company's master nodes system features five levels of increasing awards as well as lottery blocks — once a week a block is mined that awards a jackpot to several Divi stakers.

Divi's solution has held its ground in the crypto market as the best approach for deploying a master node, Saponaro said.

"Our 100% PoS master node technology is leagues ahead of anyone else. For the first time, anyone without technical skills can set up a master node at home or in the cloud with a click," according to the white paper. "It's like Uber for your computer and anyone can earn an income by joining and supporting the Divi network. Using this technology, we build a strong network to process DIVI transactions."

Saponaro said the company will be implementing an updated version of the master node technology that will make it even faster and simpler in the near future.

A True Crypto Wallet Will Include Features to Secure Personal Funds and Implement Multiple Signatures

The Divi Project's next contribution to simplifying crypto will be its user-friendly smart wallet. The company is planning to launch the wallet in early 2020 but is not announcing an official date at this time, Saponaro said.

"Our new blockchain allows us to socialize and humanize financial experiences by hiding the 'crypto' underneath a sweet user interface," according to the company white paper "This 'Smart Wallet' is being designed to remove all the 'pain points' that currently prevent ordinary people from getting excited about cryptocurrencies."

The wallet will not only be easy to use but according to Divi, will include more powerful features than a bank.

"Divi is a true crypto wallet, not just an account service," according to the company website. "Take advantage of powerful features such as the option to secure your personal funds with multiple signatures."



The wallet will also feature multi-language support. "Divi knows crypto is a global monetary revolution. That's why we approach the building of and support for our app from a global perspective," according to the company.

Users will also be able to switch views to see the value of their holdings in 150 different currencies.

Divi has also planned for an easy payment flow.

"Cryptocurrencies are the future of money," according to the website. "That's why we designed our smart wallet with features essential to the high-paced world of e-commerce like recurring payouts, and automatic division of payments."

The wallet includes a piggy bank feature, security vaulting, subscription payments, auto-splitting of payments between partners, and a method to collect and pay taxes. Users can send transactions to an email address and encrypt it themselves with a PIN.

"You'll never need or want a brick-and-mortar bank again," according to the white paper.

Promoting the Mass Adoption of Digital Currencies through Marketing and the Divi Community

"We believe that cryptocurrencies are an unstoppable wave that will replace current monetary systems," according to the white paper. "Although this process will take several years, the benefits to users make this inevitable."

The company's technical road map and marketing plan are designed to keep Divi on the cutting edge, according to the company, while the crypto ecosystem helps to create tens of trillions of dollars in new wealth.

The Divi community will play an important role in leading to the mass adoption of cryptocurrency as well.

"Community is absolutely paramount to success," Saponaro said. "We've worked really, really hard to cultivate a really strong community that has a culture of integrity and respect. When new people enter, everyone is very welcoming and informative."

He said there are around 7,000 people in Divi's Telegram feed and about 10,000 people in the company's Twitter community.

The community has been an incredible resource, Saponaro said. Most of Divi's QA beta testers have been community members rather than employees. The company has been able to receive fast and impactful feedback from the community on new features and updates, he said.

"I think a lot of companies in the traditional tech world don't have that sort of direct line of communication with their users," Saponaro said. "It's been incredible — especially as a very small startup in the beginning. We really needed that help."

In the end, promoting the mass adoption of cryptocurrency is Divi's biggest focus.

"There has never been a bigger financial opportunity in history, and the Divi Project will be first to market with a truly viable solution," according to the white paper.

Saponaro said Divi is already making waves in certain parts of the world.

"We're already seeing a fair amount of adoption in Africa," he said. "We have pretty large communities in Nigeria and South Africa. In Venezuela as well — we're seeing some merchants even accepting DIVI as opposed to the Bolívar, which is pretty much worthless at this point."

He said because the Divi Project is lowering barriers to entry into the crypto space, it is actually helping new economies to begin to form in certain areas.
Advertiser Disclosure
CardRates.com is a free online resource that offers valuable content and comparison services to users. To keep this resource 100% free, we receive compensation for referrals for many of the offers listed on the site. Along with key review factors, this compensation may impact how and where products appear across CardRates.com (including, for example, the order in which they appear). CardRates.com does not include the entire universe of available offers. Editorial opinions expressed on the site are strictly our own and are not provided, endorsed, or approved by advertisers.