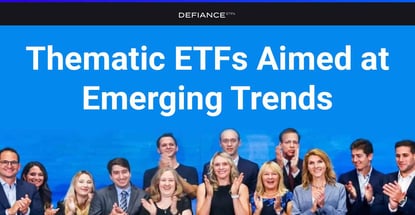 Our experts and industry insiders blog the latest news, studies and current events from inside the credit card industry. Our articles follow strict editorial guidelines.
In a Nutshell: Exchange Traded Funds (ETFs) are a popular form of investment consisting of composite stocks. Thematic ETFs are funds that offer the opportunity to invest in companies in the same sector or that contribute to disruptive trends. Defiance ETFs is a registered investment advisory platform for thematic ETFs. It provides an ETF product suite that includes 5G, hydrogen tech, digital economy and others.
When most people consider investments, they tend to think about stocks, bonds, mutual funds and other alternative assets like real estate or cryptocurrencies. But another type of investment that doesn't always get as much attention is Exchange Traded Funds, also known as ETFs.
An ETF is a group of stocks linked together that act as a single stock and can be traded while the stock market is open. The value of an ETF depends on the performance of its composite stocks.
It's an option that's convenient for some investors because ETFs can achieve exposure to a range of equities and avoid single stock risk.
Some ETFs are based on index stocks in the S&P 500 and other exchanges while others may target a specific sector, like consumer staples, healthcare, IT, and real estate.

But there is another type of exchange traded fund known as thematic ETFs. Thematic ETFs are not necessarily defined by a particular sector. Instead, each theme may include not just companies that fit in the same sector, but also companies that contribute to overarching disruptive trends, or profit from the materialization of those trends. Some examples of thematic ETFs include 5G, hydrogen power, robotics, and cannabis.
Defiance ETFs is at the forefront as an ETF sponsor and registered investment advisory platform for thematic ETFs. It was established in 2018 and has innovated thematic ETFs that capitalize on the most exciting and disruptive trends in the market.
Themes Cutting Across Traditional Sectors
Defiance ETFs supports six main themes on its platform. Those themes comprise 5G technology (FIVG), quantum computing (QTUM), hydrogen (HDRO), cruises, hotels and airlines (CRUZ), digital economy (NFTZ) and short blockchain and crypto-related stocks (IBIT).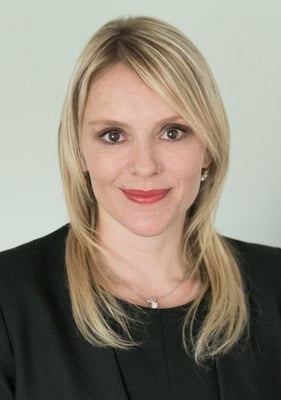 Sylvia Jablonski, CEO and CIO of Defiance ETFs, said that the company wanted to focus on "products that were interesting to, what we thought, was sort of a younger investor who's looking to invest for the next five to 10 years, that just want to build a base in innovation and technology, regardless of what's going on in the market today."
After launching its products, and to the company's surprise, it turned out that its thematic ETFs appealed to a wide consumer base. "Many investors⁠—younger, older, everything between⁠—are actually looking to allocate a portion of their portfolio to really exciting themes and opportunities," said Jablonski.
Defiance ETFs also provides useful information to investors on its Insights webpage which goes into detail about relevant ETFs and companies within emerging market trends. "We try to provide a lot of information about the theme itself and then talk about the components in there," said Jablonski.

Exposure to Disruptive Emerging Trends
Defiance ETFs strives to develop products that are highly cost efficient and that are particularly helpful for young investors. "The whole evolution of our firm has really been to focus on creating these products that give you exposure to disruptive emerging trends," said Jablonski.
Jablonski emphasized that where people put their money is a key factor in building generational wealth. "The minute you start to time a market, you're going to lose your shorts on it," she said.
It's better to have a disciplined strategy that involves adding funds to an investment each week and building it over time. ETFs are a great option for long-term investments because they offer an exceptional level of diversification whether it be within a sector or broad-based index.
Jablonski said that the importance of investing in the market is that you're essentially putting your money to work for you. If a person just lets their money sit in a bank account, it's low risk, but they are losing money due to inflation.
"It's just having your money work for you, the value of compounding and, essentially, annualized returns of the S&P 500, regardless of market move," she said.
The more time an investor stays in the market, the greater their returns will be. And one of the biggest regrets that young people have is not investing sooner and making regular deposits into smaller funds.
Jablonski noted that, while it may feel counterintuitive to accept the advice of people like Warren Buffet who say "be greedy when others are fearful," she feels that it does resonate with the current times. "I just think it's great. Particularly for young people who don't need that bit of cash to pay their rent this month, it is worth investing in yourself for the long term and giving yourself those types of opportunities," she said.
The Importance of Market Adaptation
Jablonski explained that the majority of the company's ETFs are rules based and passive.
"That means we create a strategy, we create a methodology and we stick to it, and then we rebalance it either quarterly or semi-annually depending on what it is," she said.
Defiance ETFs also ensures that clauses, such as IPOs, are regulated in case any emerging players enter the market. Jablonski said that, if a company like Robin Hood hypothetically went from being a brokerage firm to an NFT issuer or hydrogen provider, Defiance ETFs could fast track that company into an index so that the rules and disciplines are upheld and to allow these inclusions of innovative players as needed.
To stay up to speed with the market and keep a competitive edge, Defiance ETFs is constantly researching and learning about new trends. The company's analysts observe trading volume pickup, what themes match up with each stock, and determine whether a company can provide simple innovations that can scale in years to come.