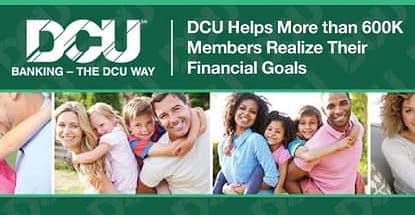 In a Nutshell: Considering how convoluted personal finance can be, it's never too early to start learning. But financial literacy and teaching young people responsible money management may not be that high on the list of subjects school systems promote. Massachusetts-based Digital Federal Credit Union (DCU) is shattering the conventional image of a financial institution by providing free informational resources to members and the public at large. Its StreetWise Consumer Education Program is comprehensive in scope, covering topics like buying homes and cars and teaching your children about finances at a young age. //
Like many parents, my folks began my financial education by giving me an allowance for doing weekly chores. I'll never forget the feeling of disappointment I experienced when I blew every cent of my first $5 in one fell swoop on baseball cards, candy, and arcade games. Just like that, the money I'd worked so hard for was gone, and I wouldn't have any more for a whole week — providing I did the work to earn it, of course.
This first fleeting sense of regret for having spent my money irresponsibly stuck with me. Not that I've been the shining example of financial responsibility in the years since, but it certainly gave me the perspective I needed to begin thinking about money in a new light. And let's face it, as we get older, finances certainly don't get any easier to navigate. The right perspective early on can make a world of difference to someone's financial future.

From your first car payment to planning for retirement, managing finances is no cakewalk. The first line of defense against mishandling your money is empowering yourself with knowledge. And institutions like Digital Federal Credit Union (DCU) take the matter of financial education very seriously.
"DCU is driven to ensure that all members achieve their financial goals, and that's made possible through promoting educational programs that provide the knowledge, skills, and resources to ensure everyone has an equal chance to succeed," says John LaHair, Marketing Manager for DCU. "That's why we provide opportunities for members to learn how to get the most from their money."
DCU offers extensive educational resources that are relevant for every step of your financial journey, from opening your first checking account to planning for retirement.
While DCU does its part to promote consumer education through its resources and programs, the Marlborough, Massachusetts-based credit union's primary focus is still serving its more than 600,000 members in all 50 states through personal and business banking, loans, insurance, investments, realty, and other financial products.
DCU's StreetWise Education Program Sheds Light on Important Consumer Topics
Helping its members achieve their financial goals isn't just attractive marketing speak for DCU. It permeates and informs virtually every aspect of the institution's products and services. And DCU's StreetWise Consumer Education Program is a perfect example of this.
The goal of StreetWise is to provide the information consumers need to save money and reduce stress while making life's major purchases. The program offers 13 categories of resources with a seemingly countless number of subcategories for each topic. For example, the Home Buying and Mortgages resource covers 12 subcategories ranging from "Things first-time buyers should know," "Why and when to refinance" and a general "Glossary of homebuying and mortgage terms." Each subcategory also features a comprehensive introduction and description to the topic.
A particularly unique resource in the StreetWise program is its Parents' Guide. This section is sure to resonate with anyone, like myself, whose financial education began early. And, of course, parents will find plenty here to help their kids begin learning the ins and outs of money matters.
The Parents' Guide is divided into three major areas: child safety, children and education, and children and money — all intended to help children grow into happy, responsible adults, who make wise financial decisions. This resource is just one of many examples of DCU's commitment to its members.
"In 2001, we began offering DCU's StreetWise Consumer Education program offered to all members at no cost," John said. "This program provides consumers with the necessary information to make major purchases at the lowest possible cost. StreetWise teaches how financial products and services work and how to get the most from them. Additionally, StreetWise shows how to protect individuals from identity theft and how to protect their personal information."
According to John, more than 300,000 people access the StreetWise program each year either by visiting the website or through the monthly StreetWise inbox message.
Informational Resources Teach Financial Responsibility to a Broad Audience
As evidenced by the StreetWise program, the sheer breadth of DCU's resources is substantial, to say the least. And what is so remarkable about the member education resources offered by DCU is the scope of the audience it targets.
The Parents' Guide offered via the StreetWise program is just one way DCU attempts to help members of every age group become savvy consumers. Its Barnyard Cents series of newsletters is an effective way to engage children 12 and under with approachable, fun ways to learn about savings accounts and the importance of saving in general.
"Since introducing StreetWise, we found it to be even more beneficial to offer programs geared toward children and young adults," John said. "Old McDonald had a farm, but how did he manage the cost of running it? DCU created the Barnyard Cents program to get children on the right financial path early in life. Barnyard Cents members have fun while they learn about savings accounts, the importance of saving, and what a credit union is."
For teens and those preparing to enter college (or already attending), DCU has Show Me — a site featuring articles and tips on finances, career advice, and how this age group can protect themselves and their purchases. It informs young adults how to safeguard themselves against scams, offers advice on making major purchases as well as which DCU products and services may benefit them.
John explains, "DCU designed Show Me as a place to teach young adults how to protect their money, protect their belongings, and get a good start in the real world. If your children are in college, plan to go to college, or are skipping college to go right into the working world, Show Me is specifically for them. From scams and business practices aimed at young adults to money management skills, Show Me gets young adults ready to stand on their own two feet as a student, a consumer, and a professional."
Dynamic Products & Services Help Consumers Save
Of course, for all its educational resources, DCU is first and foremost a financial institution. But its products and services are just as extensive and useful as its educational resources. Again, DCU's commitment to helping its members secure a strong financial standing remains at the fore of everything it does.
"Saving money for planned purchases, unexpected expenses or retirement is hard enough. In 2013, DCU instituted a permanent change to our Primary Savings account with a higher dividend rate to help members build their savings quicker for balances up to $500," John said. "To encourage all our members to start saving and reward those who already were doing so, we increased the dividends earned from 3.04% APY to 5.12% APY and increased the balance up to $750 in 2016. In August of this year, we increased the balance up to $1,000. This means a greater incentive for members to start and grow their emergency savings."
This kind of personal attention to its members' financial well-being is why many people choose credit unions over global financial institutions. Another way DCU is helping members achieve their financial goals is through a credit card offering that helps them establish and maintain a great credit score. This secured Visa for members has no annual fee, a rarity among both secured and unsecured cards.
Those interested in the secured Visa card must be eligible for DCU membership, which requires a $5 deposit into their primary savings account. They then must make an initial security deposit of at least $500, which becomes their credit limit, and approved members earn .05% interest on deposits.
"The current APR is 12.50% — well below the average rate for a secured card," John said. "And, the card has many of the same features as a non-secured Visa: works with Apple Pay, Android Pay, and Samsung Pay. We've found our card to be extremely beneficial for those looking to establish credit, rebuild credit, and ideal for college students looking for their first credit card."
All these benefits and attractive rates aren't the only perks to DCU's member cards. John explains, "Cardholder information is reported to all three credit bureaus: Equifax, Experian, and TransUnion. The card is quite popular and has been rated 4.2 stars out of 5 stars by members. Also, members are eligible to receive their up-to-date FICO credit score free online every month to help them understand the key factors that influence their credit score."
DCU Continues Its Efforts to Educate and Serve Members
DCU shows a genuine interest in the financial well-being of its members that simply isn't found at many large, multinational financial intuitions, and that's evident through educational programs aimed at bringing children and young adults up to speed on personal finance topics. And these resources go much farther than what I learned from blowing $5 on baseball cards.
John told us the credit union has no intention of slowing down or scaling back its offerings.
"As far as what the future holds for StreetWise and other financial educational initiatives, we're continually looking at new topics to cover as well as new ways of communicating this information to members and consumers who visit our website," John said. "This includes a series of short instructional videos that cover the home-buying process from start to finish, budgeting, managing debt, reviewing and understanding your credit report/score, dealing with financial challenges, as well as additional content from StreetWise and Show Me."
Visit the DCU website for more information on the credit union's programs and educational resources. You don't have to be a member to access many of the resources, but don't be surprised if you find yourself wanting to switch over to DCU after getting a firsthand feel for what it has to offer.
Advertiser Disclosure
CardRates.com is a free online resource that offers valuable content and comparison services to users. To keep this resource 100% free, we receive compensation for referrals for many of the offers listed on the site. Along with key review factors, this compensation may impact how and where products appear across CardRates.com (including, for example, the order in which they appear). CardRates.com does not include the entire universe of available offers. Editorial opinions expressed on the site are strictly our own and are not provided, endorsed, or approved by advertisers.