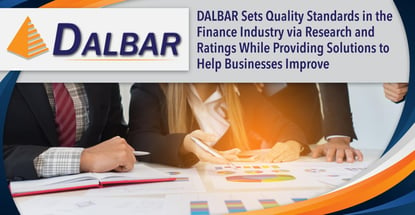 In a Nutshell: In the competitive world of finance, DALBAR helps companies understand industry trends, keep up with competitors, and gain valuable insights into the industry. Since 1976, DALBAR has been helping set and raise standards in finance through its in-depth, independent research and ratings. The company also offers customizable solutions to improve performance in a wide range of areas, based on its rich data. DALBAR is also known for its prestigious awards that recognize excellence within the finance industry. And recipients can leverage DALBAR's recognition to help boost their names in the industry and attract customers.
Businesses don't operate in vacuums.
Let's say Investment Firm A's CEO is a huge proponent of making sure its clients are happy, so she implements a policy where every customer receives a coupon for a free cup of lemonade when they invest in a new fund. Not bad.
Meanwhile, just down the road, the CEO of Investment Firm B decides to give away a $50 gift card to a home improvement store each month to clients who maintain a certain minimum investment balance with the firm.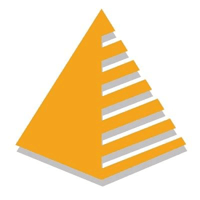 Firm A stands to lose a lot of business to Firm B. Although both institutions value their customers' satisfaction, Firm B understood the market better and offered a much more appealing proposition.
In the competitive finance industry, companies are always looking to do things bigger, better, and faster, and this is just a microscopic example to illustrate how these types of scenarios can play out in huge corporations.
And that's where DALBAR comes in. Since 1976, the company has been helping businesses within the financial industry remain competitive, accountable, and successful.
"DALBAR, Inc. is the financial community's leading independent expert for evaluating, auditing and rating business practices, customer performance, product quality, and service," according to the company.
By conducting research and rating businesses within the industry, DALBAR helps to set industry standards, said Chief Marketing Officer Cory Clark.
"We try to find ways of taking things in the industry that are difficult to measure — difficult to quantify — and putting standards around those in an effort to move the industry forward," Clark said.
Ratings Based on In-Depth, Independent Research
Clark said the differentiating factor that helped DALBAR become a respected name in the finance industry is its in-depth independent research.
"We don't really do research by surveys — we do it by actually evaluating interactions," Clark said. "The website and digital portion of the customer experience is a big part of what we do. We have analysts who go to the website pre-login, post login, and evaluate the site."
He said the company evaluates every page of a website for design, content, usability, and more. For businesses with customer contact centers, DALBAR has live analysts who listen to hundreds of recorded phone calls to evaluate quality.
"That's the basis for our rankings and awards for those particular aspects," he said. "It's always a direct analysis by our experts."
The company publishes numerous rankings and detailed reports that highlight client trends, best practices, and the best service providers on a quarterly basis. Clark said this helps bring the digital capabilities and practices of companies up to the highest level.
"We also have annual reports where we provide benchmark data in terms of adoption rates for different firms, different tactics that have been used, and strategies that are working," Clark said. "We are a very in-depth program that's dedicated to raising the e-delivery or paper suppression rate, which is important from an economic and environmental standpoint."
Thanks to DALBAR's extensive research and detailed reports, the company's ratings have become highly respected in the finance world, according to the company.
"DALBAR, Inc. is the nation's leading financial services market research firm and performs a variety of ratings and evaluations of practices and communications that are committed to raising the standards of excellence in the financial services and healthcare industries," according to the website.
One of DALBAR's most popular reports is its Quantitative Analysis of Investor Behavior, which measures the effects of investor decisions to buy, sell, and switch into and out of mutual funds over short and long-term time frames.
"The results have consistently shown that the average investor earns less — in many cases, much less — than mutual fund performance reports would suggest," according to the company.
DALBAR's Solutions are Based on Rich Data to Help Improve Business Practices and Customer Experiences
Not only does DALBAR publish its research for businesses to gain a better sense of market trends and best practices, but it also offers services to help clients improve their business across a variety of areas.
"Through the identification of trends and best practices and consistent monitoring, firms are able to exceed industry standards, correct weak points, reduce costs, achieve consistency and reach business goals," according to DALBAR.
Clark said helping firms improve their digital experience has been an extremely important focus of DALBAR in recent years.
"It's all about being able to drive them to the digital side, and in order to do that, you need to be able to provide a digital offering that makes it worthwhile," he said. Helping firms move their practice and those of their customers into a digital experience can help firms save millions of dollars in some cases, Clark said.
"It can save the firm," he said. "It can save them sometimes $10 to $20 per investor, per year. It's all about trying to drive those interactions into the digital space where it's so much cheaper to service them, and you can track them and integrate it with your CRM."
Firms with more specialized goals may need solutions customized for their specific needs.
"DALBAR's digital expertise is not limited to our off-the-shelf products," according to the website. "Through a close consultation with our web and mobile experts, we can structure an engagement that will meet your firm's specific needs while still leveraging DALBAR's years of digital tracking and monitoring experience."
DALBAR also offers customizable solutions for contact centers, communications, sales desks, and training.
"Throughout the process, your website will be better, and be up to date with the trends of your competitors," Clark said. "And you're aware of what's going on amongst your competitors. The clients who will engage with us get better and actually come out with a better experience."
How the DALBAR Awards Promote Excellence Within the Finance Industry
Another major way DALBAR contributes to the industry is through its awards that recognize excellence within the finance industry. Its customer experience awards are based on the company's industry-leading criteria gathered from decades of research in financial services, according to the company.
"All of the different awards get a large amount of attention, and so it makes this a great opportunity for these firms to unlock what is really a hidden asset," Clark said. "A lot of firms may have a good culture and they have a good thing going on with how they service the customer. But to have that third-party validation, that recognition, is very important."
DALBAR's award season begins in December each year and runs to the end of February, Clark said.
"We give awards for the contact centers, the statement people, the web and mobile apps," he said. "And within those particular departments and the people who are associated with those departments, they're all a really big deal and a big part of their culture and goals. And maybe to some extent how their success is measured internally."
In addition to simply being recognized for a job well done, DALBAR award recipients can often leverage their accolades to further improve their business. Clark calls these the hidden assets that accompany the awards.
"The ways they leverage this — you'll see press releases, you'll see a lot of social media posts with maybe their team huddled around the trophy," he said. "It's great for morale and camaraderie amongst the individual teams, but it's certainly a great marketing tool as well."
DALBAR can provide marketing materials, such as email signature and website graphics, videos, and press releases to help award recipients tout their accomplishments.
In such a highly competitive industry, standing out among the crowd can certainly put one financial firm ahead of the next. And with DALBAR's ratings, in-depth research, consulting services, and awards, businesses stand to gain a lot from the long-running standard-setting company.
Advertiser Disclosure
CardRates.com is a free online resource that offers valuable content and comparison services to users. To keep this resource 100% free, we receive compensation for referrals for many of the offers listed on the site. Along with key review factors, this compensation may impact how and where products appear across CardRates.com (including, for example, the order in which they appear). CardRates.com does not include the entire universe of available offers. Editorial opinions expressed on the site are strictly our own and are not provided, endorsed, or approved by advertisers.