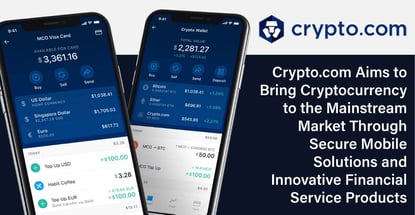 credit card news
Our experts and industry insiders blog the latest news, studies and current events from inside the credit card industry. Our articles follow strict editorial guidelines.
In a Nutshell: Cryptocurrency is poised to change the modern marketplace, just like ecommerce did before it. But it needs to achieve mainstream adoption before it can reach its full potential. Crypto.com encourages that widespread acceptance through its set of financial services products, including the MCO Visa Card, which allows cardholders to use cryptocurrency in daily transactions. The company's suite of products — including a wallet, loan tool, and investment app — is designed to bring cryptocurrency into everyday life and help usher in the next phase of the crypto economy.
The world's first website launched in 1990, and the number of internet users climbed to 1.5 billion by 2007. But between 2007 and 2019, that number nearly doubled, reaching a staggering 3.5 billion users — close to half the planet. A significant influence on that growth was the release of the first true smartphone — Apple's iPhone — in 2007, which led to an explosion in mobile internet use.
Another major milestone of the digital era is also rooted in the 1990s. When Netscape introduced secure socket layering (SSL) in 1995, which allowed for the transmission of encrypted payment information, it became the foundation of ecommerce. Together, digital security and accessibility turned ecommerce into an unstoppable market force.
The next significant innovation poised to disrupt and reshape the economy is cryptocurrency. Today, it faces two of the same challenges that ecommerce had to overcome: accessibility and mass adoption. The population at large may know what cryptocurrency is, but the majority of people don't hold any, and it's not a widely accepted currency — yet.
Crypto.com aims to help usher in an era in which consumers use cryptocurrency in daily transactions — both online and off.
"With the rise of cryptocurrency, there are opportunities to leverage technology in new and innovative ways — to reduce the costs, reduce the time, and leverage the speed," said Sean Rach, CMO of Crypto.com. "Those things are very important."
Crypto.com, formerly known as Monaco, was founded in 2016 and rebranded in July 2018 after acquiring the domain name. It offers crypto-based versions of traditional financial products and tools with faster transactions speeds and lower fees, making cryptocurrency viable for everyday use in both physical and digital markets.
Among Crypto.com's offerings are a mobile app with a proprietary crypto wallet, and its prepaid card — the MCO Visa. The sleek, metal card allows users to spend their cryptocurrency anywhere Visa is accepted. The card is already in use in Singapore, and Crypto.com is in the preparation process to launch cards in the United States.
And its products are entirely mobile based. Rach said the primary reason for that is the security architecture on smartphones is easier to protect. Just as importantly, smartphones offer availability and functionality to a broader consumer base, which enables Crypto.com to bring the benefits of internet-native currencies to users worldwide.
The MCO Prepaid Visa Card Offers Valuable Perks and Worldwide Purchasing Power
The MCO Visa card links to the Crypto.com Wallet and Card app. By offering credit-card caliber rewards and incentives for merchants, the prepaid card and app establish a sturdy bridge between fiat currency and crypto assets.
For merchants, the card offers easy onboarding by allowing them to use a traditional payment channel to accept cryptocurrency.
The card is also attractive to consumers because of its capabilities for everyday use and its rewards program. Various tiers offer up to 5% cash back on all local and international purchases, up to 100% reimbursement for Spotify and Netflix subscriptions, and up to 10% purchase rebates on Airbnb and Expedia bookings. Additionally, cardholders enjoy unlimited airport lounge access and up to $1,000 in monthly ATM withdrawals at no cost.
Cardholders can use the MCO Visa at any location that accepts Visa, and in the event of loss or theft, they can quickly freeze or unfreeze it within the app. Users can add funds to the card from a credit card, debit card, cryptocurrency, or bank transfer.
In addition to controlling and managing the card, the app allows users to purchase, send and receive cryptocurrency at true cost with no fees or markups. The app also tracks the prices, volume caps, charts, exchanges, and rates for more than 200 cryptocurrencies.
And cardholders pay no annual fee. Instead, they invest in MCO tokens — one of Crypto.com's proprietary currencies — based on the various card tiers. Crypto.com is preparing to launch the MCO Visa stateside in 2019.
"We have an office in Jacksonville, Florida, and we have already announced our banking partner — Metropolitan Commercial Bank," Rach said. "We're in the final stages of getting those cards ready to be shipped out. We've got customers submitting their details; we're verifying addresses, and ensuring all of our compliance checks are completed."
Crypto Invest Enhances General Access to Quantitative Analysis Trading Strategies
One of the main selling points of cryptocurrency is decentralization — a central authority does not regulate its value, nor does it produce its currency. That makes crypto, at its core, a more democratic currency. Another product, Crypto Invest, aims to take that democratization a step further by providing easy access to crypto quant trading.
By leveraging quantitative analysis to identify opportunities, Crypto Invest allows people to set up a portfolio in minutes and track as it trades based on market signals to deliver a return using 30 cryptocurrencies. The minimum buy-in is $20, and there are no entry, exit, or management fees; users will be charged 18% of their profit if they invest but don't stake MCO, or 9% if they stake MCO.
Users can choose to invest in one of three portfolio profiles depending on their comfort level. Growth carries higher risk but also offers higher returns; Balanced offers moderate risk and growth; and Conservative offers reduced growth at minimal risk. Investment strategies are optimized for three- or six-month holding periods.
With these kinds of investments, security is often top-of-mind for interested investors, and Crypto.com is well-prepared for the challenge.
"We hired a dynamite team from all around, including an executive from Microsoft, to lead up our cybersecurity efforts," Rach said.
Whenever Crypto.com onboards a new user, it conducts a thorough Know Your Client (KYC) test. This verifies each user's identity and legitimacy in the network, thereby protecting the financial safety of all of the individuals and businesses with whom they'll interact.
Additionally, all customer assets are placed in cold storage — a device that stores cryptocurrency offline — and users conduct trades using company funds. By holding user assets offline, Crypto.com ensures they remain safe and untouched in the event of a security breach.
Initial Coin Offering Raised Funds and Enthusiasm
Initial Coin Offerings (ICOs) are effective ways for blockchain-based enterprises to raise funds — as well as the profiles of their projects. Crypto.com's ICO raised $26.7 million through sales of its MCO utility token — a voucher redeemable for access to, or discounts on, future products or services. The eponymous MCO Visa card, for example, requires users to purchase MCO tokens rather than pay an annual usage fee. And every other Crypto.com product also leverages the token.
"When you look at each of the other products, it's a range of either fee discounts or preferential rates — which are all built into the use of the token," Rach said. "It's pretty well woven into our whole product suite."
The purpose of Crypto.com's ICO was to fund the hiring of its world-class team. But in the process, the company earned something just as valuable as funding: an enthusiastic support base.
Following the token sale, Crypto.com kept in regular contact with several investors who were interested in the workings of the company. They communicate with representatives daily using social media as well as channels like Telegram and Discord. Rach described these regular interactions as the equivalent of an annual general meeting once per month.
"We see it as an asset for us — talking to the customers directly, listening to the problems they're bumping into," Rach said. "If you've got other ideas or things that made you say, 'Hey, this is bothering me,' we'll listen to it."
Innovative Crypto Solutions for Modern Financial Services
Crypto.com is working to bring cryptocurrency into everyday transactions, which means it keeps its focus on providing products to facilitate that goal. And its upcoming line of products offers a direct response to the question: What other financial service problems need to be solved?
Crypto Credit will be, as the name implies, a crypto-based loan service that provides collateralized lines of credit. The tool will enable borrowers to leverage cryptocurrency without actually selling their investments. These loans will require no credit checks, have no repayment deadlines, and offer reduced fees thanks to using the MCO token.
Another product, Crypto Earn, will function similarly to a savings account at a bank. Users will deposit cryptocurrencies with Crypto.com and earn a handsome deposit rate, which will vary based on the term of the deposit.
Finally, Crypto.com Pay will be another critical step in bridging the mainstream and crypto markets. It will be a crypto payment network built on native blockchain technology using CRO — Crypto.com's other proprietary token. The system is already in use in the Crypto.com shop; shoppers can choose their items and select Crypto.com Pay at checkout. This generates a QR code that users scan with their phones, and the payment is made using crypto funds in their wallet.
Crypto.com's first wave of implementation will include people who are already enthusiastic about using cryptocurrency. The next wave will consist of what Rach calls the "crypto-curious" — those who have heard about crypto, understand the technology's basic premise, but are reluctant to buy into it. Crypto.com designs its products to give those consumers the nudge they need to join the burgeoning world of cryptocurrency.
"Some of the rewards we've put into this are to drive people to finally say, 'I'm willing to try that.' And that's where you start gaining momentum toward mainstream adoption," Rach said. "We think that, once people understand it and see the benefits from a time and cost perspective, it will be a life-changing experience for them and the whole industry."