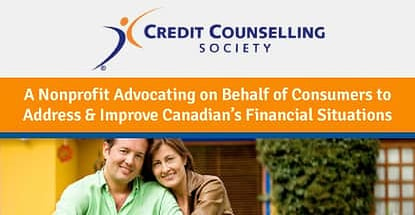 In a Nutshell: Since 1996, Canada's largest network of credit counselors, the Credit Counselling Society, has helped hundreds of thousands of clients achieve financial literacy and climb out of debt with solutions tailored to their individual circumstances. Committed to providing educational resources and tools, CCS looks to solve financial problems at the root, which often tends to be due to a lack of financial literacy. As partners on the journey to financial wellness, CCS is in the process of launching a financial planning service to help those who resolve debt go further and build toward long-term financial goals, like retirement or providing educational opportunities for their children. //
Debt happens for a multitude of reasons. It could snowball when someone loses a job or takes a pay cut. Maybe a medical emergency in the family brings unexpected costs. Oftentimes, however, it's simply a lack of good financial skills. When people don't understand or stick to a personal budget, debt tends to accumulate rapidly. People can make minimum payments on credit cards and think they are doing OK, before quickly falling behind as interest fees compound the issue.
Regardless of how they got there, one of the biggest mistakes people make when they get into debt is suffering in silence. Some are embarrassed by their financial situation or too prideful to seek professional help. But those who take notice of a worsening situation — and start taking steps to reverse the problem early — tend to be the ones who get back on track with their finances the fastest.
While plenty of countries have widespread debt issues, Canada ranks among the top five in the world with the most indebted households in relation to the economy. In fact, Canadians collectively compiled more than $2 trillion in household debt by the end of 2016.
We recently spoke with Scott Hannah, President of the Credit Counselling Society, Canada's largest credit counseling agency.

Since the nonprofit opened its doors in British Columbia in 1996, it has helped nearly 30,000 people get out of debt through negotiating debt management programs (DMPs), while also maintaining a focus on disseminating financial literacy resources to help Canadians make informed decisions about their finances. Over the past two decades, the organization has spread east across Canada and now has 22 offices in BC, Alberta, Manitoba, Ontario, and Saskatchewan.
"Annually, we help tens of thousands of Canadians either address their financial situation, improve their level of financial literacy, and, at times, advocate on their behalf in financial-related matters," he said.
Tailored Approaches for Varying Levels of Debt
When clients come to CCS, its counselors take the time to fully understand someone's complete financial situation — a crucial first step in determining which solutions best fit their goals. Scott told us financial problems can actually be a symptom of a larger issue, like a lack of money management skills or people living outside of their means.
"When we get into really digging deep into how they spend their money — how much comes in and where is it going — oftentimes they're shocked to find out that their spending $500 to $1,000 more than they're actually taking home each month because of how credit cards and lines of credit work," Scott said.
Once CCS counselors have a solid grasp of each situation, they can start to recommend potential solutions that factor in the magnitude of debt and where someone is at in their life cycle. For instance, younger people have more time and working years to rebuild their finances, while people nearing retirement might need to take more drastic measures to reach solvency.
"There are no right or wrong decisions when a person chooses a particular path to resolve their financial difficulties," Scott said. "There are just different outcomes."
Tackling the Problem Early Can Prevent Further Damage to Your Credit Score
Some clients seek professional guidance before their debt situation gets out of control, which is the best time to start doing something about it. But who do you turn to? Scott advises consumers take the time to do their homework and seek out properly trained and accredited service providers who will protect their privacy as they go through the process.
"They should check with their state, or in our case, provincial licensing bodies, to make sure the organizations they are thinking about approaching are properly licensed, have no outstanding complaints against them, and are properly insured," Scott said.
Trusted organizations, like CCS, have experienced counselors who can help consumers take a hard look at their expenditures and income to create a workable budget. Confronting these issues early helps consumers to avoid more serious damage to their credit histories, get out of debt faster through less drastic means, and start building their financial futures.
"If your situation isn't that severe, we'd likely help you do that on your own, because that's the best way to preserve — and improve — your credit rating," Scott said.
From DMPs to Bankruptcy, CCS Counselors Help You Choose the Ideal Solution
While confronting debt early is always favorable, CCS counselors can still do a lot to help those with more serious debt issues. In fact, the nonprofit has significant experience in this area, with about 9,000 active clients in its DMP program and a success rate that hovers around 90%.
Scott told us CCS's average DMP client owes around $25,000 in debt and is paying between $4,000 and $5,000 a year in interest charges when they turn to the nonprofit for help. Fees charged for a DMP are no more than $50 a month, with the average sitting at around $33 a month.
"Some clients are able to resolve their financial affairs, but they need every dollar they have available to address their debt situation," Scott said. In those cases, CCS often waives the monthly DMP fee entirely so clients can focus on their debts.
"Under our repayment program, we're able to get almost all of those debts down to 0% interest," Scott said. "So, while there are some small costs associated with the program, there are also some significant interest savings."
Clients who negotiate DMPs can often consolidate their debts and end up with one monthly payment, but those few years spent fixing their debt issues require a lot of discipline and commitment to learning valuable money skills.
"If you were to ask any one of our clients who have completed one of our DMPs, they'd all tell you it was hard — and that it was worth it," Scott said.
Since no one-size-fits-all solution exists, CCS tries to find the best solution for each client's individual circumstances.
"You could have a younger person, who could manage a DMP in three or four years and go forward, but if you are in your 60s and two years from retirement, you may need to solve your problems sooner and have more of a window to save," Scott said. "So, there are times when we would encourage a client to speak to a bankruptcy trustee to look at either a consumer proposal,in which you put forward a proposed repayment to pay back a portion of your debt, or look at an overall assignment into bankruptcy."
Promoting Financial Literacy & Guiding Informed Decisions
Financial wellness starts with education, as a large portion of consumers' financial well-being stems from the daily decisions they make with their money. With this in mind, CCS devotes a large portion of its resources to educational resources.
"Much of our focus will be on how do we enhance the financial skills of Canadians so they are able to make well-informed decisions with confidence — decisions that will improve their financial circumstances in the long term," Scott said. "We already have the most educational resources in Canada in our industry, and we intend to build upon that."
Most of the services provided by CCS are free, including its counseling sessions, educational materials, workshops, and budgeting tools. These resources and tools are designed to help clients learn how to better manage their finances and avoid more drastic measures, like DMPs or bankruptcy.
Upcoming Financial Planning Services for Life's Next Steps
While CCS has already shown a knack for helping people become debt-free, financial wellness is a lifelong journey that doesn't end at solvency. Recognizing this, the organization is planning to launch a financial planning service in the coming months to help clients take the next step.
Its DMP clients are attractive to CCS after they finish a program because of their proven track record of making on-time payments over the course of several years.
"Being a not-for-profit organization, we want to help those clients go from being in debt, to debt-free, to helping them build their financial net worth," Scott said. "It may take a number of years for them to gain a sizable amount of funds and savings, but because our focus is not on profit generation, but on delivering sustainable services, we believe that we could become a great service provider for those clients. We can help them address their overall financial picture for the future, which includes retirement planning, ensuring they have the proper insurances, and giving them objective guidance and advice at a very modest cost."
And other than demonstrating the discipline that's needed to successfully complete a DMP, these clients have also taken the step to improve their financial literacy, making them less likely to repeat their previous mistakes.
Advertiser Disclosure
CardRates.com is a free online resource that offers valuable content and comparison services to users. To keep this resource 100% free, we receive compensation for referrals for many of the offers listed on the site. Along with key review factors, this compensation may impact how and where products appear across CardRates.com (including, for example, the order in which they appear). CardRates.com does not include the entire universe of available offers. Editorial opinions expressed on the site are strictly our own and are not provided, endorsed, or approved by advertisers.