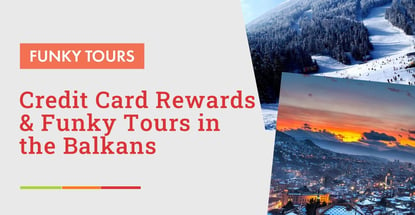 In a Nutshell: Travel has been sidelined over the last several months, which is why here at CardRates we've been stashing away our credit card rewards and looking forward to cashing them toward our next vacation. One intriguing option is Funky Tours, which offers an array of tours and up-close-and-personal stories about Sarajevo, Bosnia and Herzegovina, and other parts of the Balkans. The company helps to destigmatize the region and open it up to more Western tourists by educating them about the devastating Bosnian War in the early 1990s and living in a post-war era. The company's most popular tour is the Sarajevo Total Siege Tour, the original tour offered by the Founder of Funky Tours. But Funky Tours also provides a variety of tours that explore the geographical diversity of the region as well, from private ski tours to white water rafting trips.
We're all about sharing our knowledge of using credit cards responsibly here at CardRates — obviously — but we're also here for the credit card perks and rewards. Saving up credit card rewards and using them toward traveling or travel-related products is an extremely satisfying feeling.
And after being cooped up for the better part of a year, we've been stashing away our credit card rewards and looking forward to traveling once again.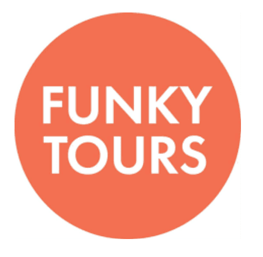 With the COVID-19 vaccine distribution in its early stages, we've been daydreaming about our next vacation destinations.
And I'll be the first to admit that when I think of visiting Europe, my mind goes to often-romanticized locales like Paris or Rome. I'd be willing to bet the same can be said for many folks in the U.S.
But Funky Tours is a company working to change this notion by offering unique and insightful tours in the Balkan country of Bosnia and Herzegovina, its capital, Sarajevo, and other parts of the Balkans.
After World War II, the region was largely closed off to Western tourists for decades. And of course, the Bosnian War in the early 1990s is a devastating piece of the area's history that helped shape Bosnia and Herzegovina into what it is today.
We recently chatted with Ema Konaković, the CEO of Funky Tours, to learn more about the history of the company, tourism in the Balkans, and what visitors can expect on a Funky Tours excursion.
Helping to Open Up the Tourism Industry in Sarajevo, Bosnia and Herzegovina
Funky Tours was founded by Sarajevo native Skender Hatibović. Hatibović came of age in the post-Bosnian War era when the region was still primarily associated with the conflict on the world stage.
Hatibović's father, an ex-Bosnian soldier, opened a hostel in the family's home in Sarajevo in 2004, and the young entrepreneur saw an opportunity to tell the story of a part of the world Western tourists knew little about.
Hatibović sought to destigmatize the region by giving tours to the hostel visitors.
"Since the beginning, our vision has been to break the prejudice on Sarajevo, Bosnia and Herzegovina and rest of Balkans," according to the company. "We always dreamed to make this region respectable tourist destination, with Bosnia and Herzegovina in focus."
Hatibović's first tours focused on the Siege of Sarajevo and the repercussions of war in the region.
"It was special because it was told by the survivor, who had an honor to be a citizen of this amazing city during its hardest times," Hatibović wrote on the Funky Tours website. "It was special because it was told from the living experience of a child, who was 8 when it all started. A child who spent almost every night during the next four years, in the basement of his grandmother, wondering when and where the next bomb will hit."
Word began to spread about the Sarajevo hostel and the heartfelt tours that Hatibović was giving to visitors.
After graduating from college in 2009, Hatibović found himself at a crossroads — pursue a traditional career or become a professional storyteller through his tours. After reading the economics book, "Funky Business," Hatibović was inspired and launched Funky Tours.
Offering a Variety of Tours for All Types of Travelers
Since its inception in 2009, Funky Tours has grown to offer a vast array of tours and sticks to its mission of telling the story of the Balkans while destigmatizing the region for the rest of the world, CEO Konaković said.
She said the company is working to offer more tours that move away from the war stories of the region, but the war is still an extremely important piece of the area's history. And it is still important for visitors to have some understanding of it.
"We usually talk to local survivors who can share their own experiences and private stories — it's less about the dry historical facts and more about hearing about the personal experiences," Konaković said. "We'll take visitors on a lunch with local families to hear their stories."
The company's most popular tour is the Sarajevo Total Siege Tour, an extension of Hatibović's original tour offerings more than a decade ago.
"Sarajevo Total Siege Tour, with visit to the War Tunnel Museum, Jewish Cemetery, Yellow Bastion, Olympic mountain of Trebević and Olympic Bobsled track, is by far the most interesting half-day tour you can conduct when visiting Sarajevo and Bosnia," according to the company.
For those who are less interested in the war-related tours, plenty of other options are available, Konaković said.
"Besides the Sarajevo Total Siege Tour, the Herzegovina region is also very popular," she said. "We have a lot of outdoor activities. Bosnia doesn't have much of a seaside but we have a lot of rivers and mountains so hiking, rafting, canyoning, canoeing — these things are very popular in Bosnia."
Funky Tours offers a little something for everybody these days, including half-day tours, multiday tours, customized tours, and even private ski lessons.
Funky Tours Magazine Provides Travel Tips for Visiting the Balkans
Another important component of the Funky Tours brand is its magazine, which explores the Balkans from all different perspectives and offers plenty of ideas for things to do in the region.
"In desire of making new friends, through amazing travel experiences? No problem, Funky Tours Magazine does it for you and with you," according to the website. "We chase stunning hidden stories, ones not yet being told, and deliver them straight to you."
The magazine features stories on some activities that may not be as well known to outsiders as well as important information on traveling during the COVID-19 pandemic.
"BiH has managed to act and respond successfully at the very beginning of the pandemic. As a result, the country was able to minimize and reduce the number of those infected as much as possible," according to a magazine article. "Bearing in mind all the measures that have been taken (…) BiH has managed to take care of its citizens and ensure minimal risk of spreading the COVID-19."
Konaković said Funky Tours did have to greatly reduce its tours in the early part of the pandemic, but it is now ramping back up to full capacity.
"Most importantly, it is finally ready to open its doors while being able to control and maintain the virus spread," according to the company. "As a result, Funky Tours have created perfect and, most importantly, pandemic free trips to Bosnia and Herzegovina."
Readers can also learn about the great geographical diversity of Bosnia and Herzegovina.
"Bosnia and Herzegovina is a tiny country with a huge natural diversity," according to the company. "Bosnia would be the continental part which is more humid, green, and cold. Herzegovina is completely opposite, with a dry and rocky landscape where the temperature can reach up to 40 ⁰C."
Thanks to this great diversity, Funky Tours is able to facilitate snow ski tours and warm white water rafting tours within the same country.
Advertiser Disclosure
CardRates.com is a free online resource that offers valuable content and comparison services to users. To keep this resource 100% free, we receive compensation for referrals for many of the offers listed on the site. Along with key review factors, this compensation may impact how and where products appear across CardRates.com (including, for example, the order in which they appear). CardRates.com does not include the entire universe of available offers. Editorial opinions expressed on the site are strictly our own and are not provided, endorsed, or approved by advertisers.