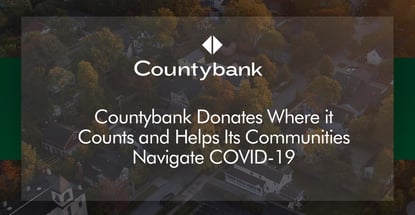 In a Nutshell: By virtue of its history as a locally owned institution founded during the Great Depression, Greenwood, South Carolina-based Countybank fields many requests from area organizations in need of support. The bank's plan to prioritize giving takes all its financial centers into account, draws on its associates' personal experiences and passions, and always seeks to combine corporate and associate involvement. The result is a strategy for "giving with impact" that maximizes the positive effect Countybank has on the communities it serves. And with 2020 full of surprises, the bank has continued to work hard to support communities and help them navigate the COVID-19 pandemic. For its efforts, we are recognizing Countybank with our Editor's Choice™ Award for Community Commitment.
You never know where you're going to find good things happening. For example, in Upstate South Carolina, the Greenwood Genetic Center (GGC) does groundbreaking work in understanding and combating genetic diseases, birth defects, and autism — work that carries an impact not just in South Carolina but around the world.
In addition to conducting research, GGC offers clinical genetic services, diagnostic laboratory testing, and educational programs and resources to people in the Upstate area. Although it's affiliated with Clemson University — itself one of the nation's leading STEM-oriented educational institutions — GGC also needs external community support to fund its research and provide compassionate care to area families.
Founded in 1933 at the height of the Great Depression, Countybank has financial centers across Upstate South Carolina — and a strong, ongoing commitment to GGC.
In November 2019, the Countybank Foundation fulfilled a five-year plan to donate a total of $100,000 to the Greenwood Genetic Center. In reference to the gift, Countybank President and CEO R. Thornwell Dunlap III expressed the bank's belief in GGC's "meaningful impact on the Greenwood community" and its hope "that their growth and expansion will continue to diversify our local economy."
To understand the donation fully, however, it's important to understand it in context. Countybank donates intentionally with a strategy for helping its communities grow and prosper.
"As a community bank, we realize we can't just take from our communities," Executive VP and COO Ken Harper said. "We have to participate in serving them as well — and we do. That probably gives us more of a sense of purpose than anything else. And we're pretty proud of it."
Giving back to the communities it serves is integral to how Countybank approaches its business. And giving back has been especially important in 2020, as individuals and businesses navigate the COVID-19 pandemic. Throughout it all, Countybank has continued to demonstrate its community commitment. And that ongoing dedication to its area organizations and citizens has earned the bank our Editor's Choice™ Award for Community Commitment.
Supporting What Its Associates Are Most Passionate About
Ken oversees the sales and production components of Countybank and its mortgage, insurance, trust, and investments areas. He has a clear view of the purpose behind all of the bank's donations, and underlying each is a connection between the recipients of the support and the bank's associates.
"We select projects to support what our associates are passionate about," Ken said. "Because there's nothing worse than being required to do something your heart's just not in, right?"
Like so many families in the Upstate, Countybank associates and their children have directly benefited from the work and research taking place at GGC. And with GGC, Ken said, the Countybank connection runs even deeper.
"The spouse of one of our associates is a scientist at the genetic center, and we have gained a profound sense that for what we invest today could translate to in terms of possible breakthroughs for current and next generations," he said.
Another Upstate healthcare institution with a broad mission and wide impact is the Institute for Translational Oncology Research (ITOR), located on the nearby Greenville Memorial Medical Campus. The "translational" part of ITOR's name refers to its mission linking basic research and patient care.
In addition to discovering clinically meaningful molecular and genomic markers for cancer and delivering innovative and personalized cancer therapies, ITOR educates and trains medical professionals in translational and personalized medicine.
"None of our associates had to go very far in their families or in their neighborhoods to find someone who's been affected by cancer," Ken said. "If you're going to support a cause, this was something we decided we could all get behind."
Having a Plan for Giving Helps Prioritize Recipients
Although Countybank has scheduled its GGC program to run for five years, it typically works with donation recipients on a three-year plan. In ITOR's case, that meant delivering on a commitment to give and raise what amounted to a total of $260,000.
"We felt good about our participation with this cancer initiative, which actually lasted a total of six years, and we are very proud of the impact we were able to make," Ken said. "But in the meantime, we knew that there were so many other great organizations doing great work that could also use our support."
Countybank structures its priorities so the voices of all its associates in all its financial centers are heard. The topmost layer of communication occurs among the bank's market executives — Countybank operates in Greenville, Anderson, and Greer in addition to Greenwood. Those individuals then communicate with the financial center managers, who have their fingers on the pulse of what their associates are most concerned about.
"They convene in their individual cities and decide on three or four things they really want to support," Ken said. "We ask them to produce a one- to five-page proposal on why they are passionate about requesting support for selected organizations. We bring those to the board, typically on a quarterly basis, and approve and make recommendations for funding amounts."
It's a process that recognizes the most relevant needs in each of Countybank's communities and reduces the game of diminishing returns donors sometimes play, where smaller donations go to more recipients with less impact over time. Strategic planning also helps the bank manage requests and prepare an agenda for future giving.
That diligence means the bank might not have a place for folks who approach it only a few weeks before a fundraising campaign or an event is scheduled to begin, but encourages everyone to apply for future funding allocations.
Ken said that although the COVID-19 pandemic caused the bank to shift its priorities on the go, 2020 has been a successful year for the bank as it continues to support communities.
"We've been a consistent provider of support for the causes and organizations that are important to us. Their needs have not gone away," he said. "While we've seen other sponsorships being pulled by other organizations, we've been fortunate to be able to continue to honor all our commitments that we've made to give back to the community"
In some cases, Countybank has even been able to ramp up its support in areas of greater need.
And, although about half of the bank's associates are working remotely, it has maintained the same capacity to serve its customers. The mortgage department has been especially busy as real estate in Greenville and the surrounding areas is experiencing a bump in popularity.
An 86-Year Tradition of Corporate Philanthropy and Associate Commitment
More than 4,000 American banks failed in 1933 — the height of the Great Depression and the year Countybank got its start. In that difficult year, the ideals of guidance, communication, and relationship building formed the basis of an Upstate South Carolina financial services institution. Since then, Countybank has held true to its principles while remaining forward-thinking and dedicated to the personal success of every one of its customers.
Not surprisingly, that personal approach has extended to its giving as well. A key goal in every giving decision the bank makes is to involve its associates in what it's trying to accomplish.
"Instead of just writing another check, we say, 'How do you follow the check with associate involvement?' Because this is what gives the gift of lasting impact," Ken said.
With ITOR, for example, Countybank buttressed the corporate component of its two three-year campaigns with an annual associate fundraising effort. In any given year, in fact, Upstate residents will see Countybank associates participating in fundraising walks and runs, helping with concessions at area sports events, and even ringing The Salvation Army bell.
Rebuild Upstate is a major example of this link between corporate and associate giving. The program works with disabled, low-income, and elderly homeowners to repair and rehabilitate their homes so they can continue to safely live in them.
Unsafe and substandard housing reduces quality of life and even puts lives at risk for thousands of people in the Upstate. Rebuild Upstate provides volunteers and materials to create safe, healthy, and sustainable home environments.
In the process, it's helping make rotting decks, leaky roofs, and missing railings and ramps a thing of the past in Upstate South Carolina.
"More than 1,000 projects have been identified and approved within the 40-mile stretch between Greer to Anderson, and dollars are available for this work," Ken said. "There are often just not enough people to do the work."
Ken said that, even in the face of the COVID-19 pandemic, the bank has also continued its efforts to educate customers in important ways.
"It's a weird time for our associates and our customer base but I think we have worked hard to make weird feel a little bit more normal with a lot of our efforts," he said. The bank has taken the pandemic as an opportunity to lean into its mobile technology offerings and helps its customers understand how to take advantage of it.
It's all par for the course at Countybank, even during a pandemic — and the reason why the bank has earned our Editor's Choice™ Award for Community Commitment.
Advertiser Disclosure
CardRates.com is a free online resource that offers valuable content and comparison services to users. To keep this resource 100% free, we receive compensation for referrals for many of the offers listed on the site. Along with key review factors, this compensation may impact how and where products appear across CardRates.com (including, for example, the order in which they appear). CardRates.com does not include the entire universe of available offers. Editorial opinions expressed on the site are strictly our own and are not provided, endorsed, or approved by advertisers.