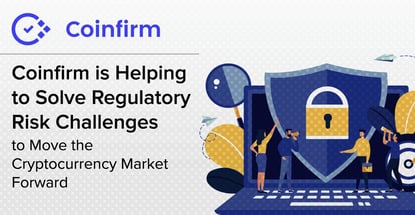 In a Nutshell: While the cryptocurrency ecosystem has only been around for a decade, it has experienced a lot of growth and seen many changes in that short time. Coinfirm is a technology company focused on delivering high-quality compliance and anti-money laundering (AML) services to crypto companies to help them boost transparency and trust. Its extensive AML platform ensures companies and their clients that funds are not being used for nefarious reasons. And its array of other compliance and advisory offerings add value to tech startups and traditional financial institutions entering the world of blockchain. Coinfirm recently added Trudatum to its product line, which allows users to easily verify the authenticity of any type of document.

Blockchain technology and cryptocurrencies have seen a lot of support from libertarian anarchists thanks to their decentralized nature and a general thumbing of noses at traditional hierarchical structures.

And, yes, a world where every system and individual is self-regulating, and bad actors are naturally weeded out sounds appealing. But in reality, an industry as large as crypto (that deals with people's money, no less) can only benefit from a certain amount of regulation.

What will likely be debated for years is what amount of regulation is appropriate. In the meantime, some crypto investors have already lost significant amounts of money to hackers and other malicious actors have taken advantage of the evolving crypto ecosystem to launder money.

"This technology is only 10 years old," said Grant Blaisdell, Co-Founder and CMO of Coinfirm. "The amount of stuff that's happened in that span is absolutely insane. Most financial systems take many decades to reach this point."

Coinfirm is doing its part to help stabilize the blockchain economy by providing the technology for regulatory compliance to the world of cryptocurrencies — a solution that will result in greater levels of transparency, trust, and most importantly adoption within the regulated mass market.

"Our aim is to serve as a foundation for the safe adoption of blockchain by all actors in the economy, including traditional financial institutions, governments, regulators as well as ordinary citizens," according to the Coinfirm website.

We recently spoke with Blaisdell to learn more about how the blockchain and crypto worlds can benefit from greater regulation and compliance, and the role Coinfirm can play in the developing ecosystem.

Coinfirm's AML Platform Helps to Solve Risk Issues

"We saw that the biggest roadblock — and, therefore, opportunity bridge — for the blockchain economy to be integratable into the traditional mass economy will be focused around regulatory issues, most specifically AML (anti-money laundering) issues," Blaisdell said. "So, we wanted to be that bridge."

Since its launch in 2016, the company has positioned itself as the go-to source for regulatory guidance and has become the world's leading provider of AML risk assessment products and services, according to the website.

"The Coinfirm AML Platform sets the global standard with the largest cryptocurrency market coverage — our Platform is blockchain agnostic and supports over 1200+ cryptocurrencies, Stablecoins and tokens, including BTC, ETH, XRP, Litecoin, NEO, Dash, Hyperledger, and all ERC tokens," according to the company.

Blaisdell said Coinfirm has implemented proprietary algorithms and analytics to make AML 90 times more effective than it is in the traditional financial system through its real-time, partially automated platform.

The platform analyzes transaction patterns using more than 300 risk evaluation scenarios across thousands of identified entities, according to the company, along with rich data to detect illicit activities supported by an array of technical resources to allow companies to make simple yes or no decisions.

Even though cryptocurrency regulations are still evolving, Blaisdell said companies should take heed and apply accountability and compliance measures now in the interest of maintaining a long-term presence in the market.

Cryptos that cannot show AML and compliance policies may run the risk of being delisted from exchanges in the future, he said, and could eventually face consequences from regulatory agencies.

In fact, we've begun seeing this even since our interview with Blaisdell. Just last month new rules laid out by the intergovernmental body, the Financial Action Task Force, that focus on privacy resulted in OKEx Korea announcing that it would halt trading on Monero, Dash, Zcash, Horizen, and Super Bitcoin beginning October 10.

Democratizing and Crowdsourcing Financial Data

Blockchain technology provides many new capabilities that either weren't attempted or can't be accomplished in the traditional financial space.

One of them is giving market participants a central point to submit data on the cryptocurrency market, such as addresses related to scams and hacks. Built on the original vision of Coinfirm and based on early client use cases, attached to the Coinfirm AML Platform is the AMLT Network powered by the AMLT token.

The first system of its kind that allows anyone to submit data related both nefarious actions such as fraud as well as trusted entities such as the users most trusted exchange into the Network. The ball doesn't stop there, once data is submitted, Coinfirm's data science team verifies the legitimacy of the data before implementing it into the Coinfirm AML Platform.

This allows for an end effect that highlights the risk profile around funds moving around the market and entering exchanges for example, allowing those that use the Coinfirm AML Platform to more effectively assess the risk of funds.

For valid data, Network Members are rewarded in AMLT tokens that can be then used for Coinfirm services at a discount. All of this together creates an incentivized ecosystem of transparent players and a safer and more transparent market overall.

Customized Advisory and Analytical Services Help Companies Build Compliant Frameworks

Under its AML umbrella, Coinfirm delivers an array of anti-money laundering products and services, which can be customized to meet the needs of virtually any client.

"Coinfirm delivers comprehensive anti-money laundering services to major financial institutions, in jurisdictions all over the world including the UK, EU, Switzerland, Japan, and Central and Eastern Europe," according to the website.

Blaisdell said that, with the right analytical tools and the knowledge to apply best practices, companies can make great strides to becoming more transparent, secure, and trustworthy.

"There are some companies that make loads of money, run off, and disappear," he said. "But other companies just go down. You're going to see loads of that happen. Many of these tokens you see listed are going to disappear. They're walking zombies because there are no projects really happening, it's just speculative. You can't sustain that forever."

He said this will lead to a cleansing of the ecosystem and will reveal which companies have value to add to the blockchain and crypto worlds.

Coinfirm reports that in the first quarter of 2018, thefts of more than $600 million were reported (with $400 million of that occurring in a single hack).

"When these attacks happen, Coinfirm's forensic investigative techniques allow us to track the flow of stolen funds, monitoring activity on accounts where they have been transferred," according to the website. "Our advanced analytical tools allow us to analyze huge amounts of data, obtaining results in real time."

Trudatum Allows Users to Register and Authenticate Any Type of Data

, one of Coinfirm's newest offerings, delivers its data provenance solution on an enterprise level and is soon to extend it publicly to individuals even. The product is billed as a regtech solution that can verify the authenticity of any type of file, including documents and graphics.

The solution was recently integrated by the largest bank in Central Europe, PKO Bank Polski. According to The Banker, "The bank used blockchain technology for the digital dispatch of banking regulations to over 5 million customers, which is by far the largest mass application of this technology in European banking."

"Storing your data in an immutable format, Trudatum allows you to record files on the blockchain and digitally sign them, providing a platform for your counterparties to authenticate documents such as transaction confirmations and contracts for financial services, and giving you a clear record of data provenance," according to the website.

Blaisdell offered an easy to understand real-life use case in which Trudatum can save individuals from being defrauded.



When someone purchases an item online, the seller may request verification of the bank transaction to ensure that the payment comes through before shipping the item. Then, the other party sends them a doctored PDF — a simple task for anybody with some graphic design skills.

"I've had multiple attempts on me in the crypto space to do things like that. We had one where they tried to do it to Coinfirm, and we were like, 'Guys, do you realize that we build systems to fight this?'" Blaisdell said.

With Trudatum, once the bank generates a PDF register of a transaction, the user can then send it to the recipient who can verify its authenticity against the record created by Trudatum on the Dash blockchain.

"Trudatum has numerous applications in e-commerce; online finance, including banking and insurance; logistics; and any process that requires confirmation of steps by multiple actors in dispersed locations," according to the website.

Although regulations around blockchain and cryptocurrency are still evolving, companies can demonstrate their commitment to transparency and trust by implementing strict compliance standards now. As the bad actors fall away, crypto enthusiasts will understand which companies can be trusted and are in it for the long run.
Advertiser Disclosure
CardRates.com is a free online resource that offers valuable content and comparison services to users. To keep this resource 100% free, we receive compensation for referrals for many of the offers listed on the site. Along with key review factors, this compensation may impact how and where products appear across CardRates.com (including, for example, the order in which they appear). CardRates.com does not include the entire universe of available offers. Editorial opinions expressed on the site are strictly our own and are not provided, endorsed, or approved by advertisers.