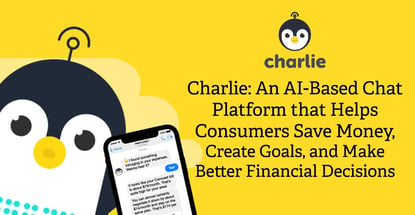 In a Nutshell: Charlie is a chatbot-based penguin that learns the personal money habits of users and serves up advice and notifications to improve their financial well-being. The platform works via text message and through a web interface and doesn't require an app or software download. Users submit data anonymously, and Charlie keeps track of balances, creates financial goals, and answers financial questions in a pressure-free environment.
Chatbots rose to prominence several years ago as a way to improve customer service, decrease wait times, and reduce the workload of support staff. Today, the technology is so advanced that users may not even realize they're chatting with a bot during a tech support inquiry or when asking a sales question.
But those robotic know-it-alls aren't only useful for routing people to the proper sales representative or answering questions about product availability. Some can help you make everyday decisions that put you on the path to financial freedom.
And Charlie, the chatbot penguin, might be among the best at helping consumers improve their finances without inducing stress.
Charlie isn't an app that you have to download or a service that requires payment or special software. Instead, users can visit the website or connect with him via text message to ask financial questions.
As users provide Charlie with more information, he can learn spending habits and advise them on ways to save money, decrease debt, and get better deals on purchases.
Charlie was partially the brainchild of CEO and Co-Founder Ilian Georgiev. After years of working to develop some of the most successful mobile games of all time, Georgiev made the switch to the world of finance.
"I decided to take all of the things that I learned in the gaming industry and use them for good," he said. "Each game we created challenged users to maintain a virtual economy. I wanted to help people learn to maintain their real-world economy."
Georgiev said he saw millions of users play the games he helped develop — sometimes for several hours each day. He wanted to help those same people learn ways to make their lives more fulfilling, so they no longer felt the need to escape to a virtual world.
"We spent many, many months interviewing people about how they think about money and what was stopping them from doing the right things," Georgiev said. "Our core takeaway was that, although most people knew what they should be doing, they didn't have the motivation."
Part of that lack of motivation stems from a lack of financial knowledge. And with many schools no longer focusing on financial literacy, Charlie fills in the gap while helping users learn ways to save money and still enjoy life.
"Most people don't naturally understand how to stay on top of their personal finances," Georgiev said. "It's a lot of spreadsheets and numbers and APRs. We didn't evolve to create spreadsheets. We were hunter-gatherers. But today, your survival mostly depends on understanding numbers."
Finding Consumers Savings on the Things They Love
Users can link various financial accounts to Charlie and use him to check balances, create budgets, and find ways to cut costs. The program transmits information via text message and doesn't require an app or software to operate.
Charlie warns users when they're close to their budget ceiling, or he'll let them know when they've done well and stayed within set limits.
"Most personal finance products tend to focus on the bad news," Georgiev said. "It isn't intentional, but you often still end up getting mostly bad messages. We programmed Charlie to be as positive as possible and come to you with good news."
And Charlie doesn't just fetch balances and data. He can learn about frequent purchases, get a better understanding of habits and goals, and provide ways to decrease spending without changing buying behaviors.
"We've focused heavily lately on providing better insights," Georgiev said. "When transaction data comes in, we learn what you care about and can help you set goals based on those things."
Charlie can also learn interests and find ways to save money on regular purchases. So if someone loves ice cream, and spends money at ice cream shops every month, Charlie can find local deals on that user's favorite flavors.
"It can also look at your current bills — for example, your cable bill — and tell you if you're paying more than the people who live around you," Georgiev said. "Charlie can then suggest ways to lower your bill or get a cheaper service that provides the same things you love."
The goal, according to Georgiev, is to provide timely and actionable items that users can capitalize on with very little time or effort.
And since Charlie has helped users pay down a combined $50 million in debt — while saving them an average of $80 each week — it seems that he's achieving that goal.
Anonymous Data Keeps Users Safe, But Informed
Every time a user texts Charlie to ask a question or submit information, the chatbot securely processes that data and stores it anonymously. No member of the program's development or management team can match a user to his or her submitted information.
But Charlie still has ways to keep track of user finances — and doesn't judge when you make a mistake. The program works to make finance a topic that's less stressful and more entertaining.
"Most products out there are built by people who love to think about money — and that's why they build the products," Georgiev said. "They assume that everyone else is in the same boat, but they aren't. For most people, thinking about money induces great anxiety."
Charlie does most of the financial heavy lifting. It doesn't expect users to visit the website regularly or check in by text every day. Instead, Charlie only relays information when something urgent pops up.
"When that happens, Charlie tries to make that interruption as delightful as possible — to reduce any anxiety that money issues often cause," Georgiev said. "Because thinking about personal finance is like going to the dentist. You know you'll be better afterward, but you still don't want to do it."
So Charlie might text users to share ways to reduce the cost of that Starbucks coffee they just purchased. He might message to warn of an account balance getting low. Or he can answer any questions users send his way.
In that way, Charlie is like a personal money manager in a user's pocket.
Charlie: Helping Improve Financial Lives, One Chat at a Time
Georgiev said his team continually seeks new ways to improve Charlie's financial know-how. What started a few years ago as two people coding a chatbot has since grown into a large team that executes specific tasks.
And that specialization helps Charlie focus more on the fundamentals of finance and less on the fluff that makes many personal finance applications and programs a waste of time. After all, who wants dozens of messages and paid advertisements sent to their phone in return for receiving a few occasional financial tips?
Georgiev knows from his time as a mobile game developer that people like to engage with a product if it is challenging, entertaining, and doesn't create unhealthy anxiety.
That's why Charlie offers words of encouragement, advice on how to make better decisions, and answers questions users have about finances. And he can even help them get a good deal on that ice cream they've been craving all day.
The current iteration of Charlie only scratches the surface of what the chatbot will become, according to Georgiev. In the future, the program will better understand user needs and serve up even more relevant suggestions.
"I'm excited about the ways we're investing in the insights engine," Georgiev said. "There are lots of things that people can do to make better financial decisions. We want to make Charlie phenomenally good at picking the right thing to suggest to the user."
Advertiser Disclosure
CardRates.com is a free online resource that offers valuable content and comparison services to users. To keep this resource 100% free, we receive compensation for referrals for many of the offers listed on the site. Along with key review factors, this compensation may impact how and where products appear across CardRates.com (including, for example, the order in which they appear). CardRates.com does not include the entire universe of available offers. Editorial opinions expressed on the site are strictly our own and are not provided, endorsed, or approved by advertisers.