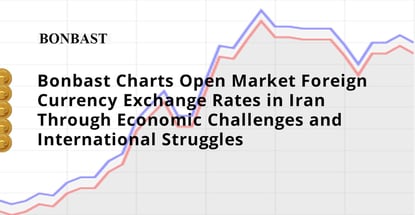 In a Nutshell: Bonbast has reported the foreign exchange value of Iran's rial currency since 2012, based on data obtained from a network of currency dealers in Iran and neighboring countries. While Iranians have continued their everyday struggle to build lives and futures since the rise of the Islamic Republic in 1979, massive depreciation of the rial has severely hampered the economy in the wake of a succession of UN and western sanctions. Now, coronavirus is closing off additional economic opportunities. Without a change in the status quo, a Bonbast analyst argues, the rial will continue its decline.
Since 2012, Bonbast has served as an authoritative source of information on the value of Iran's rial currency in relation to the U.S. dollar and more than two dozen other widely traded currencies, including the euro and the British pound.
The site performs an important function for Iranians at home and abroad as they act to retain the value of their own assets. It also serves businesses that include travel agencies and currency exchanges both within and outside of Iran, as well as a global community of media outlets reporting on Iran's longstanding conflict with the United Nations and the West.
Bonbast obtains information on the rial's forex status by drawing on a network of currency dealers and shops located in Iran and in neighboring countries, sometimes updating the site dozens of times a day on the basis of their reporting.
These traders have an interest in keeping the buying public informed because UN and western sanctions have blocked Iranian access to the international financial system, effectively truncating the nation's international economy to a cash-only basis.
In addition to real-time reporting of the rial's status, Bonbast also maintains an archive reaching back to the site's inception as well as tables and charts for facilitating historical comparisons and a real-time graph calculator.
"We've been quoted by Reuters, Bloomberg, The Wall Street Journal, the BBC, and many other major news outlets as the most reliable source for currency exchange rates in Iran," said Ray Kazemi, Bonbast Public Relations & Marketing. "Bonbast started as a weblog with a few hundred viewers per day and has grown into a major source of currency rate news for millions of international users and renowned media outlets."
Real-Time Rate Reporting Based on Exchanges at Ferdowsi Square
These media outlets are interested in communicating the endemic condition of the rial since the Islamic Revolution of 1979 — a condition of inexorable loss in value following increasing economic and political isolation.
Over time, Iranians of all classes have fallen in economic status as the nation's trading partners and currency reserves have dwindled. They trade their rials in markets such as the ones centered in Ferdowsi Square in Iran's capital city of Tehran. Bonbast's real-time rate reporting is sourced mainly from those Ferdowsi Square merchants.
Motivation to start the site in 2012 came when the government tried to stem the rial's decline by banning foreign currency trade and blocking exchange rate websites. The government launched a foreign exchange center that would provide importers of some basic goods with foreign exchanges at a rate 2% cheaper than the open market rate. That project was canceled following the strong depreciation of the rial between 2012 and 2013.
A robust black market and the imperative to stem capital flight has always led the country back to some form of official currency exchange.
Today's currency landscape in Iran is multitiered. The government subsidizes an official exchange rate of 42,000 rials to the dollar (the rial traded one to one with the dollar in 1979), but reserves that rate for essential humanitarian imports that are exempt from sanctions. The idea is to protect society from rising prices caused by the rial's depreciation.
Everyday Iranians and currency traders use what is known as the open market rate — the rate Bonbast reports. Decades of depreciation to that rate accelerated after President Donald J. Trump withdrew the U.S. from the 2015 nuclear accord — known as the Joint Comprehensive Plan of Action — and instituted strict new rounds of sanctions in 2018.
Detailing the Impact of COVID-19 on the Rial
The rial experienced further depreciation in 2020 as the coronavirus precipitated a major public health crisis in Iran. This report from the early days of the pandemic's onset tells a familiar story of border closings, flight cancelations, deepening isolation, and a plunge in the rial's value.
Bonbast reports Iranians today need almost 18,000 rials to buy one U.S. dollar.
According to Kazemi, in many ways, Iran is suffering the same fate as other oil-exporting countries that are dependent on foreign trade to obtain resources.
"Iran has depended on oil revenue and needs foreign currencies, particularly the dollar, to import raw materials, food, drugs, industrial machinery, and more," Kazemi said. "But the outbreak led to even higher rates."
With the demand for the dollar and other foreign currencies remaining as high as ever, Kazemi regards the continued sinking of the rial as a foregone conclusion.
"The dollar and the euro have turned into commodities in Iran," he said. "Rapid depreciation of the rial is why people look to foreign currencies as an investment opportunity."
Many businesses in Iran adjust prices for goods and services based on foreign currency exchange rates, Kazemi said. "As graphs on our website can show, a person who purchased the U.S. dollar two years ago is today three-times richer."
Charting Post-Pandemic Prospects for Emerging Economies
COVID-19 will inevitably settle at some point into global equilibrium. Either a vaccine will mitigate its spread and impact, it will lose its potency as have other viruses of its type — including the common cold — or both.
In Kazemi's view, the bad news for Iran is that, when the coronavirus pandemic ends, Iran's other problems will remain.
"With regard to Iran, the crisis will continue, and will probably get even worse," he said. "The national currency will continue its free fall, and the value of foreign currencies will rise for Iranian consumers."
This is because Iran's unique political situation puts it in the worst possible financial situation. In Kazemi's view, President Trump has signaled his openness for a new deal with Iran, but the Iranian leadership has vehemently rejected any new negotiations.
"Iran hopes that Joe Biden will be elected as the next U.S. president," he said. "The nuclear deal was President Obama and Biden's legacy, and Biden as president will most probably try to revive it."
The question is whether the country will be able to wait that long. Meanwhile, other exporting nations are experiencing a fraction of what Iranians are facing.
"With regard to the global market, while the dollar has remained relatively stable, currencies in many emerging markets and energy-exporting countries — including Brazil, South Korea, South Africa, Turkey, and Mexico — have been hit hard by the pandemic," Kazemi said. "It's very likely that governments in those countries think of depreciation of their currencies as a way to boost exports."
Advertiser Disclosure
CardRates.com is a free online resource that offers valuable content and comparison services to users. To keep this resource 100% free, we receive compensation for referrals for many of the offers listed on the site. Along with key review factors, this compensation may impact how and where products appear across CardRates.com (including, for example, the order in which they appear). CardRates.com does not include the entire universe of available offers. Editorial opinions expressed on the site are strictly our own and are not provided, endorsed, or approved by advertisers.