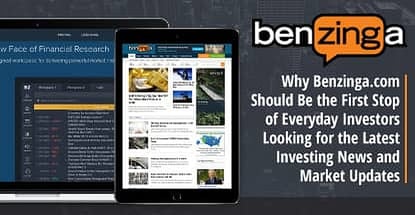 In a Nutshell: It's no secret that investing successfully isn't easy; if it were, you probably wouldn't hear so many stories of people losing their shirts — along with everything else — to the stock market. Beyond simply knowing the ins and outs of investing, there are many micro and macroeconomic events that can affect your stock portfolio. Therefore, keeping abreast of important financial news and market events can be just as crucial for everyday investors as it is for professionals — and both take advantage of Benzinga to do it. Part of what makes Benzinga unique is their content is geared toward professionals and amateurs alike. Benzinga.com articles, podcasts, and newsletters are specifically conceived and produced with main street retail investors in mind. And, for the professional or more advanced investor, there's Benzinga Pro, a real-time newsfeed platform that offers breaking headlines, company data, and SEC filings. That breakdown helps Benzinga reach every type of trader and investor. Benzinga helps millions of users not just keep up with market developments, but actually understand them. //
Rookie investors tend to make a number of common mistakes, often due to a lack of initial research and planning. For instance, if left to my own devices, I, as many others often do, would probably choose my stocks simply based on the companies I liked (or, even, liked to eat at) — "I'll take 100 shares of CAKE and PZZA, please."
Unfortunately, most seasoned professionals will agree that the stocks you invest in should be selected based on the stock's performance — not brand loyalty (or deliciousness). You may shop a certain brand frequently, but if no one else is shopping there, that doesn't bode well for the overall health of the company. Of course, even taking the time to do your research doesn't necessarily ensure you'll make the right choice. In some cases, stock market news can be so complicated that it's  hard to even understand it. This can be especially true with less popular industries, like biotechnology.
"Typically, a biotech story is a very complicated drug trial issue. It's questions of, does the drug work? Which phase is it in?" explained Anthony Laverde, the Head of Content for Benzinga.com, a leading financial media and research publication site. At Benzinga, the goal is to take those complex topics and break them down into easy-to-understand language. "When you write stuff like this up, you want it to be written in such a way that the average investor doesn't need to be a doctor to understand why this is important, and how it will affect their portfolio."
Another common mistake related to insufficient research is overreaction to a change in the market. An example? After the 2016 election, the dry shipping market, represented by the Baltic Dry Index (BDI), saw a drastic increase. Specifically, the stock DRYS increased from $4 a share to $102 a share — in just six days. Benzinga's newsdesk saw the move, and began pumping out headlines and stories to inform their readers about why it was happening and what to do about it.
"We try to look out for the retail investor when we can. Investing can be dangerous for the common investor — he or she sees a stock go from $4 to $102 and thinks, 'It's going to keep going,'" Laverde said. "We were able to get the CFO of one of the shippers to do an interview with us, and, in the interview, he explained that the move in these stocks wasn't justified — they were probably getting ahead of themselves. We published the article right away, and, the very next day, DRYS was halted at $73 and opened at $20; it had backed down most of its gains from the previous two days."
Without understanding why the stock was moving, a rookie retail investor would be likely to leap before they look, which can be a costly mistake. Both the timely response of Benzinga's team to the moving market, and the clear, comprehensible information in the article, kept some readers from making a hasty stock buy — and likely saved a good deal of money in the process.
Podcasts, Articles, and Researched Ideas Help Consumers Become Educated Investors
With such a wide variety of websites offering round-the-clock investing news and information, it doesn't take much effort to find yourself eyeball-deep in stock charts and profit statements. For the professional trader, that may be well and good, but the average investor isn't generally going to appreciate the nuances found in the nitty-gritty data. Benzinga.com focuses on bridging that gap.
"We aim to cover changes in the market from the viewpoint of which macroscopic events will affect the retail investor," Laverde described. "We ask ourselves, how will it affect the retail investor the most? What risk to their portfolio will it carry? — And how can we warn them?"
With that goal in mind, at the core of the Benzinga.com philosophy is a dedication to, well, making sense. Unlike some of its competition, Benzinga.com doesn't get caught up in a lot of jargon and techno-babble; the site reports — and explains — the latest market developments in real words, for real people.
"When we write stories, we write them for an audience who doesn't necessarily understand the topic in depth," said Laverde. "We try to maintain an educational slant to the writing, to really explain why this is important for the average investor." To pull it off, the team at Benzinga relies on both seasoned journalists and financial services veterans, pooling their collective expertise to analyze both where the market is — and where it is likely to go.
"We have a team of reporters, some of them investigative reporters, some of them former traders from hedge funds or former brokers, who look at basically every piece of research that we have — and we have some very unique data sets that we use," explained Laverde. "The team comes up with a mosaic theory of what needs to be focused on, and what people are paying attention to in the market."
Once the team determines a topic of focus, the research begins.
"We're usually scouring analyst notes from Wall Street, which are very complex buy ratings or sell ratings, and we tend to write those notes up in a very easy-to-understand way," Laverde said. "Instead of just publishing the note from the analyst, which is very complex for the average investor to read, we'll take some of the data points from that note and we'll explain it in a very short, four- or five-paragraph write-up."
For those without the time — or inclination — to constantly keep up on the latest headlines and articles, Benzinga also offers another way to get your daily investing news: Benzinga's popular morning podcast, PreMarket Prep.
"Our morning show has tremendous traffic," said Laverde. "It's a podcast, and you can listen to it on several platforms, like our site, YouTube Live, and iTunes. People can listen to it on the way to work, in the car, wherever, and listen to what's important for their investments that day, what news came out."
Benzinga Pro Keeps Professional Traders Updated with Real-Time Streaming Headlines & Personalized Market Alerts
Of course, Benzinga doesn't just serve the retail investor; for the professional trader who wants stock charts and technical jargon, there's Benzinga Pro. The cloud-based, paid subscription service runs like Bloomberg's terminal and is visually similar, utilizing the same four-window, dockable layout. The software offers many features that make it easy for professional traders to stay up-to-date on up-to-the-minute market changes, at a much cheaper price than its industry competitors.
"You can do data searches, you can look at balance sheets of individual companies, and it has a scrolling news wire," Laverde described. "You can click a button to see if a bank has upgraded or downgraded a stock. We also have a calendar feature; if a company announces an event or earnings statement, you can click a link and join their conference call."
From the Benzinga Pro workspace, users can see a comprehensive newsfeed with real-time streaming headlines. The feed can be completely customized and filtered, with options to narrow down headlines by category and source. You can even set the newsfeed to only show the latest breaking market news for the stocks on your personalized Watchlist, eliminating any potential clutter from your feed.
"On our Pro team — we consider that desk almost like a Wall Street trading desk," explained Laverde. "Everyone has eight screens, and we're watching every stock that's trading. If a stock moves, we're immediately calling around and finding out why — then immediately posting it to our wire. Or, if a stock gets upgraded or downgraded at a brokerage house, we immediately post it to our calendar feed."
Along with streaming news, Benzinga Pro users can see real-time updates to their Watchlist of favorite stocks, including instant price changes and daily highs and lows. Additionally, clicking on any stock symbol throughout Pro will open a security window with a comprehensive company profile detailing everything from earnings and shareholders to company and industry averages.
"So one of the things we've been seeing is some retail clients from Benzinga.com, who are really interested in running their 401k or IRA more actively, are actually signing up for a Benzinga Pro," revealed Laverde. "It really helps their performance and their overall knowledge of how these various macroscopic events affect their portfolio."
Adding a New Medium by Going Live
Over the last five years, the team at Benzinga has striven to produce content that is educational, yet engaging, for everyone. Benzinga Pro's live-streaming newsfeeds and detailed stock profiles appeal to the seasoned investor. And, for everyone (like me) who, without a little guidance, would probably end up with a collection of stocks that says menu more than investment portfolio — there's Benzinga.com.

"We're working on being able to provide very unique content in any format possible," said Laverde. "Everything we do, we do with an educational slant — and we try to deliver that across every medium we can. We have the podcast, the website, and we just broke ground on our new TV studio, where we'll be doing live interviews. The goal is to make sure we bring in very smart people who can discuss what their opinions are on how all these crazy macroscopic events affect investing, such as when it's time to panic — and when it's not."
Advertiser Disclosure
CardRates.com is a free online resource that offers valuable content and comparison services to users. To keep this resource 100% free, we receive compensation for referrals for many of the offers listed on the site. Along with key review factors, this compensation may impact how and where products appear across CardRates.com (including, for example, the order in which they appear). CardRates.com does not include the entire universe of available offers. Editorial opinions expressed on the site are strictly our own and are not provided, endorsed, or approved by advertisers.