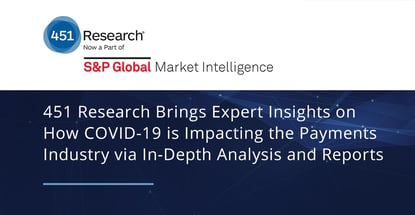 In a Nutshell: The COVID-19 pandemic has presented unique challenges to the payments processing industry. 451 Research — a global research and advisory firm — has conducted in-depth investigations and analysis on this topic and recently shared its findings in the report, "COVID-19: The Impact of a Pandemic on the Payments Industry." The payments ecosystem was seeing a drop in numbers as early as March, when consumer activity declined considerably. The firm also identified increased activity among businesses that deal primarily in contactless transactions. Ultimately, the payments industry will need to stay informed and develop detailed plans on how to move forward as the pandemic continues to play out.
We're just over halfway through 2020 and there's no doubt this year will stand out in history books for decades to come. From the COVID-19 pandemic, social upheaval, and a forthcoming presidential election, the U.S. is grappling with several big issues — and their ripple effects — all at once.
Only time will tell how adept the country is at multitasking.

Of course, at CardRates, we have been closely watching how the spread of COVID-19 has caused the world of finance to pivot, innovate, and, at times, simply take cover, as we navigate through this challenging period.
Other folks have been doing the same, as evidenced by a recent report by 451 Research on the current state — and future — of payments processing.
451 Research is a global research and advisory firm that generates data-driven insight across a wide range of industries, including finance, tech, and business. That expert understanding helps technology and service providers, IT leaders, and financial professionals leverage technology to capitalize on market opportunities.
With payment processing among the firm's main areas of focus in finance, the company sprung to action when it became clear that COVID-19 was going to cause upheaval to businesses around the world.
The company released "COVID-19: The Impact of a Pandemic on the Payments Industry," which was authored by Research Director Jordan McKee, in April.
We recently sat down with McKee to discuss the report's findings, predictions, and 451 Research's outlook on the payments industry in general.
Helping Clients on Both the Card-Issuing and Acquiring Side Navigate Payments in the Digital Age
First, let's take a look at how 451 Research operates under normal circumstances to gain a greater understanding of what positions them to provide expert analysis and guidance during these times.
"We've been around for two decades — we were founded in 2000 — and we were just acquired by S&P Global back in December of 2019," McKee said. "We're now part of their market intelligence business unit."
McKee works in the firm's Customer Experience and Commerce group.
"We focus on a lot of customer-facing technologies and cover that membrane between the technology itself and the user that's interacting with it," he said. "I look at payments through the lens of innovation and emerging technology and focus on both sides of the payments business."
This means McKee and his group look at the card-issuing side, which is the banks responsible for enabling consumers with purchasing power, he said. This also includes accompanying technologies such as contactless cards and digital wallets.
"I also look at what we call the merchant acquiring side of the business," McKee said. "So, the banks and all the intermediaries that are responsible for hooking merchants into the payment system, and allowing them to accept payments from their customers and covering all the moving pieces in between."
Those moving pieces include fraud prevention capabilities, point-of-sale, and various other technologies, he said.
The company's research offers a view into how digital technologies are changing the delivery, consumption, and business models for payments services.
"To accomplish this, we cover the marketplace through a unique bottom-up view, investigating how individual payments providers — both established and emerging — are innovating, and the implications of those innovations for the competitive landscape," according to the company.
How the COVID-19 Pandemic Has Impacted Payments Across a Range of Industries
"With everything going over the past handful of months, there's been so much change," McKee said. "For our clients, that has kind of increased the value of 451. They're curious to know, 'What do these changes mean? What's going to happen? How permanent are some of these developments?'"
451 Research's payments report set out to answer these questions and more.
"Everything we looked at was through that COVID-19 lens — just trying to understand the longer-term impact of what we've seen unfold over the past three to four months here," McKee said.
There's no doubt that the pandemic is bringing a wave of change across the payments industry, according to the report.
"No entity or segment has been granted immunity, but some will fare better than others," according to the study.
The report found that overall consumer spending growth shifted swiftly into negative territory in March, with 33% of survey respondents saying they plan to spend less in the coming 90 days and 20% saying they planned to spend more.
This is a net negative 25-point decline from February and a net negative 20-point decline from March 2019.
"The near-term impact of the coronavirus is being driven by the temporary business closures that are spreading across the country as a result of social distancing requirements," according to the report.
And processors were already feeling the business impact of consumer spending declines in April, McKee said.
"Payment processors that have significant exposure to the hardest-hit industries, particularly in card-present channels, will feel the most pronounced impact," according to the report.
The report predicted that processors with a heavy focus on card-not-present channels were likely to fare better than those that were seeing their volume dominated by in-store transactions.
This was holding true in June when we spoke to McKee.
"Those payment processors that happened to focus on digital are the beneficiaries of a lot of that volume shift that's going on," he said. This includes grocery and alcohol delivery companies, which are seeing up to four times growth.
The report also predicts that some relatively new entrants to the payments processing realm may not be able to completely recover from the financial impact of the pandemic.
"As normalcy returns, we anticipate key lessons from the pandemic will spark merchant demand for various payments capabilities," according to the report. "For merchants that were challenged to make the quick pivot from in-store to online sales, aligning with partners that offer an omnichannel payment platform is likely to be more of a priority than ever."
The report also predicts that more businesses will demand payments-data-as-a-service in the future to better understand the health of their business at any given time.
Identifying Opportunities and Increased Risks While Boosting Security
While nobody would characterize the impact of the COVID-19 pandemic on the payments industry as a reason to celebrate, 451 Research has identified some bright spots in an otherwise gloomy period.
"Contactless payments have seen a tremendous amount of growth over the past few months," McKee said. "Both Visa and Mastercard have said independently that contactless transaction volumes are up 40% comparing Q1 of this year and Q1 of last year."
The rise in contactless payments is due to more consumers adhering to social distancing guidelines and opting not to come in contact with the outside world as much.
"Contactless payments have really been positioned as a key enabler of those social distancing experiences here in the U.S.," McKee said. "The timing of this has been somewhat favorable for card issuers that have been accelerating their issuance of contactless cards to U.S. card holders."
Of course, with more contactless and online purchases comes more challenges.
"There's risk coming from a few different fronts," McKee said. "Probably the most obvious one is as it relates to fraud. With more volume going online, it creates new opportunities for bad actors to blend in with legitimate traffic."
The increased fraud attempts will come in a variety of ways, according to the report, from promotion abuse, returns abuse, phishing scams, and even card-skimming at retail locations.
The pandemic will also result in the need for better compliance strategies because current methods may not be sufficient, resulting in extended compliance timelines.
"Meeting these requirements demands significant IT resources, time and funding — all of which are in limited supply as a result of the coronavirus outbreak," according to the report.
451 Research advises that the payments industry, among others, will feel the impacts of the COVID-19 pandemic for months to come. And the best thing the industry can do is educate itself on the issues and strategize for the future.
"Payments stakeholders must work quickly to familiarize themselves with the threats and opportunities stemming from the global pandemic and put in place plans for adaptation," according to the report.
Advertiser Disclosure
CardRates.com is a free online resource that offers valuable content and comparison services to users. To keep this resource 100% free, we receive compensation for referrals for many of the offers listed on the site. Along with key review factors, this compensation may impact how and where products appear across CardRates.com (including, for example, the order in which they appear). CardRates.com does not include the entire universe of available offers. Editorial opinions expressed on the site are strictly our own and are not provided, endorsed, or approved by advertisers.