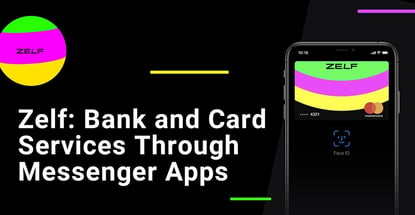 In a Nutshell: Online banks typically stick to a model built around a dedicated app and a physical card. A new offering from Zelf allows financial consumers to use their favorite messenger apps to set up virtual card accounts to send and receive money and make purchases. Zelf appeals to a growing audience of younger consumers by dispensing with a dedicated banking app infrastructure. Its technology works through more familiar digital channels that consumers can navigate quickly, even with voice commands.
Many digital challengers to the banking establishment seem compelling and innovative on the surface. But they may struggle to entice consumers to adopt them as a primary financial service provider.
Zelf , a neobank that leverages the ease of messenger platforms to send and receive money, is gaining a sizable following among Gen Z users.
Zelf accomplishes this by embracing the simplified, mobile-first financial lifestyle its target market of younger financial consumers know and love. And it has developed a reputation for rethinking banking from the ground up.
Gen Z consumers will mature and take their place among the top-earning financial demographic by the 2030s, according to economists. And Zelf plans to help them along the way with products that fit their mobile banking needs with a streamlined approach.
Zelf isn't just following the trend toward contactless payments and removing the need for physical cards, although it also offers those services. The company goes much further by completely removing the need for a standalone banking app.
Consumers won't find Zelf in any mobile app stores. Instead, Zelf integrates with a well-established Gen Z preference to interact with the world through chatbots and popular messenger apps, including Facebook Messenger and WhatsApp.
In fact, "Zelfers" will soon have the opportunity to communicate with its AI-enabled platform through voice commands in those messenger apps.
"You'll be able to say, 'Show me all my gas purchases for November of last year,'" said Elliot Goykhman, Zelf Founder and CEO. "And with one sentence, you'll do much more than you can do with any mobile banking app in the world right now."
Global Access to Banking Through Familiar Channels
Zelf currently operates in France and Spain, where more than 500,000 Zelfers have already joined the platform by scanning a QR code generated on the Zelf website or receiving a friend's referral code. Once they have joined, new users are directed to choose their preferred messenger and start a conversation with their new bank.
Zelf pulls the user's name and phone number from the messenger account info and waits for the user to tap that info over to the platform. Then, in less than 30 seconds, Zelf creates a unique International Bank Account Number, or IBAN, and a virtual Zelf debit card for the user.
Watch on
Users add money to their Zelf virtual cards by transferring funds from a bank account, other cards, or even from their parents, by sharing their individual QR code or simply providing their IBAN account number. Then, they authorize contactless payment platforms, such as Apple Pay and Google Pay, to use those virtual Zelf account numbers as they would any other card.
IBAN accounts are predominantly available only in Europe, and the Zelf model's global potential depends on creating partnerships with providers that serve other markets. That's what differentiates Zelf from other proprietary digital wallets, including PayPal, WeChat Pay, and Alipay.
"When you get a standard account attached to a card that you manage in a messenger, you are connected to the whole SWIFT infrastructure and protected by banking laws," Goykhman said. "That carries certain regulatory protocols, but we were willing to go that route to make it standard, universal, and globally available."
Virtual Debit Card Offers Convenience and Rewards
Other digital challenger banks are more conservative, or simply haven't thought about what would happen if they abandoned their apps and cards. Because those institutions generally don't break through to become the primary financial platforms for consumers, they also tend to struggle with profitability.
Zelf has a plan for that, too, and it starts with efficiency.
"Once you cut the plastic out of the equation, you also minimize your cost," Goykhman said. "We don't have to have a partner that produces plastic cards in each of our countries, and we don't have problems with logistics because we deliver accounts virtually and instantly."
The next mile on Zelf's road map depends on what Goykhman referred to as "our Zelfers-first approach to marketing" in a recent blog post.
"Instead of paying for TV, radio, billboards, Google and Facebook ads, as 'old school' banks do, we reward Zelfers with bonuses to share their links and educate their friends and family," he wrote in the post.
You'll earn 5 euros for every friend who accepts your invitation to join Zelf. And when friends of friends join, that's another euro for both you and your friend. On top of the 5 euros users receive simply for joining the platform themselves, it all adds up to an easy-to-understand, spendable incentive that isn't wrapped in red tape.
Loyalty rewards will vary by country and its regulatory climate; and the amount of money available to the platform from the interchange process may vary. Zelf also has plans for entering the U.S. market and offering a different type of reward.
"There, we envision a program that would be similar to earning interest — you would actually earn rewards for storing money in your Zelf account," Goykhman said.
A Chat-Based System Integrated with Payment Platforms
Zelf currently works in Facebook Messenger, WhatsApp, Telegram, and Viber. Plus, it has announced plans to add support for more messengers this year.
Zelf can generate scannable QR codes that enable payees or payers to initiate and complete transactions. That allows the neobank to serve markets where contactless platforms are not as fully deployed as they are in more developed nations.
Moreover, because Zelf transacts entirely on messenger platforms, it leverages SMS-based two-factor authentication (2FA) to circumvent potential security issues.
"Only the person who has both the account and access to the phone, and the ability to respond to those SMS confirmations can perform a transaction," Goykhman said.
And soon, there won't be any tapping or clicking involved because Zelf is preparing an AI-powered chatbot to deploy on its messengers.
"Traditional banking app developers need to think ahead about what buttons to include in the limited space they have available, but once you go with voice, you have an unlimited capability," Goykhman said.
Goykhman gave the example of a freelancer or gig worker using Zelf to invoice a client.
"I can say, 'Create an invoice for article proofreading for $200,' and our AI understands that it's a money request and within seconds can create a QR code to enable payment for those services," Goykhman said.
Zelf also focuses on supporting underserved gig workers through individual banking, simplified P2P payments, invoicing, and money request services.
"Those small freelancers and gig workers will mature and create their own boutique shops, consulting companies, and content generation firms, and some of those will become corporations," Goykhman said.
Advertiser Disclosure
CardRates.com is a free online resource that offers valuable content and comparison services to users. To keep this resource 100% free, we receive compensation for referrals for many of the offers listed on the site. Along with key review factors, this compensation may impact how and where products appear across CardRates.com (including, for example, the order in which they appear). CardRates.com does not include the entire universe of available offers. Editorial opinions expressed on the site are strictly our own and are not provided, endorsed, or approved by advertisers.