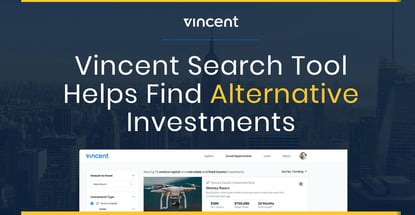 In a Nutshell: The fast-growing alternative investment market includes real estate, credit-based assets, and even art, but it can be difficult to navigate. That's why the free Vincent search tool allows investors to find and compare those opportunities easily. Vincent acts as a Google for alternative investments and pulls data from 60 qualified portals to increase market transparency and help investors make better decisions with more more platforms being added all the time.
Investing always carries risk, and the key to an investor's success is balancing risk tolerance with the ability to own shares of appreciating assets. Alternative investments, including real estate, art, and other assets, have become popular with investors who want to strike that balance.
One barrier to entry with alternative investments is timing. Helping investors find investment opportunities quickly enough to earn a meaningful ROI is why the Vincent search tool was launched.
Digital transformation and the advent of online investment marketplaces have certainly enlarged the scope of the industry. One notable difference is the rise of retail investment products that stand as alternatives to traditional equity securities.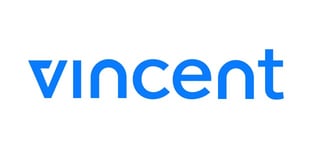 Regulation A+ rules created in 2015 under the JOBS Act freed small issuers to essentially offer new kinds of structured products to everyone. Since then, fintechs have been introducing into the market alternatives ranging from fixed-rate asset-backed debt and other credit-based instruments to fractional shares of art and other collectibles.
However, the market has been a bit like the Wild West. Alternative investments have emerged as a viable means of portfolio diversification that can stem a downward pull in equity holdings. Until Vincent arrived in 2019, many new investors had no practical way to view the expanse of choices.
Vincent aggregates data from more than 60 investment portals with a database that is constantly growing, and puts it in front of prospective investors in a way that makes sense and leads to better decision-making.
"There were lots of sites that helped you invest, but they didn't show you all the things you could invest into and how to pick and choose," said Evan Cohen, Vincent Co-Founder and COO. "We decided to become the Google of alternative investments."
Discover, Track, and Invest in Alternative Assets
Like Google, Vincent sends traffic to its partner alternative investment brokerages, so it charges no fees and doesn't transact with users.
The platform also eliminates all forms of advertising and affiliate marketing, earning no commission or payment when a user decides to invest through a partner platform.
According to Cohen, Vincent acts like a concierge for alternative investments.
"Nobody wakes up in the morning and says, 'I really need to invest in a commercial real estate property or a collectible today,'" Cohen said. "What they're much more likely to say is, 'I just got my quarterly bonus, and I want to invest in something. What should I invest in?'"
Then comes the hard part, which Vincent makes much more accessible. Its simple filters and tools surface investment opportunities worth billions and allow apples-to-apples comparisons from one website to another.
"On top of that, we also layer on third-party data, so you're not just getting info from one source. You're getting it from a couple of other sources that help you make your own decision," Cohen said.
Users can browse among several investment types in more than 30 business categories, stipulate an amount they want to spend and a potential return they want to receive. They can also select between stand-alone investments and packaged funds and portfolios.
Vincent allows users to set alerts based on any of those criteria and wait for emails announcing the arrival of products that match.
"The first rule of investing is to do your own research," Cohen said. "Historically, alternatives have been opaque, and we're working hard to make them more transparent so investors can act smarter and faster."
Become a Creditor and Earn a Higher Fixed-Rate Return
Investors can purchase shares of master artworks with appraised values in the millions. They can also invest in movie projects, film studios, vintage comic books, and esoteric categories that include digital cryptocurrency assets.
"Likely because of the rise of Bitcoin over the last couple of years, we've been seeing searches for crypto increase 20% month over month," Cohen said. "And in 2020, collectibles were our biggest riser. It went from a very small category into the top five."
Vincent's stalwart products are in the venture capital and asset-backed categories, which encompass everything from litigation finance to maritime shipping, real estate, small business lending, and crypto lending.
"There's a lot of lending out there, and it's great because it's fixed income," Cohen said. "It's a high interest rate return that has a very clear term and payout period."
Several Vincent investment partners originate opportunities in real estate, for example. "You can invest in the debt stack of a commercial property or a fixed-rate loan," Cohen said.
With those opportunities, and others in the venture space, the investor essentially functions as a bank and extends credit.
"There are small businesses out there that need capital, and our partners are going out and originating those loans," Cohen said. "And you provide the credit and earn the profit."
Commercial real estate in large urban centers took a significant hit during the COVID-19 pandemic, which brought on shutdowns and work-from-home transformations. A good deal of current activity among alternative providers involves financially reviving those distressed real estate properties and assets.
"Now that things are coming back online, that distressed real estate needs to be purchased," Cohen said. "It's a huge opportunity, and there's money to be made."
One factor always present when extending credit is the possibility that the debt will default. So Vincent goes to great lengths to ensure that the providers it works with are top-notch.
Trusted and Compliant Data in a Burgeoning Market
Vincent ensures every platform is compliant and has an established track record by curating its list of partners and results. Those platforms have a vested interest in transparency as well.
"When we're working with these platforms and portals, this is their entire business model, and this is their job," Cohen said. "They're also in on the deal and making money, so everyone's incentives align."
As originators, the platforms also ensure compliance on all of their products.
"You're investing in a loan that has already been vetted, tracked, and managed by a professional platform," Cohen said. "At the same time, you're also paying that platform a small premium to access that deal."
Vincent provides educational resources and a newsletter to assist users in mastering the nuances of alternatives. Those can help investors leverage the platform's data-enabled comparative view to their advantage.
"The space is growing very quickly," Cohen said. "However, we'd be the first ones to tell you that alternative investing is not something everybody knows about."
It's important to be well-versed before jumping in, given that many of the opportunities Vincent makes available involve a significant financial outlay of hundreds if not thousands of dollars.
"It's a huge focus for us — we're here to help guide you on this mission toward building a better and more prosperous financial portfolio," Cohen said.
Advertiser Disclosure
CardRates.com is a free online resource that offers valuable content and comparison services to users. To keep this resource 100% free, we receive compensation for referrals for many of the offers listed on the site. Along with key review factors, this compensation may impact how and where products appear across CardRates.com (including, for example, the order in which they appear). CardRates.com does not include the entire universe of available offers. Editorial opinions expressed on the site are strictly our own and are not provided, endorsed, or approved by advertisers.