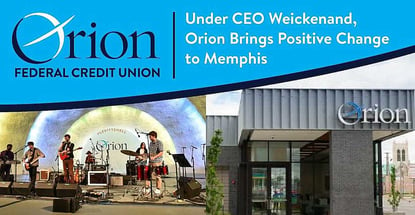 In a Nutshell: In 2010, the Memphis Area Teachers Credit Union was struggling. Staff morale was low, its finances were in bad shape, and its outlook was bleak. But when current CEO Daniel Weickenand came on board, he took the challenge as a chance to implement major improvements, including rebranding to Orion Federal Credit Union, improving its business practices, and emphasizing the importance of giving back to the community in very real ways. Weickenand has seized countless opportunities to make a positive impact in Memphis through his role at Orion. The credit union also has formalized avenues in place to help bring about positive change, like its "Orion Gives Back" program for charities and its fundraising efforts through various sponsorships. //
We've all passed abandoned gas stations as we're driving down the road — probably without giving a second thought.
But for Orion Federal Credit Union CEO Daniel Weickenand, the abandoned BP station that sat across the street from Le Bonheur Children's Hospital in Memphis did not go unnoticed. When Orion was planning for a new location in the area, Weickenand said it chose the former gas station despite having less expensive options available.
"There are very sick kids in the hospital, and you've got a toxic site right across the street," Weickenand said. "We spent the extra money to clean the brownfield site — the whole lot — and have the dirt taken away, then we had new dirt put in."
For Weickenand, it was an easy decision because it was the right thing to do, and Orion had the resources to make it happen. He said they even went a step further in making sure the building had a very bright, modern look to it, with lights that change color at night.
"Even if it's just for a moment at night that the parents or children might be looking out the window, maybe it can take their mind off the troubles they're going through," he said.
It's this kind of proactive and socially conscious approach that has helped turn Orion from a struggling credit union with an aging member base to a successful and growing organization that is making real improvements in the Memphis community in a variety of ways.
CEO Changed the Culture with a Memphis-First Approach
Back in 2010, the Memphis Area Teachers Credit Union was floundering. The long-running credit union was facing the consequences of a confluence of bad decisions and questionable planning.
The organization had lost $25 million over the course of two years, it had no executive staff, and most of its members were around 60 years old — not a stage in life where people generally take out loans. Regulators had even intervened to try to help the failing credit union to no avail.
During an international CEO search, the credit union eventually looked in its own backyard to Weickenand, who was the Chief Financial Officer for the FedEx Employees Credit Union. Weickenand accepted the immense challenge presented to him.
One of the first things Weickenand did was rebrand the organization, changing its name to Orion Federal Credit Union. The other thing he did was get Orion involved in the community.
"During the interview process, the committee asked me what I would do to turn the organization around," Weickenand said. "I told them one of the biggest things you need to do is get involved in the community. It's not a one-off thing. This really has to be part of who we are, down to the granular level."
This philosophy led to a phrase that Weickenand calls the credit union's mantra: "A better Memphis means a better Orion."
The examples of Orion giving back in the Memphis region are abundant, and they range from large community-changing decisions to the very personal.
Similar to its decision to open a branch in the location of the dilapidated gas station, Orion is in the process of relocating its headquarters to what is historically an economically disadvantaged part of Memphis.
"Orion has an opportunity to transition a visibly neglected neighborhood in Memphis. Development in The Edge district is a crucial link to the positive changes taking place downtown and in the medical district. Orion's presence in this neighborhood will make an impact in our city," Weickenand said, according to the Memphis Flyer News Blog.
He said other companies are now waiting to move into the neighborhood, as well, and outside investment money is reinvigorating the whole area. These types of decisions now permeate Orion's culture.
Weickenand said people come up to him on the street and tell him they are moving their company or personal finances to Orion because of what they've seen the credit union accomplish in Memphis.
Weickenand's accomplishments were also formally recognized this year by Inside Memphis Business when he was named 2018 CEO of the Year.
"What we're doing in the community, a lot of people aren't willing to do," Weickenand said.
"Orion Gives Back" Focuses on Local Charities
In addition to the sweeping cultural changes Weickenand has helped usher in through large organizational decisions or personal cases that gained attention, Orion also takes more formalized approaches like its Orion Gives Back program.
"The Orion Gives Back program is a monthly program where we take a particular charity and support it," Weickenand said. "We highlight it on all of our social media and try to do what we can to try to move its mission forward."
The program also encourages Orion employees to get involved with the charities through volunteer efforts, including being given paid time off to get hands-on in the community.
"There is a trust and engagement that promotes Orion's social responsibility and common sense efforts to give back in the neighborhoods we serve," according to the Orion website.

Recent charities sponsored by Orion Gives Back include the Palmer Home for Children, which provides residential care for children in need, and SRVS, a long-running West Tennessee disability services non-profit.
"We're really focusing on local things," Weickenand said. "There are so many great local nonprofits doing great local work around this community that we like to support."
Weickenand said he is occasionally challenged by someone pointing out that, based on the credit union model of shared ownership, Orion is using the members' money for these types of initiatives.
"I say, 'Yes, but the members want to live in a better community like I do,'" he said. "And as an $800 million institution, Orion has the kind of economic power that can generate change in what we do and what we focus on."
Orion Sponsorships Bring Much-Needed Funding to Important Causes
"We say yes a lot more than we say no," Weickenand said of Orion's sponsorship programs.
"Just last week we sponsored a sickle cell anemia bowl-a-thon," he said. "We had a blast out there at the bowling alley. Basically, you have the whole Memphis Grizzlies team there, and people are just having a great time. And we raised an incredible amount of money."
Orion is a leader in philanthropy, said Paula Jacobson, President of Methodist Healthcare Foundation.
"They follow their passion, from their presenting sponsorship of our Bowl 'N' Bash event that funds care for adult sickle cell patients to massive outdoor concert series for all to enjoy," she said.
Earlier this year, Orion held its inaugural Orion 5k race to benefit St. Patrick Community Outreach, Inc. The 5k race is a Memphis tradition that was previously sponsored by Gibson, the Tennessee-based guitar manufacturer.
Weickenand said they were able to bring a fresh take to the race, with a number of changes, including newly designed medals and even wrestling belts for the top finishers in the men's and women's categories.
Most importantly, he said, the race was able to bring our community together to raise funds to help St. Patrick Community Outreach provide fresh food in food deserts in the Memphis area.
"They have this whole city bus they made into a pantry, and they'll drive it around the community and sell food at cost," Weickenand said.
Other initiatives where Orion is a key sponsor include the Indie Memphis Film Festival and the Fall Orion Free Music Concert Series at Levitt Shell in Memphis' Overton Park.
"Orion's contribution to the Levitt Shell is immeasurable. They do more than write a check," said Anne Pitts, Executive Director of the Levitt Shell at Overton Park. "They invest their time, attention, leadership, and volunteerism. This model of philanthropy, coupled with commitment and service in the community, means the Levitt Shell can achieve not just its critical needs, but also stronger community engagement, so we can grow and serve the Memphis community better."
It's not too often that one hears about a business taking the more expensive route when cheaper options are available. But the fact that Orion chose to spend the funds to clean up an environmentally toxic site because it was in proximity to ailing children speaks to its commitment not only to the Memphis community but to something bigger — doing the right thing.
And Orion has shown this same commitment over and over again in the years since Weickenand has taken the helm.
Advertiser Disclosure
CardRates.com is a free online resource that offers valuable content and comparison services to users. To keep this resource 100% free, we receive compensation for referrals for many of the offers listed on the site. Along with key review factors, this compensation may impact how and where products appear across CardRates.com (including, for example, the order in which they appear). CardRates.com does not include the entire universe of available offers. Editorial opinions expressed on the site are strictly our own and are not provided, endorsed, or approved by advertisers.