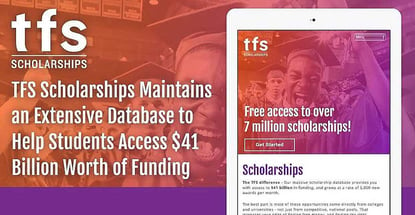 In a Nutshell: Springing from an idea by a high school principal, TFS Scholarships was developed to connect high school and college students to scholarship opportunities they might otherwise miss out on. Today, the service provides information on more than 7 million individual scholarships and $41 billion in funding. TFS sets itself apart from other similar services by remaining ad-free thanks to its Wells Fargo sponsorship, and promises to never sell user information. The website also offers additional resources, including a career aptitude test, a college planning blog, and a webinar series, to help young people as they are making important financial and educational decisions. //
In the mid-1980s, Richard Sorensen's father was a beloved high school principal serving an inner-city school in Salt Lake City. Because most of the students' families were in low-income brackets, their chances of having college careers were often severely limited.
Year after year, the principal saw students missing out on various college scholarship opportunities — possibly their only hope for a college education — simply because the students were not aware of them. The families didn't have the resources or information to pursue the scholarships and assumed the school would help with those types of services. From the school's perspective, its counselors were barely staying above water and the resources were simply not available to provide this service.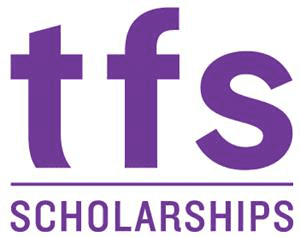 During the same period, Sorensen and a group of friends were exploring opportunities in the emerging technology space.
"My father had told me several times that one of the things he wished he had done a better job of was helping students find scholarships and financial aid for college," Sorensen said. "Back then, the only way you could find a scholarship was through these big reference books you could check out at the library. That was pretty much it."
Sorensen and his friends were inspired by the idea and set to work building a program that could help students access scholarship information. He said it took about a year to accumulate the data and write the program which was the first iteration of Tuition Funding Sources — now known as TFS Scholarships.
The group intended to sell the program to schools but despite high interest, schools couldn't afford the product, so they partnered with Pepsi. The soft drink maker supplied the program to schools that contracted with them to carry its products.
TFS Scholarships' program was distributed exclusively through Pepsi for about 25 years, Sorensen said, until Pepsi greatly reduced its marketing to high schools and colleges due to the perceived health effects of soft drinks on young people.
TFS regrouped and found a new exclusive partner in Wells Fargo, and today, TFS Scholarships exists as a website freely accessible to anyone.
Students Can Access More Than 7 Million Individual Scholarships Through TFS
Sorensen said tracking down scholarship opportunities is a lot of work for students.
"We tell them to treat it like a part-time job," he said.
Thankfully, TFS makes the process a bit more streamlined than in years past.
"The whole idea in doing this originally was to take the information that was in all these big reference books and make it into a format that was easy for a student to access and find schools so that they could go to college," Sorensen said. "Otherwise a lot of these kids would not be able to go to college."
From that basic idea, he said, the team started viewing what they were doing as a valuable service they could offer to a broader range of students.
Sorensen said TFS accomplished this initially through its Pepsi partnership. Counselors and principals would tell the company it was like night and day once they implemented the TFS program — in some cases the number of students who were able to get scholarships nearly doubled.
Students today don't have to rely on the help of their school to access the wealth of information in the TFS system. Sorensen said the program, via the TFS website, is available and free to use for anyone.
He said the website is very intuitive. Students answer a series of questions about themselves, then TFS develops a profile of the student, and the program uses the profile to search its extensive database to match them up with the best scholarships suitable for them.
The requirements and considerations sponsors put into their scholarships can vary widely, and TFS tries to make the best matches possible. Sorensen said some of the factors could include ethnicity, religious background, interest in the arts, or whether the student comes a single-parent family.
Today, the TFS database contains more than 7 million scholarships amounting to $41 billion in funding. The list of scholarship grows at a rate of about 5,000 new awards each month.
"The best part is most of these opportunities come directly from colleges and universities — not just from competitive, national pools," according to the TFS website. "That increases your odds of finding free money, and finding the right scholarships for you."
Sorensen also noted that TFS offers a Scholarship of the Day on its front page as an easy way for students to quickly apply without having to search the whole database. He said these scholarships may be more general offerings for schools with the broadest reach, but sometimes TFS will include some unique scholarships in this space, like a recent $10,000 scholarship for female airplane pilots.
TFS Doesn't Sell Information or Overload Users with Ads
Other scholarship services are powered by advertisements, Sorensen said, but TFS Scholarships distinguishes itself by not running ads. Instead, it simply acknowledges at the bottom of the website that it is exclusively sponsored by Wells Fargo.
"When we first started with Pepsi, we said, 'Look, we don't want to turn this into an advertising forum,'" he said. "Wells Fargo has allowed us to keep doing it this way."
So, from its inception in 1987 to the present, TFS has remained as an ad-free platform where students can search for scholarships without distraction or feeling like the company is making money off them.
TFS also never sells names or user information to third parties, a common practice not only among other scholarship services but across the internet in general. It's something anyone on the internet has likely experienced at one point or another — all of a sudden, you're receiving daily emails from some company you've never heard of and don't care about. This is likely because you filled out a form or provided some basic information to a service you signed up for, and that company then sold your information to other companies, that, in turn, added you to their marketing list.
"The students give us a lot of personal information about themselves which we use to match them with scholarships," Sorensen said. "So, in terms of a real, safe place for a student to go and search, they can be assured that TFS will protect their data."
Sorensen said it is valuable data and that's why so many other companies collect the information and turn around and sell it.
"Our mantra is simply to provide the best scholarship information a person could possibly get," he said.
The Career Aptitude Test, College Planning Blog, and Webinar Series Help Students Plan Their Futures
While TFS Scholarships' primary function is to match students with the best scholarships available, the company also offers a number of other valuable resources for students and those looking to become students.
Sorensen said TFS' Career Aptitude Test has been a popular feature for many years.
"We started doing that back in our Pepsi days," he said. "You had all kinds of kids in high school who had no clue what they wanted to do, and it was mainly a tool to get them to start thinking about what their possibilities were."
The test is available through the TFS website and presents a series of questions and checklists that evaluate skills, career interests, and a self-assessment section.
Sorensen said TFS tries to provide a range of careers for consideration that match up with the test taker's skills and personality to give them an idea of the types of courses they should choose once they start college.
The website also provides a rich database with detailed information about a vast number of careers. Site visitors can select the career of their choice and view not only a straightforward summary of the career duties, but the nature of the work, working conditions, employment statistics, salary ranges, prerequisite training or degrees required, and links to additional information.
TFS also offers a free monthly webinar series with topics that include "5 Steps to Paying for College," "Preparing Your Student for College," and "Student Loan Repayment Options." Additionally, TFS posts regular installments on its college planning blog with further tips on preparing for college, financial considerations, and planning for the future.
TFS Hopes to Expand Its Reach Through Social Media
From a noble idea presented by a passionate high school principal to a service that has impacted countless lives over the years, TFS is an impressive resource for scholarships and other valuable financial planning tools for college students. TFS Scholarships should be a go-to source when you or your college-bound family member are exploring ways to cut down on higher education costs.
Sorensen said TFS plans to continue to promote its Scholarship of the Day feature and try to reach more and more people in the future through social media.
"If a student just applied for the Scholarship of the Day we push out on social media every day, they could apply for over 300 scholarships a year," he said.
Advertiser Disclosure
CardRates.com is a free online resource that offers valuable content and comparison services to users. To keep this resource 100% free, we receive compensation for referrals for many of the offers listed on the site. Along with key review factors, this compensation may impact how and where products appear across CardRates.com (including, for example, the order in which they appear). CardRates.com does not include the entire universe of available offers. Editorial opinions expressed on the site are strictly our own and are not provided, endorsed, or approved by advertisers.