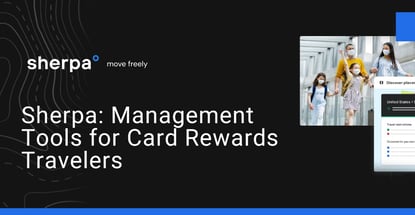 In a Nutshell: Visa and entry requirements have always been a factor in travel, but as the world emerges into a new post-pandemic normal, tools for managing the details are more important than ever. Sherpa integrates with airlines and travel companies to help travelers manage visas and health documents. It also helps users understand where and when travel restrictions apply. As the time arrives to enjoy travel card rewards adventures again, Sherpa works behind the scenes to make journeys more seamless.
Travel card rewards enthusiasts know all too well that travel planning can be frustrating. Things can quickly get bogged down — for both international and domestic travel — when travelers have to navigate away from an airline or travel company website to interact with a government agency or public information entity.
To some extent, bottlenecks relating to visas, health documentation, and travel stipulations and restrictions have always been a hassle. But as travelers begin to navigate in a post-pandemic environment, it's a whole new ballgame out there — anytime a border needs to be crossed, there's a pretty good chance a bureaucracy is going to be involved.
That's why more airlines, tour operators, and travel companies and agencies are integrating Sherpa into their workflows. Sherpa draws on millions of data touchpoints to help travel customers obtain everything they need without having to navigate away from the sites they prefer to use.
Max Tremaine and Ivan Sharko — enthusiastic international travelers — co-founded Sherpa after running into issues with visas and entry rules numerous times during their journeys. They built Sherpa to solve these challenges.
"Back in the day, we had all the possible issues — wrong visa, no visa, stopped at the border, border shakedowns, all that kind of stuff," Tremaine said. "We started building tools for ourselves, and eventually we began making products for travel companies."
Sherpa's not just an information tool — it enables travelers to purchase and manage all their documentation as well.
"We make the experience as seamless as possible," Tremaine said. "We can integrate all of the traveler's information and even the documents themselves into any digital travel tool."
Actionable Information from Planning to Check-In
Sherpa's partners range from some of the biggest airlines, online travel agencies, and travel companies to more niche players.
As card rewards travelers navigate those various platforms, they should understand that when the tools they're using are "powered by Sherpa" they are receiving all the right information at just the right time.
Live notifications of travel rules and restrictions, including COVID testing requirements and quarantine measures, assist travelers from the planning stage to the time of actual travel.
Travelers are able to choose an itinerary up front that fits their personal level of tolerance. And during the journey, they're able to manage their risk, with Sherpa even going so far as to inform travelers where and how to get required COVID testing.
"We also do upcoming changes — that's helpful as more and more countries start to feel the waters for opening up," Tremaine said.
During the booking process, Sherpa flags visa and health documentation requirements, helping customers digitize and submit health forms and presenting options for purchasing electronic visas and travel authorizations.
The eVisa and eTA purchase option opens up a potential ancillary revenue stream for Sherpa partners, but it's not mandatory. "If you're buying a trip, you can add a visa to your cart or use info from your booking to apply for it," Tremaine said.
And Sherpa also facilitates contactless check-in for travel requiring visas or travel authorizations — and can even inform travelers when their documents require renewal.
"The best travel visa or border crossing experience is no travel visa experience," Tremaine said. "What we're trying to get to is as few physical touchpoints with the traveler as possible."
Integrating with Partner Solutions to Make Travel Easier
Sherpa is able to customize partner integrations because it sees the travel problem mainly from a data perspective and not a content perspective. Those millions of data touchpoints include trusted third-party providers in addition to all the relevant official government sources.
"You'd be surprised where you find the actual signals for an update — it's actually pretty rare that you find it in the place you expect," Tremaine said. "Usually, before it's updated on a government website, you'll hear it from an airline or airport or even a news release."
The team is notified immediately about policy changes and then manually confirms and curates every potential change before it enters the system. About 55 such changes are made every hour.
"We look at how rules should be worded and how things should be sourced to provide all the minutiae of entry requirements in a useful way for people," Tremaine said.
For card travelers, that means turnkey service on all Sherpa-powered sites.
It's a really tough problem that we're solving, and travel companies are happy to show that it's us solving it," Tremaine said. "By taking this really broad approach, I think we've done it the right way, and we're able to provide this information live without being too dependent on any single source."
Sherpa's data-centric approach puts emphasis on the integration tools it provides for its partners. Customers are able to embed and configure widgets, integrate real-time content through a versatile programming interface, and even augment their own sites with Sherpa-maintained, co-branded web apps.
"From front to back, we make the border crossing process easier," Tremaine said.
Sherpa: Establishing New Norms for the Travel Industry
Before the pandemic took hold in March 2020, Sherpa was turning on some important client integrations and seeing a lot of growth. But as spring turned into summer, the company was helping its partners cancel more trips than they were booking.
By midyear, Sherpa had completed an important transition to where information on border closures, PPE requirements, and quarantine restrictions was in a primary position.
"We made a shift to say we're not just about flagging requirements for travelers after they've bought a ticket," Tremaine said. "Now, right up front, we're showing customers where they can travel and what they need to go there."
Watch on
The implication for card travelers is that Sherpa-powered travel sites are fueled for the long haul. Although COVID will inevitably recede, much of the new infrastructure around travel will not as jurisdictions respond to consumer demand for greater travel safety and security.
Sherpa monitors the emerging post-pandemic travel landscape through the global map of travel restrictions it provides its partners.
"An interesting new trend is countries that are opening up just for vaccinated travelers," Tremaine said. "Quite a few places are starting to do things like this."
Because it monitors upcoming policy changes, Sherpa can even enable travelers to subscribe and get notified when their personal bucket-list destinations open up. But there's reason for optimism. Travelers can expect more and better service because Sherpa is powering a new way forward for travel information.
"Travel and tourism is such a big part of the economy, so there's obviously a lot of impetus to reopen," Tremaine said. "We'll continue to see complex requirements and a lot of change, but the world won't be closed forever — for sure," Tremaine said.
Advertiser Disclosure
CardRates.com is a free online resource that offers valuable content and comparison services to users. To keep this resource 100% free, we receive compensation for referrals for many of the offers listed on the site. Along with key review factors, this compensation may impact how and where products appear across CardRates.com (including, for example, the order in which they appear). CardRates.com does not include the entire universe of available offers. Editorial opinions expressed on the site are strictly our own and are not provided, endorsed, or approved by advertisers.