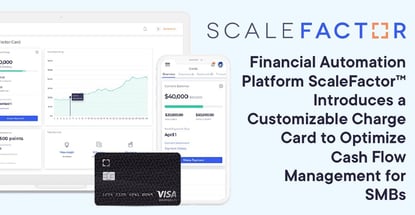 In a Nutshell: When Kurt Rathmann, then a CFO, needed to run a forecasting scenario to evaluate a business strategy, he knew it would mean a weekend of extra work. So, in 2014, he founded ScaleFactor to help small businesses automate their bookkeeping. And when the ScaleFactor team saw SMBs struggling to integrate cash flow management into their accounting platforms, it set out to streamline those tasks, too. That's why the company introduced a Visa charge card that adds automated, real-time expense reporting to a robust accounting and financial management platform.
Some of the tasks that Fortune 500 companies take for granted can cause mighty struggles for small businesses.
When Kurt Rathmann was working as a CFO for a small firm, he found himself frustrated when tasked to run a forecasting scenario on a business strategy. That's because the data and tools he needed were scattered across platforms that didn't communicate with each other. And, sometimes, they weren't on any platform at all.
That meant computing the advantages and disadvantages of purchasing a particular piece of equipment or hiring additional staff could eat up Rathmann's entire weekend.
That frustration led to a light-bulb moment for the entrepreneurial-minded Rathmann. In 2014, he founded ScaleFactor to automate those time-consuming accounting tasks he had been completing manually. Today, the growing ScaleFactor platform automates a host of accounting, tax, and finance functions.
The platform's automation can reduce a Saturday and Sunday of extra work into a few clicks.
According to ScaleFactor Senior VP of Lending Eric Steinhoff, the company specializes in putting big-business capabilities — including a new Visa charge card — in the hands of entrepreneurs and SMBs with fewer resources.
"A large Fortune 500 company will have a finance department of a hundred people, and 50 of them will be running different scenarios," he said. "Even at that scale, processes are extremely inefficient. Meanwhile, small businesses just don't have the funds to throw at those problems."
ScaleFactor satisfies those needs by eliminating the lag associated with financial integration so entrepreneurs can focus on planning for success.
"That was what really excited me about joining ScaleFactor," Steinhoff said. "This can be an all-in-one, comprehensive expense-management solution."
Easily Control Business Expenditures from Any Device
After Rathmann built the initial version of ScaleFactor as an accounting and bookkeeping back-office solution, Steinhoff, who had a 20-year background in financial services, joined the team in October 2018.
That led to the introduction of "ScaleFactor 2.0," as Steinhoff called it. And the team continued to innovate, introducing the Visa charge card to joinScaleFactor's payroll and bill pay and invoicing solutions.
"We knew we wanted to offer lending products," Steinhoff said. "The card was at the top of our list because — and this is a pain point that came out in our customer research — small businesses struggle to integrate their cards with their existing accounting solutions."
Because the ScaleFactor accounting platform instantly recognizes the integrated card, clients receive more real-time insight into how they're spending their money. The solution also puts the power of customization in the hands of small businesses.
"Along with automated expense categorization, the business owner can also create and customize vendor-specific and category-specific virtual and physical cards," Steinhoff said.
"What the card ultimately does is replace the need to pay for a third-party expense management tool because it has that built-in for expenses charged on the card."
And all of that functionality is available through its mobile app, as well. Users can access the real-time ScaleFactor portal anywhere to review submitted expenses, set up expense auto-approvals, freeze or cancel individual cards, and even generate new virtual, physical, and temporary cards for employees and vendors.
"The most important thing SMBs achieve with ScaleFactor is control over the money going out of their business," Steinhoff said.
Terms and Rewards Set Entrepreneurs Up for Success
ScaleFactor brings extra functionality and convenience to the table without adding cost. The card is free to use when payments are on time, and it carries no interest or annual fee. The company also doesn't charge fees associated with adding, freezing, or canceling cards. And ScaleFactor auto-applies 1% cash back to the user's balance each month.
Perhaps even more importantly for many entrepreneurs, ScaleFactor eliminates the need for providing cards tied to an entrepreneur's personal credit line. Traditionally when small business owners apply for credit in their company name, the bank pulls the personal credit profile. It reports any negative marks to credit bureaus in their name. That can be a good arrangement — as long as everything goes as planned. Because ScaleFactor is integrated with the financials of a small business, it eliminates this risk.
"But when things don't — let's say your cash is a little tight, so you choose not to make your payment one month — that will affect your personal FICO score," Steinhoff said.
For example, if an owner has a $5,000 personal credit limit and the business uses $4,500 every month, that also impacts the FICO score. "FICO looks at how much you're using in a month, and when the model thinks you're desperate for credit, your score is adversely affected," Steinhoff said.
Because ScaleFactor is a charge card, all expenses made on the account are due in full at the end of every statement month.
"We do look at the credit of the small business," Steinhoff said. "But we don't auto-debit on a nightly basis, unlike some of our competitors targeting this space. Our card works just like a typical credit card except for the fact that the balance is due in full when your statement is issued."
ScaleFactor: Innovations Make Credit More Accessible
As a software solutions and automation service provider, ScaleFactor charge card innovations have accomplished something beyond what traditional financial institutions can offer.
"We make credit more accessible to small businesses," Steinhoff said. "I've worked at banks, and I've done small business lending. The most challenging piece — the reason banks don't lend to small businesses — is because it's very difficult to underwrite and make an accurate health assessment of a small business."
Banks often have to deal with outdated tax returns, for example. Because the typical small business files a return only after receiving an extension, most business returns in a given year are filed in October. If the company applies for credit a month earlier, in September, the most recent return the banker can look at is nearly two years old.
The only recourse is to produce internal financial statements, but banks are typically wary of those.
"They don't want to just blindly trust a financial statement that was internally produced," Steinhoff said. "After all, small businesses are generally not paying for auditors."
So small businesses that often go without can connect with ScaleFactor for a potential lifeline. And the company promises even more solutions on the horizon.
"The beauty of ScaleFactor — and the reason why we're going to offer much more in the credit space than just this card — is that we're effectively the accountant for many small businesses," Steinhoff said. "Every day, we know not just how much they're using the card, we also know the financial health of their business."
And that allows ScaleFactor to offer products to businesses that would not otherwise qualify.
"Small businesses are generally underserved from a financing needs perspective," Steinhoff said. "Going forward, we're excited about the different opportunities we have in the space."
Advertiser Disclosure
CardRates.com is a free online resource that offers valuable content and comparison services to users. To keep this resource 100% free, we receive compensation for referrals for many of the offers listed on the site. Along with key review factors, this compensation may impact how and where products appear across CardRates.com (including, for example, the order in which they appear). CardRates.com does not include the entire universe of available offers. Editorial opinions expressed on the site are strictly our own and are not provided, endorsed, or approved by advertisers.