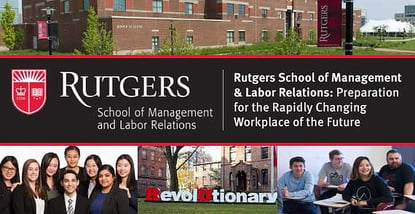 In a Nutshell: University curriculums are often slow to adapt to the rapidly changing workplaces that students will enter. But the Department of Human Resources Management at the Rutgers School of Management and Labor Relations (SMLR) has designed courses focused on the current business climate — and what is coming next. Department Chair Bill Castellano spent more than a quarter-century in leadership positions at Fortune 50 companies and now uses that expertise to develop tomorrow's human resources professionals. Technology has changed the retail industry — and the economy — as data analysis and employee engagement strategies have emerged as critical components of HR. Today's HR professionals need more relevant business expertise than ever before, and Rutgers School of Management and Labor Relations stands ready to provide that education.
Bill Castellano experienced human resources at the highest levels long before he ever taught it.
Bill brought more than 25 years of HR experience in corporate Fortune 50 environments to his position as Chair of the Department of Human Resources Management at the Rutgers School of Management and Labor Relations. That experience working in the industry that the school is preparing students to enter is a rare asset in academia. For the students and future leaders in the Rutgers program, it means an education based on the dynamics of the modern, technology-driven workplace. It also means a focus on cultivating the skills organizations need to attract, develop, and retain talent in a rapidly evolving business environment.
"We develop students who will help companies adapt to these challenges and become the leaders an organization needs," Bill said. "They need someone to analyze the strategic practices to attract and engage a multigenerational, diverse workforce."
For today's HR professional, that means more data analysis performance metrics. It also means always searching for new ways to engage workers that take into account the priorities of both millennials beginning their career trajectory and veteran employees approaching retirement.
Rutgers recently launched a new initiative — The NJ/NY Center for Employee Ownership — in response to research that shows engaged employees are more productive. The center helps companies implement the ultimate form of employee engagement — an ownership stake.
The workplace leadership experience Bill and other faculty members bring to the table helps prepare SMLR students for an industry being transformed by globalization and technology. HR professionals working in retail need business acumen to help their companies survive and thrive in the digital and e-commerce age, Bill said.
And, with the ongoing transformation of the workplace, Rutgers SMLR is the beginning of students' education in HR management, not the end.
"Graduation is not the end of the road for these students. It is just the beginning of their learning process," Bill said. "So we don't just focus on testing knowledge, we focus on testing their curiosity, creativity, their ability to think on their feet, answer questions, and ask interesting questions."
Human Resources is Evolving Along with the Retail Industry
Technology has sparked swift, dramatic change across nearly every segment of the economy and in every retail profession.
Over time, e-commerce, mobile payment apps, digital marketing, and robots replacing brick-and-mortar workers have become part of the new retail paradigm.
In HR, the tedious task of crunching numbers is done digitally, not with pencil and paper. HR managers must analyze data to determine workforce strategies. The numbers can show them how to outperform competitors and establish a sustainable advantage by attracting, developing, and retaining talent.
Rutgers SMLR prepares students for that transformation. Courses focus on the design and implementation of new human capital strategies.
The retail industry and human resources are also evolving together in significant ways.
Enhanced technology and customer service training to improve the in-store experience offer an attractive alternative to shopping online, Bill said. HR professionals must also be transparent with employees about the state of the business.
"They need to say, 'Here are some challenges that we're facing: More people are buying products over the internet, and they're not coming to the store,'" Bill said. "Have a conversation about the implications that will have for business and what you should be doing to meet that challenge. It may mean offering some e-commerce option, but it also may mean providing a greater value proposition for a customer that comes into the store."
Companies and HR managers need to treat, train, and engage employees as valuable human capital, Bill said. That's a longstanding practice in the pharmaceutical, financial services, and technology industries, where commercial success relies heavily on employee performance.
Retailers have long focused on low prices, but now that online shopping often provides more value, they need to focus on developing employees into strong assets.
A Focus on Adaptability & Employee Engagement
Engagement is a key component in adapting to the continuous change technology brings to the workplace, Bill said.
"They need to realize that we need engaged employees who can deal with the constant changes and challenges organizations face," he said. "Ultimately, that comes down to leadership, culture, and HR practices and programs to enhance employee engagement."
Those efforts may include employee input and involvement in information sharing, giving employees expanded authority to make decisions without a supervisor's approval, or increased training opportunities, Bill said.
Rutgers experts see shared capitalism — or giving employees an ownership stake — as a particularly effective form of engagement.
"The research is pretty clear. When employees consider themselves part owners of the company or have some equity stake, then the interests of employees, managers, and owners, are typically aligned." Bill said. "Employees who feel like part of the company are more engaged and committed to the organization. Companies that have these types of plans are typically more productive."
Rutgers SMLR considers shared capitalism to be so valuable that it launched the NJ/NY Center for Employee Ownership to publicize and share research on the practice and help companies implement it.
"The objective of the center is to disseminate information through workshops and websites to help companies discover these options," Bill said "We provide technical advice through a free advisory board with representatives from companies that deal with the legal and financial management components. The center is primarily a mechanism to provide information and encourage organizations to think about strategies."
Shared ownership options prominent in the startup community are now spreading to other areas, including employee stock options programs (ESOP) and profit sharing. Another growing trend, particularly for private companies that are owned and managed by baby boomers nearing retirement, is the sale of the company to its employees as a succession plan, Bill said.
"That's also part of employee engagement," he said. "They complement each other."
Developing Professionals to Lead & Shape Company Culture
Bill has the professional and academic credentials needed to develop the HR leaders who will attract, groom, and retain the talent to lead organizations and shape their culture. And his 25 years of experience at Fortune 50 companies is being put to good use at Rutgers SMLR.
The mix of experience and education among faculty helps the Department of Human Resources Management prepare professionals for rapidly changing industries and workplaces.
"This is a great time to be in HR management because companies understand that how you manage and engage employees is going to have a huge impact on the success of the company." — Bill Castellano, Chair of the Department of Human Resources Management at Rutgers SMLR
Often, HR managers will need dynamic strategies based on the age and professional priorities of an employee. Some companies struggle to engage millennials, who put a priority on career development, flexibility for passions and interests outside of work, and meaningfulness of their job.
"Companies need that type of information to design HR practices and programs that will attract those types of workers and engage them while they are working for the company," Bill said.
The importance of developing successful employee engagement strategies in the modern world is making human resources all the more vital.
"This is a great time to be in HR management because companies understand that how you manage and engage employees is going to have a huge impact on the success of the company," he said.
Advertiser Disclosure
CardRates.com is a free online resource that offers valuable content and comparison services to users. To keep this resource 100% free, we receive compensation for referrals for many of the offers listed on the site. Along with key review factors, this compensation may impact how and where products appear across CardRates.com (including, for example, the order in which they appear). CardRates.com does not include the entire universe of available offers. Editorial opinions expressed on the site are strictly our own and are not provided, endorsed, or approved by advertisers.