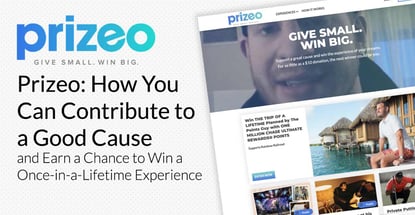 In a Nutshell: Prizeo partners with celebrities and charitable organizations to raise funds online. People who contribute to Prizeo campaigns are entered into sweepstakes that offer unique experiences such as hanging out with their favorite celebrities or traveling to exotic locations. The donation platform provides a way for nearly anybody to support a good cause, raise awareness, and gives lucky winners a once-in-a-lifetime experience. It also allows celebrities to use their popularity and influence to garner support for issues they hold close to their hearts. Prizeo is part of the larger Charity Network, which includes the Charitybuzz auction site and the Global Philanthropy Group consulting firm.
Have you ever wondered what it would be like to hang out with some of your favorite comedians on the set of "Saturday Night Live"? Or to meet up with Bruce Springsteen after attending his hit Broadway show? How about taking a few volleys with Novak Djokovic, one of the greatest tennis players in the world?
Prizeo has made all of these dreams — plus many more — a reality for people who donate to charitable causes through the organization's website.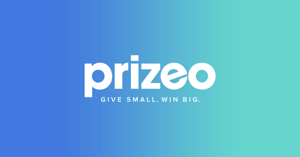 Dave W. can attest to Prizeo's success in delivering once-in-a-lifetime experiences. He made a donation to the Novak Djokovic Foundation in support of its mission to see every child in the world have equal access to a quality preschool education, and was chosen to meet Djokovic and attend the 2018 Laver Cup in Chicago.
"The trip was great!" Dave told Prizeo. "Flights were good, hotel was fantastic and as a huge tennis fan, attending the Laver Cup was incredible (and great seats)! Of course, the highlight was meeting Novak and getting to practice with him. He was super generous and gracious and it was an incredible experience! One I'll never forget."
Prizeo was founded in 2013 as an online fundraising platform to support charities and was acquired by the Charity Network in 2015.
By partnering with celebrities to deliver unique experiences to sweepstakes winners, Prizeo has successfully completed hundreds of campaigns and raised more than $50 million for charities.
We recently spoke with Ian Manheimer, Vice President of Strategy at the Charity Network, and Lauren Werner, Senior Vice President of the Charity Network and General Manager of Prizeo, to find out more about how it works.
Prizeo Democratizes Fundraising for Good Causes
Prizeo's model begins with celebrities and charities coming together to create a campaign that will raise funds for the charity via the celebrities' fan bases. The celebrities, causes, and prize packages are wide-ranging. Actors, directors, artists, musicians, and sports superstars help to facilitate unique experiences focused on film, TV, sports, travel, food, and more.
If past campaigns are any indication — Prizeo has something for nearly everyone.
"The platform democratizes fundraising," Werner said. "It allows for donors all over the world to donate something relatively small for a chance to win a really big once-in-a-lifetime experience."
Fans can enter the sweepstakes by making a donation as small as $10 to the campaign of their choice. And the more you donate, the greater your chances of winning. The exact numbers and rewards vary, but, generally, a $10 donation is worth 100 entries.
Campaigns may accept donations of hundreds of dollars, which give the donor thousands of entries into the sweepstakes.
"We'll also entice them along the way with some really cool one-of-a-kind merchandise for donating more," Manheimer said. "It could be a unique T-shirt or an autograph or something along those lines."
Contestants can also earn more entries by sharing a unique link about the campaign on their social media accounts. And they can earn badges for making multiple donations and launch their own campaign pages to help get people to donate to the cause.
"Prizeo is built for fans," Manheimer said. "It fulfills people's fantasies about doing amazing things they never thought possible while supporting great causes."
He said the celebrities the company works with will promote the campaign to their fan bases on social media and gather interest for the causes and for the prizes.
Celebrities are Making Real-World Impact through Numerous Campaigns
Werner said she's been impressed with the celebrities who have partnered with Prizeo and their dedication to the causes that are close to their hearts.
"Rainn Wilson from "The Office" is one who really stands out," she said. "I think we've worked with him on three campaigns now. He's wonderful to work with."
Wilson and his wife, Holiday Reinhorn, created a foundation to help girls go to school in Haiti, she said, and the couple has shown a lot of passion for the project.
"He's always super involved and engaged," Werner said. "He's eager to find new ways to promote the campaigns, from designing his own T-shirt to going live on Instagram to tell his fans about the campaign."
Prizeo has also done a number of campaigns with The Points Guy, featuring impressive travel packages as grand prizes. "First class, nothing but the best in terms of travel, airfare, hotels, and destinations," Werner said.
Recent causes supported by Prizeo campaigns include the Make-A-Wish Foundation, the Ronald McDonald House New York, Broadway Cares/Equity Fights AIDS, and the Tommy Mark Memorial Fund.
Entrants can visit the Prizeo website to see which campaigns are currently active and learn more about the causes they support.
Charity Network is Home to Several Organizations Raising Money to Help Those in Need
Of course, Prizeo is just one piece of the larger goal of the Charity Network.
"Our Founder and CEO Todd Wagner purchased Prizeo as part of a larger vision of helping charities kind of dive into the digital era and reach a larger donor base online," Werner said.
In addition to Prizeo, the Charity Network comprises Charitybuzz and the Global Philanthropy Group.
"Charity Network brings together the leaders and pioneers in digital fundraising, awareness-raising, and philanthropic strategy," according to the Charity Network website. "Uniting these businesses gives us the distinct ability to customize a plan to achieve your goals."
With Charitybuzz, the network has helped raise more than $300 million for 4,000-plus nonprofits through its online charity auction platform. Like Prizeo, CharityBuzz offers once-in-a-lifetime experiences and luxury packages, but these prizes go to the highest bidder among hundreds of thousands of high net worth individuals.
CharityBuzz auctions include signed memorabilia, such as a baseball signed by Cal Ripken Jr., set visits to TV shows, and luxurious, all-inclusive travel experiences.
Manheimer said the two sites complement each other because together they cover the gamut from fans who want to help with small donations to wealthy individuals willing to shell out large sums for a good cause.
Between the two companies, the Charity Network can give anyone the chance to win something amazing, he said.
Finally, the Global Philanthropy Group is the network's strategy consulting firm. It helps philanthropic individuals, celebrities, corporations, charities, and other organizations design and implement philanthropic strategies.
Global Philanthropy Group clients include the Eva Longoria Foundation, the Tegan and Sara Foundation, and KIND: Kids in Need of Defense.
Flashstakes Create More Chances to Donate and Win
Werner said Prizeo's future consists of more partnerships with celebrities and helping to raise funds for worthy causes. Along the way, it is always looking for ways to engage its audiences and raise more money, she said.
To that end, the company recently introduced what it calls flashstakes.
"It's this idea of a sweepstakes within a sweepstakes," Werner said. "For example, we're running a campaign right now with The Points Guy. And yesterday, we launched a flashstake attached to that campaign with Hyatt. If you donated during a specific window, you'd not only have a chance to win the grand prize but also a really cool prize from Hyatt."
She said they have also offered similar incentives for concert-goers, such as an opportunity for users to donate during a concert for prizes such as upgraded seating or backstage passes.
Advertiser Disclosure
CardRates.com is a free online resource that offers valuable content and comparison services to users. To keep this resource 100% free, we receive compensation for referrals for many of the offers listed on the site. Along with key review factors, this compensation may impact how and where products appear across CardRates.com (including, for example, the order in which they appear). CardRates.com does not include the entire universe of available offers. Editorial opinions expressed on the site are strictly our own and are not provided, endorsed, or approved by advertisers.