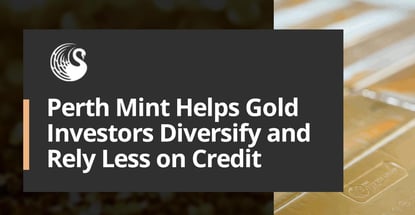 In a Nutshell: The Perth Mint is Australia's official precious metals refining, minting, depository, and distribution service that has operated for more than 120 years. Owned by the Government of Western Australia, the mint refines more than 90% of newly mined gold in Australia, the world's second-largest gold-producing nation, and helps investors securely store precious metals and take delivery of bullion bars and coins. With its GoldPass mobile app, The Perth Mint has introduced a turnkey gold trading service to a younger, more tech-savvy audience interested in diversifying their investment portfolios and relying less on credit products.
Investors have, historically, viewed gold as a safe haven for storing value and protecting against volatility during times of economic and geopolitical uncertainty.
Gold and other precious metals, including silver and platinum, have proven stable and can help investors shore up their portfolios and reduce reliance on credit products.
After gold was discovered in the late 19th century in the then-British colony of Western Australia, the large and relatively remote area emerged as a global production center. In 1899, the Royal Mint in London established a facility in Perth to refine gold and mint coinage on behalf of the British Empire.

In 1970, Western Australia assumed ownership of The Perth Mint, which is now one of the largest precious metals production, distribution, and depository service providers in the world. Each year the mint distributes around USD $14 billion in bullion bars and coins to investors in 130 countries.
Government ownership of the Perth Mint offers investors protections that go beyond price stability, according to Treasurer Sawan Tanna.
"For anyone who buys or stores gold with The Perth Mint, that gold is effectively government guaranteed," Tanna said. "The current credit rating for the State is AA+, so that's effectively the credit rating of the mint as well."
Tanna manages cash flow and the movement of precious metals across the Perth organization. From that vantage point, he has also seen more investors turn to metals during the COVID-19 pandemic.
"The consensus among many financial advisors is that gold should generally account for between 5% and 10% of an entire portfolio," he said. "And everything we sell is backed by the government and stored at the mint."
A Full-Service Online Delivery, Storage, and Diversification Platform
Located on the same grounds on which it was founded in 1899, today The Perth Mint is also a major tourist destination featuring exhibits from Western Australia's storied gold rush and its spectacular refining and minting operations.
Its metals are all certified as ethically sourced and conflict-free, and it continues to transact retail business with customers at its physical location.
A global online user base can shop for unique collectibles, gifts, jewelry, and bullion. And investors use The Perth Mint both as a place to acquire bullion purchases and as a storage depository.
"Using our online trading platform, investors can buy, sell, transfer and store metal 24 hours a day," Tanna said.
The mint's depository service provides a high-security vault system capable of housing tons of gold and other precious metals and is the only government-guaranteed investment and storage program in the world.
"Part of our uniqueness is that we are based in one of the most remote parts of the globe, and we operate the largest vault in the Southern Hemisphere," Tanna said. "The mint currently serves more than 40,000 active depositors and holds in excess of USD4.6 billion worth of metal on behalf of those clients."
Investors have the additional option of investing in PMGOLD, a gold security available via the Australian Securities Exchange and fully underpinned by the mint. PMGOLD carries a very low management fee of 0.15%, and since its inception, has yielded an annualized return of 9.53%. It is highly attractive to securities investors who wish to manage their gold holdings seamlessly.
An ETF product is also available. With an annual expense ratio of only 0.18%, Perth's AAAU ETF is an ideal vehicle for maintaining flexibility instead of turning to credit.
GoldPass: Securely Transact and Transfer Gold Through Digital Certificates
Careful ID-verification procedures are required to open an account with the mint's depository service, but the process can begin online or over the phone. Perth doesn't currently accept credit cards, however, investors may pre-fund accounts via bank or wire transfer.
At the same time, however, technology is creating new opportunities for The Perth Mint. Its GoldPass mobile trading app opens up the possibilities inherent in gold investment to a younger demographic or to those who simply value greater convenience and 24/7 trading..
"We've realized, especially over the last few years, that investors are looking for more convenient, easy, quick, and accessible platforms for buying and selling gold," Tanna said.
After users get up and running on GoldPass, trading is just a tap or two away. And because GoldPass investors are buying a digital certificate backed by physical gold stored at the mint, their assets are secure.
"With The Perth Mint being a government-backed entity with a very high credit rating, investors receive peace of mind knowing their holdings are subject to minimal risk," Tanna said.
GoldPass also acts as a transactional platform which means that any two users can transfer as little as a few dollars in value between themselves. As the COVID-19 pandemic took hold in spring 2020, this combination of features began attracting significant numbers of newcomers.
"When we looked back at what was driving demand in April, for example, we noticed that almost 50% of our sales were to people aged 25 to 34," Tanna said. "What that told us is that the younger generation realizes the value gold adds to a standard investment portfolio."
Now more than 22,000 Perth customers access GoldPass to add variety to their portfolios and to hedge against reliance on credit.
Gold and Silver Can Protect Investors Against Inflation
The 21st-century fiat system has seen a succession of peaks and valleys, including the dot-com bubble and the housing market collapse beginning in 2007.
While securities have demonstrated the ability to weather such blows over the long term, shorter-term liquidity issues stemming from economic flux sometimes force participants out of their positions sooner rather than later.
Meanwhile, central bank strategies increasingly call the viability of the fiat system itself into question. When interest rates threaten to go negative, and governments flood the economy with more and more new cash, so gold from The Perth Mint via the GoldPass app becomes an antidote.
In response to customer feedback, the mint now plans to add lower-cost silver to the GoldPass platform.
"Our investors have been crying out for silver, so we've taken that on board," Tanna said.
Perth facilitates entry onto the platform with a variety of support tools, including social media outlets and how-to videos, with app store reviews also contributing to product innovation.
"It's a flight to safety — like an insurance policy during a period of global uncertainty," Tanna said. "Investors realize that rather than keeping cash in their bank accounts, where it's not going to earn any interest, the opportunity cost of holding gold and silver is reduced."
And as an alternative to taking on credit, holdings within the Perth ecosystem, when combined with the app, become a more realistic alternative to users accustomed to mobile banking.
"GoldPass is our current big story. It's one of our fastest-growing products and a signal to investors that we've embraced technology and the smartphone," Tanna said. "We're seeing record sales, and it shows that the underlying reason for holding precious metals is sound."
Advertiser Disclosure
CardRates.com is a free online resource that offers valuable content and comparison services to users. To keep this resource 100% free, we receive compensation for referrals for many of the offers listed on the site. Along with key review factors, this compensation may impact how and where products appear across CardRates.com (including, for example, the order in which they appear). CardRates.com does not include the entire universe of available offers. Editorial opinions expressed on the site are strictly our own and are not provided, endorsed, or approved by advertisers.