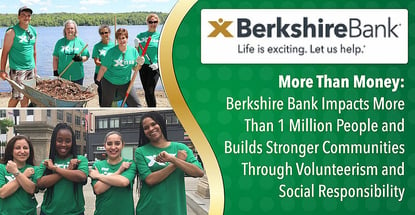 In a Nutshell: Having gotten its start serving a single county in Massachusetts, Berkshire Bank carries that history of personalized service into every aspect of its business. The bank now covers six states, in large part, because of its dedication to each community it serves. Berkshire donates both time and money to community nonprofits, and was named one of Massachusetts' Most Charitable Companies by the Boston Business Journal. In 2018, the bank impacted more than 1 million people in need. And, through its XTeam volunteer program, Berkshire employees have logged more than 40,000 volunteer hours to local causes in each of the last three years. //
Many people, myself included, see their bank as a place to keep money or take out a loan for a new home or car. A trip to the bank is usually a quick, in-and-out experience to make a deposit or a withdrawal.
And most banks are fine with that role — they provide a service and strive to increase profits for shareholders. However, a growing number of banks want their role to be more meaningful.
Berkshire Bank believes it has more to offer consumers than financial products. The bank has grown from a small, community institution serving Berkshire County, Massachusetts, to now holding over $12.2 billion in assets and offering 115 full-service branches across Massachusetts, New York, Connecticut, Vermont, New Jersey, and Pennsylvania.
"Berkshire Bank has a long history of serving the community," said Lori Gazzillo Kiely, Senior Vice President and Director of the Berkshire Bank Foundation. "As we've grown, our commitment to the communities we serve remains strong. We pride ourselves on becoming an integral part of the community when we enter new markets."

Kiely said 2018 was a great year for the Foundation because the bank contributed a $2 million gift to increase its funding. This allowed the Foundation to focus more on outcomes in two of its top priority areas — education and economic development.
"We also expanded our competitive grant program where organizations can apply for capacity-building funds which are usually very difficult to find," she said. "We had one winner in each of our major regions that received a $5,000 grant for things like technology upgrades and board development."
The bank is often recognized for the work it does within its communities. Just last year, the Boston Business Journal named Berkshire Bank one of Massachusetts' Most Charitable Companies.
The bank also gets involved in community volunteer efforts, putting in hours of work for nonprofit projects that need helping hands.
"Our volunteer program, which we call the XTeam, enables our employees to serve on the boards of local nonprofits, deliver financial literacy courses, and support the community as a whole," Kiely said.
Habitat for Humanity, which has many chapters throughout the bank's six-state footprint, is one of the many organizations Berkshire works with. Along with financial support, the XTeam regularly takes part in Habitat for Humanity home builds and other community outreach events.
"Seeing a family realize the dream of homeownership, when they likely couldn't have purchased a home on their own, is the most rewarding part of what we do," Kiely said.
The Bank's XTEAM Exceeded Its Goal to Reach 1 Million People in 2018 By Focusing More on Impact
Gary Levante, Berkshire's Vice President of Corporate Social Responsibility said the institution reached a new milestone last year when its XTEAM impacted the lives of more than 1 million people.
"We didn't want to just do the same things that we've done year after year," Levante said. "So last year, our focus was less about the number of charitable events we held and more about the actual impact we have with that work."
To that end, the XTEAM set a goal in early 2018 to reach more than 1 million people throughout the year. Levante said the goal was a bit of a stretch, as they had never attempted this type of approach before. But by November, the company had exceeded it.
"We achieved our 1 million-person goal at a volunteer event that took place in Pittsfield, Massachusetts, in partnership with the Massachusetts Coalition for the Homeless," he said. "Our retail loan servicing team built beds for children in foster or transitional housing so they would have a bed to call their own."
Despite focusing more on outcomes than events and participation, Levante said Berkshire Bank still completed 342 volunteer events that benefitted 251 organizations across the country — both record numbers.
"And, it wasn't an objective we set out to reach, but we achieved 100% participation rate in our corporate volunteer program for the third straight year," he said. "Our employees are incredibly philanthropic and share our corporate commitment. They really harness their skills, energy, and passion to give back to the community."
Berkshire Bank Commits to 40,000+ Volunteer Hours a Year
To drive home the company's commitment to community involvement, Levante said every employee receives 16 paid hours each year they can use to volunteer at any organization they choose.
"It's a way for us, as a business, to stand behind the commitment to service and harness our human capital for good," he said. "All employees, from front-line staff all the way up to the CEO, have that same opportunity to get out and give back in their community."
In each of the last three years, 100% of Berkshire Bank employees have participated in the volunteer program and contributed more than 40,000 hours of volunteer service.
"I think that's a testament to our cultural commitment to service and investing in our community by using more than our voices," Levante said. "Our employees feel a tremendous responsibility to help every member of our community realize life's exciting moments."
The volunteer program, which is open to every department within the institution, enables all employees to make a difference in their own way.
"Our corporate volunteer program is really driven by our employees in local markets across the country," he said. "We want to empower those employees to identify, select, plan, and execute all of the company-supported projects we take part in."
Kiely said the company also introduced a program called XTeam Giving, which allows employees to contribute a portion of their paycheck to a charity of their choice. And the Berkshire Bank Foundation matches one-time contributions, she said.
Events During Annual Xtraordinary Day Impact Thousands
As if a year-round volunteer program weren't enough, Berkshire increases its level of commitment each year through its Xtraordinary Day event.
"This day is our companywide volunteer day on steroids, so to speak," Levante said. "We actually close down all of our offices at noon to allow every one of our employees to get out and volunteer at a company-supported project."
On June 5, 2018, Berkshire Bank's Xtraordinary Day contributed to 74 volunteer events across the country with 92% of the company's workforce participating in the day's events.
"The thing we're most proud of is that our employees helped impact 500,000 individuals in one afternoon," Levante said. "That's 500,000 lives changed."
Activities completed during Xtraordinary Day have included cleaning up local parks, renovating the homes of low-income residents, and teaching financial literacy courses.
A Company Culture Based on Compassion
While Berkshire Bank could simply provide funding to a local nonprofit as a promotional opportunity, Kiely said that action would be counter to what the institution truly believes.
"When it comes to our community support, we don't just simply write a check and walk away," she said. "In every instance, we're looking for a meaningful way to partner with an organization to create real change beyond just providing financial support."
That change is evident in the bank's rapid growth and expansion over the last two decades. Consumers want to support organizations that support them in return, and, when it comes to supporting its communities, few institutions take their role as seriously as Berkshire Bank.
Keily said in the coming year, Berkshire Bank will continue its focus on education and economic development but is also increasing its efforts in the areas of diversity, inclusion, and equality.
Advertiser Disclosure
CardRates.com is a free online resource that offers valuable content and comparison services to users. To keep this resource 100% free, we receive compensation for referrals for many of the offers listed on the site. Along with key review factors, this compensation may impact how and where products appear across CardRates.com (including, for example, the order in which they appear). CardRates.com does not include the entire universe of available offers. Editorial opinions expressed on the site are strictly our own and are not provided, endorsed, or approved by advertisers.