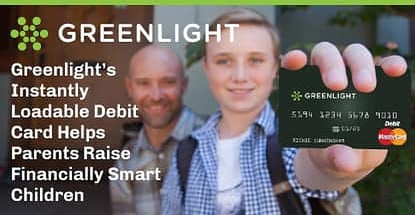 In a Nutshell: Every parent wants their child to grow up with solid financial know-how, but teaching proper spending and savings habits is difficult in a society that uses more plastic than cash. The Greenlight Debit Card for Kids helps parents introduce their children to modern payment methods with a card that pairs with a mobile application, allowing parents to automatically disburse allowance, and monitor and approve spending. Parents can set and pay an interest rate for money their children save, which teaches them the value of setting money aside for future use instead of impulsively spending. Parents can also use their phones to add funds, or turn the card on and off, while children can request money using a built-in messenger program on their version of the app. //
My wife and I struggled to teach our daughter proper spending and savings habits when she was young. We tried to create a savings account for her at our bank, but an account that held such a small balance didn't thrill the institution and the fees made it pointless.
Paying out her allowance in hard cash taught her some responsibility and discipline in not spending or losing the money, but impulse buys would typically tempt her to blow the cash before it got warm in her pocket.
Thankfully, over the last decade, technology has changed the way people carry out financial transactions. But even as America moves closer toward becoming a cashless society, the way parents give children their allowance has stayed mostly the same.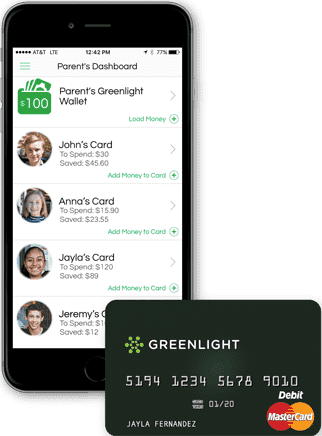 That's when Tim Sheehan spotted the opportunity to update a cultural tradition while teaching his kids solid money management habits. His idea, which turned into the Greenlight Debit Card for Kids, ended up solving an issue for both parents and their children.
"We had a need to give our kids money, but my wife and I weren't carrying cash because we make most of our purchases using our debit or credit cards," he said. "I talked with several other parents and found they were having the same problem. Then I did a national survey of 1,000 parents and validated the core problem. That's where it all started."
Launched in January 2017, Greenlight's mission is to help parents raise financially smart kids. The company's debit card pairs with an app that allows parents to manage how much money they place on the card and how their children spend that money.
Parents can automate allowance disbursals, turn the card on and off, and choose the exact stores where the money can be spent. The app's built-in messenger lets a child make a purchase request to a parent by sending a picture of what they want to buy. The parent can approve or disapprove the purchase and make edits to the amounts that can be spent in a matter of seconds.
"From our conversations with parents, we learned that not only did they want a way to instantly, and digitally, give their kids money, but they also wanted to teach their kids to be smart about money," Sheehan said. "That led to our whole mission."
Greenlight has experienced more than 130,000 account signups in just over a year since the card's launch. Early reviews of the product show that parents appreciate the ability to instantly send funds to their children when they're at the mall with friends, on field trips, or on road trips with a sports team. Each account can have up to five issued cards, though Sheehan said the current average is approximately two cards per account.
"When each child signs in to the app, they only see their own dashboard," he said. "They can make requests if they're going to a specific store and need more money. The request automatically goes to the parent, you can accept or deny the request. If you accept it, the funds are instantly added to the card."
Parent-Paid Interest Instills Good Savings Habits in Children
Explaining interest rates to children is tough, so imagine how hard it is for them to understand the concept. Greenlight makes the task easier by allowing parents to set and pay any interest rate on the money their children save.
Applying interest rates to a child's savings is optional, but rates can start as low as 1% or climb to a dollar-for-dollar match at 100%. Sheehan said the option teaches children good savings habits, especially when they have a purchase goal in mind.

"Children don't typically earn a lot of money," he said. "Through a typical savings account, they may earn a penny, or a fraction of a penny, each month in interest. That doesn't teach the savings behaviors you want to teach them."
Greenlight calls this an educational savings account because it gets the child to appreciate the concept of saving and build a habit around not spending. The company's app helps parents by doing the math for them and shows the monthly payout associated with different interest rates.
Reviewing Spending Trends Creates Teachable Moments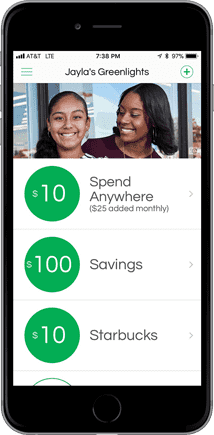 Sheehan's four children all have their own Greenlight card. He said, from his experience, the card helps all four in different ways.
"All kids are different," he said. "Some children are really good savers and others really want to spend any time they get money."
The Greenlight app allows parents or children to review and categorize their spending over time, which often surprises children when they see how quickly certain expenses add up.
"By grouping expenses over a period a time, it can become a shock because they often don't realize they spent so much in one place," Sheehan said. "That alone can become a teachable moment."
For many children, a quick trip to a fast-food restaurant seems like a minor expense. But the cost of multiple trips each week can compound quickly. When they get a chance to see just how much they've spent overall in a month or a quarter, they tend to curb their French fry habit.
"It's not about embarrassing anyone for how they spend their money," Sheehan said. "This helps teach practical spending habits early to avoid future mistakes."
Automated Allowance Features Make Parents' Lives Easier
When my daughter was younger, she had a system for asking for money. She'd wait until we were in the parking lot of the mall, prior to my dropping her off to meet friends. Just before she got out of the car, she'd mention that she was hungry and didn't have enough money for food. The tactic worked because she always coerced me into opening my wallet a little wider than I otherwise would have.
After speaking with Sheehan, I realized my daughter wasn't an outlier.
"I know my kids don't plan ahead very often," he said. "They'll get to a store and suddenly say 'Oh, Dad, I need $10.' It's nice to be able to tap your phone a couple of times and have it be done."
The Greenlight smart debit card for children would have been a terrific resource had it been around when my daughter needed it.
A parent's ability to automate allowance, monitor and approve spending, and instill solid financial habits is important — especially since schools no longer include financial literacy in their curriculum as they did only a few years ago.
The card teaches responsibility and gives children ownership over their own spending and savings habits. Furthermore, kids think it's cool to have their own card to swipe at the register.
"This works for children because it's real," Sheehan said. "It's not theoretical or conceptual."
If Greenlight's right for your family, you can download the app here, available on iOS and Android devices.
Advertiser Disclosure
CardRates.com is a free online resource that offers valuable content and comparison services to users. To keep this resource 100% free, we receive compensation for referrals for many of the offers listed on the site. Along with key review factors, this compensation may impact how and where products appear across CardRates.com (including, for example, the order in which they appear). CardRates.com does not include the entire universe of available offers. Editorial opinions expressed on the site are strictly our own and are not provided, endorsed, or approved by advertisers.