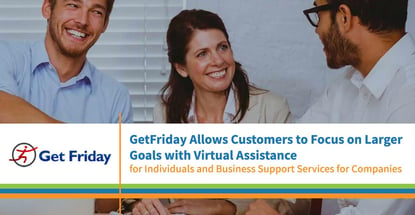 In a Nutshell: Personal assistant services are no longer limited to the wealthy or powerful. GetFriday offers virtual personal assistant services to clients across the world. The India-based company can take on mundane tasks like booking flights or scheduling a plumber to help customers free up time to focus on the things that are most important to them. GetFriday Ace is the company's service for small businesses. It can handle many backend operations for SMEs including bookkeeping, marketing, and web services. GetFriday advises that organization is key to getting the most out of virtual personal assistant services.
Personal assistants have historically been associated with Hollywood superstars, high-powered businesspeople, and others whose fast-paced lifestyles necessitate an assistant and whose wealth makes it a reality.
But we are all living fast-paced lifestyles these days and could use a little (or a lot) of help from time to time.
Sure, we have Siri and Alexa. But my experience with Siri has been awkward at best. I'm not sure if it's the way I phrase things or if I'm just not cut out for AI, but the Apple assistant seems continually confused by my questions and usually just winds up Googling things for me.
I can do that myself, thank you.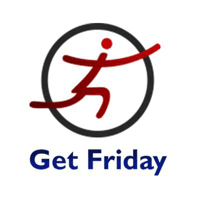 But GetFriday delivers real virtual assistance service to nearly anybody, even if you've never broken box office records or brokered a successful merger.
The India-based company does this through its team of real people who are waiting to handle those time-consuming tasks like preparing travel itineraries, managing schedules, and conducting online research.
"We do any task that does not need our physical presence and can be carried out over email, telephone, fax or the internet," according to the website. "Yes! We can do everything for you, except physically walk your dog or get you your coffee. Rest assured, we could organize someone else to do that for you too!"
The idea behind GetFriday is to democratize the access to virtual personal assistants, said Sunder Prakasham, Managing Director and CEO of TTK Services which is GetFriday's parent company.
He said anybody who has their hands full and could use some extra help should be able to secure the services of an assistant.
"It doesn't matter if we're not sitting right next to you or in the next-door office," Sunder said. "We can practically do anything from anywhere in the world. Anything is possible with the internet in today's world."
The company also provides services for small businesses, including customer support, billing management, web services and support, and data analytics.
Spend Your Time on the Important Stuff Rather than Mundane but Necessary Tasks
"We have clients in almost every sphere of life, including academics, stay-at-home moms, and Wall Street bankers who need some extra help in their personal lives," Sunder said.
In the financial sector, he said, GetFriday sees a lot of customers who need help with simple bookkeeping services, including organizing receipts and records and managing property.
"They do a lot of traveling, and there are a lot of bills and statements to keep up with," Sunder said. "There are things that we do day in and day out."
The company also assists with more specialized tasks. Sunder recalled one customer who is an active trader in the foreign exchange markets.
"He defined some parameters and set some filters so we were able to function on his behalf while he was sleeping," he said.
GetFriday's assistant services are valuable for everyday family and personal tasks as well. The company can assist with researching the best schools in your area, arranging for plumbers and electricians, making dinner reservations, event planning, ordering home appliances, and more.
The company's assistants can also prepare materials for business presentations, manage reports, write memos, and even handle tasks that require specialized skill sets such as formatting photos.
Sunder said GetFriday assistants are full time, in-office employees who are hired based on certain skill sets.
"After hiring a new employee, we take them to advanced training because these are people in India and they have to understand the American cultural context, or whichever country the client may be in," he said.
The newly trained assistants are slowly integrated into the team by first shadowing more experienced assistants.
Sunder said clients are generally assigned to a primary assistant, but the assistant also relies on the specialized skills of other GetFriday team members. A primary assistant may delegate certain tasks to other assistants who have specialized skills in conducting market research, web design, PhotoShop, bookkeeping, and more.
"If there's a secretary in your office, the secretary can only accomplish so much," he said. "They can't possibly have all the skill sets that are required. It's the same for us, that's why we have specialized assistants on the backend to accomplish the job."
Businesses Can Focus on Growth and Reaching Goals by Enlisting GetFriday's Support Offerings
In addition to providing robust virtual personal assistant services, GetFriday can take care of an array of operations for small businesses so the companies can stay focused on their goals. The company's business-oriented services fall under the GetFriday Ace brand.
"We work with some ecommerce companies that outsource their entire backend operations to us," Sunder said. "We manage the whole show for them."
Other industries GetFriday Ace works with include financial services, education, training, entertainment, event management, healthcare, fitness, IT, real estate, retail, sales, staffing, and travel.
"As a partner focused on helping you build tomorrow's enterprise, GetFriday Ace provides business process management solutions to entrepreneurs and SMEs that help you level the playing field with much larger and established players in your industry," according to the company website.
GetFriday Ace does this by augmenting existing processes and filling in gaps to boost efficiency, which frees up time and resources for small businesses to focus on activities that are core to the success of the business, according to the company.
For businesses, the company offers bookkeeping services, business process support, market research and analytics, digital marketing, and web services.
"We've been integrating GetFriday's services into our daily operations for almost a year now and the results have been better than expected," wrote SoloMoto's VP of E-Commerce Daniel Relich on GetFriday's website. "The key, we found, was to adjust our procedures to match their process dependent model. They communicate well on Skype and, even halfway around the world, mesh well with our team."
The GetFriday Ace website is packed with similar testimonials from happy customers whose businesses have benefitted from GetFriday's backend services.
How to Maximize the Benefits of a Virtual Assistant
Sunder is confident that GetFriday's assistant services can result in less stress and more time to focus on what matters for many consumers.
Others agree, and time has proven that GetFriday's services work and that the company can overcome challenges to continue to deliver its valuable offerings.
Author Timothy Ferriss mentioned GetFriday's virtual personal assistant services in his 2007 book, "The Four-Hour Work Week: Escape 9-5, Live Anywhere, and Join the New Rich." When the book hit No. 1 on the New York Times bestseller list, GetFriday was inundated with new customers — their clients increased by nearly 1,000%.
The company was not large enough to handle the new client load at the time. But as Sunder wrote in a letter posted on Ferriss's blog, the company quickly but steadily ramped up its manpower, invested funds in crucial areas and was able to handle the larger customer base within months.
That was nearly 12 years ago, and GetFriday is still going strong.
But Sunder cautions that personal assistant services are not for everybody.
"If you are not organized as a client, then the experiment is likely to fail," he said. Organization is one of seven important steps GetFriday recommends in getting the most out of a virtual personal assistant.
The company suggests customers and potential customers watch the complete video to understand what goes into each of the seven steps.
Other times, people will learn about virtual personal assistants and hire GetFriday before the person has fully assessed his or her own needs.
"The client gets excited and hires a full-time assistant but within one month, he finds that he is hardly using 30% of his plan," Sunder said. "He says, 'I don't have this much work,' then he cancels it."
Introducing Spanish Services in the U.S. Market
Sunder said GetFriday is always looking at ways to improve its services.
"We're planning to see if we can introduce Spanish language services in the U.S. market because there's a lot of Latin American businesses sitting out there that may require those kinds of services," he said.
The company is also exploring delivering English-speaking services to some Latin American countries.
Advertiser Disclosure
CardRates.com is a free online resource that offers valuable content and comparison services to users. To keep this resource 100% free, we receive compensation for referrals for many of the offers listed on the site. Along with key review factors, this compensation may impact how and where products appear across CardRates.com (including, for example, the order in which they appear). CardRates.com does not include the entire universe of available offers. Editorial opinions expressed on the site are strictly our own and are not provided, endorsed, or approved by advertisers.