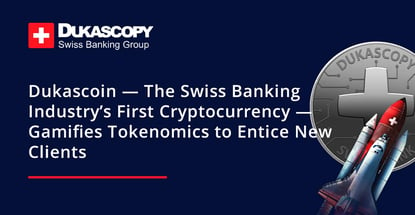 In a Nutshell: Dukascoin (DUK) is the cryptocurrency brainchild of Swiss bank and brokerage firm Dukascopy, and the first cryptocurrency issued by a strictly regulated bank. Everyone who opens a Dukascopy Multi-Currency Account (MCA) and those who refer new clients will receive five Dukascoins. The bank will receive 10 Dukascoins per signup to guarantee the liquidity of the token. Clients can immediately sell their tokens in the internal marketplace or purchase more to join a rewards-based staking program. The tokens also act as funding and payment methods for the bank or brokerage firm.
When cryptocurrency projects like Bitcoin rose to prominence more than a decade ago, many pundits saw the move as the first strike in a battle against traditional banking. Many of the technology's early adopters reportedly latched on because they preferred a decentralized and less-structured way to conduct financial transactions. Few foresaw a time when crypto would help banks increase the number of new clients they could draw.
But instead of fighting against change, some innovative banks have found new ways to leverage cryptocurrency to their benefit. The Dukascoin is possibly the most creative of the bunch to date.
The token, while launched in 2019, is the brainchild of Swiss bank Dukascopy — and the first crypto offering in the Swiss banking industry. The online bank and broker uses the coin to attract new customers to its Multi-Currency Account.
"We designed this token as part of our referral system," said Alexander Suhobokov, Head of Fintech at Dukascopy. "Every time a new client opens an account with our digital bank, the bank mints 20 new tokens. Five will immediately credit to the new client. Another five goes to the person who referred the client, and another 10 tokens go to the bank."
New clients can easily sell the tokens for cash or buy more Dukascoins through the bank's internal system. By accumulating more tokens, account holders can unlock a rewards structure that acts much like interest payments work on savings accounts. Clients can also use their coins for account funding or payments to the bank.
"This is gamification of crypto," Suhobokov said. "Our clients can accumulate these tokens and can then benefit from them by staking them."
The tactic seems to appeal to new-age consumers who want a bank that's tech-heavy, but still understands the intricacies of the financial world. The bank averages approximately 30 to 40 new accounts each day — with nearly 200,000 accounts opened since the token's launch — a number that's impressive in an age when many regional banks struggle to attract new customers.
The bank is so pleased with the progress of the coin that it's developed a stablecoin project, called Dukascash, that it hopes to launch soon.
"Stablecoins have become very hot over the last half-year," Suhobokov said. "Especially when Facebook stepped into the industry with Libra, and all of the regulators started to focus on crypto and stablecoins."
Multiple Ways to Buy, Spend, and Earn Dukascoins
Dukascopy managed to make its first foray into cryptocurrency a multifaceted offering that not only attracts new clients but also encourages them to try new products and services.
"Once the client accumulates a certain amount of tokens, with a minimum of 1,000 tokens, that person can take part in a staking deposit program with the bank," Suhobokov said. "Instead of earning interest, they can start earning rewards."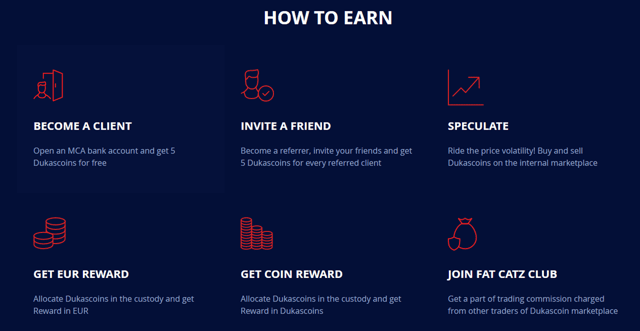 Clients can choose to enter a rewards program that lasts three months or one year, kind of like a certificate of deposit that has an issue date and a maturity date. Users can earn rewards in fiat currency or for more Dukascoins once their program reaches maturity.
For example, a three-month user will earn back his or her 1,000 coins, plus rewards, after three months.
The bank pays a reward of as much as 0.10 EUR per coin for Fiat Staking Rewards in the three-month program. This yields approximately a 7.3% return per quarter, based on current coin values.
Clients can also use Dukascoins to pay bank fees or to invest through the bank's brokerage arm, which includes a full-featured Forex/CFD trading platform and other investment tools.
Another popular option is for clients to simply hold their Dukascoins to speculate on the token's future value. But speculators don't need an account to obtain the token — it currently trades on multiple exchanges. However, new accounts add to the token's value, so speculators are encouraged to sign up.
"As the price of Dukascoin increases, new accounts become more valuable and beneficial," Suhobokov said. "When that happens, the five tokens received when you open an account are worth more."
Suhobokov noted that the Dukascopy team designed the cryptocurrency program to provide future value to clients without succumbing to market volatility, as many crypto projects tend to do.
"There's a trade-off, because the more accounts we create, the more coins reach the market," he said. "That creates downward pressure on the coin. The staking programs provide the counterforce because other clients who want to purchase the coin to join the program create upward pressure."
By maintaining that balance, the coin should remain relatively stable and maintain a positive drift.
Open an Account without Leaving Home
Dukascopy MCAs currently accept clients from around the globe, with the exception of a few countries.
By following Swiss banking regulations, the bank can conduct a brief video call with prospective clients to verify their identity and collect the necessary information needed to approve an application.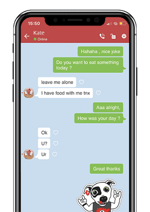 "You can open up an account from just about anywhere in the world without leaving your home or apartment," Suhobokov said.
A Dukascopy employee can conduct the video call in the client's own language. The video call takes approximately 10 minutes and new accounts are created within hours of the call.
Part of the sign-up process involves a background and criminal check, which is part of the process known as KYC (Know Your Client), and is required by international financial law. Once approved, new clients will receive their five Dukascoins, access to the online bank account, and the Dukascopy Connect 911 mobile app — a free mobile messaging app to manage the MCA.
Clients can also access the bank's internal trading platform where they can buy or sell Dukascoins. Account holders who accumulate 15,000 or more tokens become eligible for the Fat Catz Program, which pays bonuses to the token holders with the highest liquidity on the market.
Integrating Crypto into Traditional Banking Environments
Cryptocurrency wasn't designed to help banks. If anything, the token economy may provide consumers with an alternative to traditional banking.
But a few industrious banks have found ways to give account holders the best of both worlds by leveraging crypto tokens to increase the number of new accounts. So far, the idea seems to be working.
"This project is quickly developing, and we expect it to become an integral part of the bank's activities," Suhobokov said. "We plan to list the token on several large exchanges to get it to more people throughout the world. Dukascoin is already listed in two external exchanges, ZBX and SCX"
For the Dukascopy team, more visibility for the token means more publicity for its range of financial services, which already rank among the fastest growing in the global online financial marketplace.
"The token is basically a vehicle the bank uses to develop the referral system," Suhobokov said. "We expect the price to increase, which will make accounts more attractive."
Advertiser Disclosure
CardRates.com is a free online resource that offers valuable content and comparison services to users. To keep this resource 100% free, we receive compensation for referrals for many of the offers listed on the site. Along with key review factors, this compensation may impact how and where products appear across CardRates.com (including, for example, the order in which they appear). CardRates.com does not include the entire universe of available offers. Editorial opinions expressed on the site are strictly our own and are not provided, endorsed, or approved by advertisers.