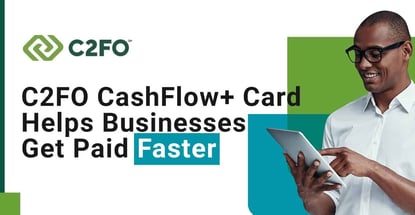 Our experts and industry insiders blog the latest news, studies and current events from inside the credit card industry. Our articles follow strict editorial guidelines.
In a Nutshell: C2FO is the world's largest working capital platform that helps companies collaborate with their suppliers and customers to improve cash flow by determining the best time and terms for payments. The company offers two main products, the early payment program and the newly released CashFlow+™ Card — both of which provide companies, their suppliers and their customers with more control and flexibility over working capital. Accelerated funds enable businesses to grow at a faster pace, depending on which model they find suitable.
C2FO is a financial technology company and the creator of the first market for working capital, as well as the world's largest online platform for working capital.
Shorthand for "Collaborative Cash Flow Optimization," C2FO originated in 2008 with the design of a digital working capital platform that matched accounts receivable and accounts payable for hundreds of thousands of companies.

The digital platform allows suppliers to receive early payments on their invoices, at discounts that they determine, while their customers use the invoice discounts to safely increase margins and profits, and ensure the health of their supply chains.
Clients can now accelerate payments to their suppliers and accelerate receivables from their customers. So instead of getting paid by their customers in 30 to 90 days, they are able to accelerate those invoices straight to their bank accounts often in as little as 48 hours.
Clients can also use their own balance sheets or third-party funding from C2FO's network of lending partners to adjust the timelines on accounts payable or accounts receivable.
The company has facilitated over $200 billion in accelerated payments worldwide, with more than $100 billion in early payments made since early 2020.
"This $200 billion is money that businesses didn't have to take out as loans or tap lines of credits to access – that's something we're very proud of," said Karan Sarin, Senior Vice President of Card Products at C2FO.
"We are focused on innovating and finding faster, easier and low-cost ways for critical working capital being funded to businesses," said Sarin.
The Importance of Faster Processing to Working Capital
Businesses today are being hit from all different directions, especially in the present economy. With inflation at the highest level its been in decades and the destabilization of the supply chain, it is critical for businesses to have access to cash to grow.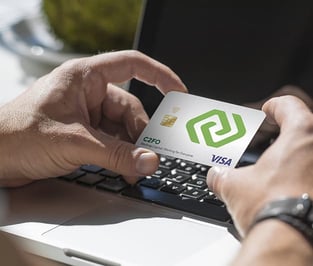 In fact, a recent survey conducted by the Federal Reserve shows that 66% of small and midsize businesses have cash flow challenges, with 43% attributing that to trouble paying for operating expenses.
If the economy continues in its current direction, working capital is going to be increasingly difficult to obtain. Lines of credit may begin to shrink or the approval amounts for new credit products will not be as high as they used to be. C2FO's platform optimizes how a business can access working capital, allowing suppliers to get paid in as little as 48 hours instead of the typical 30 to 90 days.
"For businesses that have faced challenges, securing loans, or relying on personal savings, this could be a lifeline to turn regular purchases into cash for growth through our cash back offer," said Sarin.
Benefits of the CashFlow+ Card
One of C2FO's best products in the market is the CashFlow+ Card. There's no load or annual fee access to working capital, and the card is funded by accelerated payments on approved invoices, at no cost to the user.
The card is loaded with the user's approved invoices, and underwriting for personal guarantees or access to funds is not required. It essentially allows users to protect their margins while getting paid early, and they can earn 1% cash back on all purchases made with the card.
"We have been hearing from our customers that this is making a pretty big impact on their bottom line," said Sarin. "Some of our customers are putting over $100,000 a month on their standard debit or credit cards. Now with the CashFlow+ Card, not only do they get access to their own funds early – so they're not actually borrowing against anything – they're also getting some cash back on top of that."
"The response so far has been great. Customers are putting what they would normally put onto their debit or credit cards on their CashFlow+ cards," said Sarin. "We've seen responses across all the sectors: retail, wholesale, and so on. So the demand is across the board."
The CashFlow+ Card is now available to anyone on the C2FO platform, and customers can register through the website. The card is accepted anywhere a standard Visa card is accepted.
Sarin also mentioned that, once businesses see more of a credit crunch and as standards start going down, access to capital will be a lot more limited, and more expensive, than it used to be. "So this [card] is going to be like a breath of fresh air where they are accessing their own capital earlier, and not having to rely on other instruments."
And the product is continuing to develop as C2FO receives more user feedback. "We built and continue to expand this product in conjunction with our customers, listening to them, adding features that they are saying they will find valuable," added Sarin.
An Evolution of C2FO's Early Payment Solution
Prior to the CashFlow+ Card, C2FO had an established its early payment program. The business can offer a discount for early payment, and if the offer is accepted, the customer releases the early payment which is paid directly to the business' bank account.
It basically allows the business to accelerate funds into its bank account and focus on payments it can't make on a card. This payment option works well for things like payroll.
The two choices now give businesses more options. They can either use the traditional Early Pay product, which delivers early payments directly to their bank account, or the CashFlow+ Card that will load a full invoice amount — with no discount — directly onto a card.
C2FO also provides additional working capital solutions through C2FO Capital Finance, an asset-based lending experience that seamlessly integrates with other C2FO early payment programs.
Some of the benefits of C2FO Capital Finance include a flexible and on-demand user interface, credit limits of as much as $50 million, and a single integrated online platform.
Sarin said the company is very enthusiastic about the future and looks forward to improving its products based on customer feedback. "We are also super proud of the product and to see it reach new heights. We're really excited about what lies ahead for us."