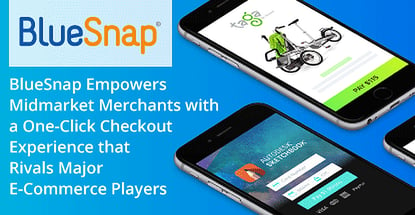 In a Nutshell: One of the major reasons midmarket merchants have had difficulty competing in the world of e-commerce is that, until recently, they could not emulate Amazon's easy, One-Click checkout. Instead, consumers experienced long, complicated checkouts that often led not to a purchase but to an abandoned cart. BlueSnap recognized this disconnect and developed a solution to help midmarket merchants provide a hassle-free checkout experience on par with that of Amazon and those of other major players. //
It used to be that mom-and-pop shops ruled on Main Streets all across America. But, big box retailers, like Walmart, displaced them with a more efficient business model. In the world of e-commerce, Amazon accomplished the same thing early in the game.
Not only did Amazon offer consumers everything under the sun, but it also offered a vastly improved shopping experience with its proprietary One-Click Checkout — a feature that's been described as a major game changer for the industry.
While customers at other online retailers had to slog through multiple pages of forms and verifications before they could use a credit card to pay for their merchandise, Amazon customers (and those of the other big businesses leasing Amazon's One-Click tech) zipped right through checkout with a single click.
The checkout discrepancy made it difficult for small and medium-sized businesses to compete and has led to more frequent cart abandonment on midmarket e-commerce sites. In fact, 28% of online shoppers in the US report abandoning their online shopping carts simply because of the complexity and time it takes to check out.
This uneven playing field was what led Ralph Dangelmaier to leave his position as president of ACI Worldwide and take the helm at BlueSnap six years ago. BlueSnap's payment processing solutions streamline checkout and improve the shopping experience, bringing what Dangelmaier calls the "Amazon effect" to midmarket merchants to help them better compete with e-commerce giants.
BlueSnap Finds Its Niche Serving Underserved Markets
Historically, PayPal and Stripe have focused on helping startups and SMBs while Worldpay and First Data dedicated their time to big brands.
"It seemed like most people in the payment solutions industry forgot the middle market," Dangelmaier said. "There are tons of underserved verticals that are trying to accept card payments, so we hit a niche and built a brand and reputation around it, and we've done exceptionally well."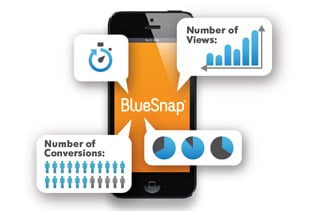 BlueSnap zeroed in on midmarket merchants that Dangelmaier defines as companies, like online retailers, marketplaces, SaaS providers and ISVs, with annual e-commerce sales between $5 million and $500 million. As an all-in-one payment platform, BlueSnap aims to increase sales and reduce costs for its merchants.
"There's almost never a situation where we can't tell a merchant, 'Hey, we're going to make your checkout process more frictionless and increase your sales, and we're going to have a higher success rate with less card declines — and we're going to do it at a lower price,'" said Dangelmaier.
While that may sound too good to be true, Dangelmaier said the reason most merchant accounts have so much room for improvement is lack of education.
"Most merchants have set up their e-commerce infrastructure incorrectly because they just don't know any better," he said.
Advanced Features Streamline Checkout and Increase Sales
For many midmarket merchants considering BlueSnap, the process starts with the Checkout Conversion Calculator.
The tool asks a series of questions to identify ways in which midmarket merchants can reduce the friction their customers experience at checkout. It also provides advice on how to improve the checkout experience and increase conversion rates.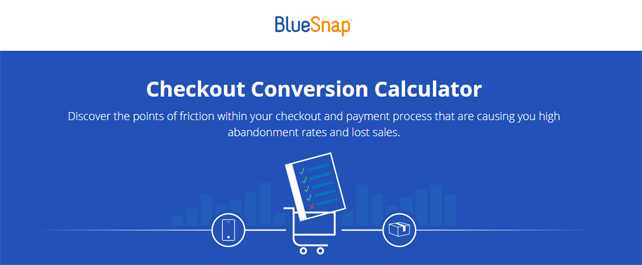 "We have a really cool tech kit that allows merchants to basically model Amazon Prime, so that usually increases sales because fewer people abandon the checkout process," said Dangelmaier.
BlueSnap is dedicated to providing merchants with cutting-edge technology and stays updated on the latest wallets and payment types from around the world. To ensure its clients can compete for cross-border sales, BlueSnap enables them to receive payments not only from Ally, Apple Pay, Google Pay, and PayPal, but also from equivalents in other countries, like Brazil's Boleto Bancário.
Localized Processing Helps Clients Reduce Card Declines
What many merchants don't realize about accepting foreign credit cards is the process of approving a specific transaction is not as simple as it seems.
"The decision to approve a transaction is not as black and white as 'the funds are either available or they're not.' There are actually a few different factors that come into play," Dangelmaier said. "Don't get me wrong – yes the funds have to be there, but the transaction value also impacts whether a purchase is approved. As an example, lower value transactions have a better chance of going through. Another factor is currency mismatch. If the currency request doesn't match the local currency of the issuing bank, the transaction is more likely to be declined."
BlueSnap addresses this problem by having payments processed in the countries where the credit cards are issued. This enables international sales without creating cross-border payments.
"That's what Amazon has done super-successfully behind the scenes on payment infrastructure," said Dangelmaier. "We allow that to happen for merchants, so we localize card processing and they can increase their sales."
Providing Industry Advice to Ensure Merchant Success
Of course, payment solutions are not one-size-fits-all, especially in global e-commerce. BlueSnap further helps midmarket merchants navigate the world of global e-commerce by offering consulting that's tailored to each client's specific verticals.
"We try really hard to provide consulting to them on whether they should use Apple Pay or what types of products they're selling," said Dangelmaier. "We try to advise them based on the products they're selling and where the shoppers are."
For example, Dangelmaier explained that a company selling $20,000 Rolex watches online has specific needs, such as requiring PIN numbers to avoid fraud, while a private school taking tuition payments and selling books online, has very different requirements around card usage.
"There are little things you can do in each industry to make sure that it's a better checkout process and there's no fraud and it's cost-efficient," said Dangelmaier. "But they're small in comparison when you think about the importance of creating a better experience for the shopper – i.e. eliminating card declines and making it easier to check out."
Innovations to Lead the Next Payments Revolution
Despite the niche it has carved out for itself, BlueSnap isn't resting on its laurels. The company regularly adds new wallet and payment methods, which increase access to global customers by allowing them to check out from their smartphones and mobile devices. But even bigger things are on the horizon.
The next innovation BlueSnap plans to bring to market involves using integrated software vendors (ISV) and SaaS companies to handle coding integration for midmarket merchants.
"The actual payment piece is already embedded into the software platform so merchants don't have to do any coding," said Dangelmaier. "It's no different than when people use Salesforce with a lot of the tools already embedded in it."
Amazon continues to be the major player in the world of e-commerce and probably will be for a long time. But, thanks to BlueSnap, midmarket merchants can now offer a similarly convenient one-click payment option at checkout. This seemingly simple advancement has made the shopping experience better for tens of millions of credit card users who do business with the thousands of midmarket merchants using BlueSnap payment solutions.
Advertiser Disclosure
CardRates.com is a free online resource that offers valuable content and comparison services to users. To keep this resource 100% free, we receive compensation for referrals for many of the offers listed on the site. Along with key review factors, this compensation may impact how and where products appear across CardRates.com (including, for example, the order in which they appear). CardRates.com does not include the entire universe of available offers. Editorial opinions expressed on the site are strictly our own and are not provided, endorsed, or approved by advertisers.