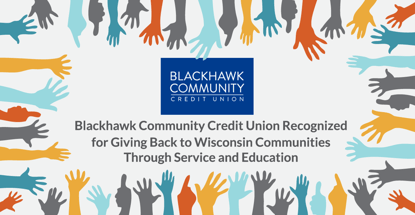 In a Nutshell: Many credit unions prioritize being active in their communities, but Wisconsin's Blackhawk Community Credit Union has upped the ante. It recently pledged to donate its administrative building, zoned as a medical facility, to a local free and charitable health clinic. And it promotes financial literacy from an early age through credit union branches in local high schools and educational programs. Blackhawk also actively supports a wide variety of charities and causes — not only through monetary gifts, but through on-the-ground volunteering as well. And for members who have less-than-stellar credit histories, its Next Step program works closely with them to get their credit back on track and even secure financing for immediate needs. We are recognizing Blackhawk Community Credit Union with our Editor's Choice™ Award for Community Commitment for these outstanding efforts.
As member-owned institutions, many credit unions focus on working closely in the communities where their members live to help these areas thrive in a number of different ways.
But Blackhawk Community Credit Union in Wisconsin takes giving back to a whole new level.
In February, the credit union announced that it would be donating its administrative building, zoned as a medical facility, in 2021 to HealthNet of Rock County, Rock County's only free and charitable clinic.
"We love the idea of HealthNet and what they're able to do in the community," said Sherri Stumpf, President and CEO of Blackhawk Community Credit Union. "With the donation of the building, they're going to be able to add mental health services to their health and dental care services."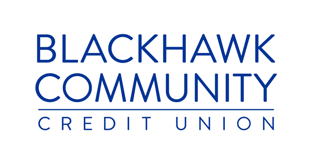 Blackhawk could have sold its current building when it relocates, but Stumpf said the board of directors chose to donate it to HealthNet instead, as a meaningful way of giving back.
"Everyone had a story about how HealthNet has helped people they know," she said in a press release. "It was an easy decision because we prioritize the connection between physical and financial health."
Blackhawk Community Credit Union was founded in 1965 for employees of General Motors. Today, anyone living, working, attending school, or who owns property in the Wisconsin counties the credit union serves can become a member. But its ties to General Motors and the many families connected to GM over the years remains close.
In fact, the credit union will restore the former Chase/First National Bank building in Janesville to become the Blackhawk Community Credit Union Legacy Center, a museum of sorts for the institution's and the community's long history with General Motors.
Blackhawk salvaged thousands of bricks from the Janesville General Motors Assembly Plant, which opened in 1919 and was demolished in 2018. Then, the credit union held a brick giveaway to anyone who wanted them. Stumpf said it turned the town upside down; people drove from out of state, up to 675 miles away for a brick — a piece of a building that was such an important part of Janesville for generations.
Remaining bricks, along with a number of other artifacts, will be installed in the Legacy Center.
These are just a couple of examples of the credit union's demonstrated commitment to the community. It also gives back through robust financial literacy programs, volunteerism, and providing a personal touch to help members gain healthy financial footing.
For these and the many other ways it enriches the communities it serves, we are recognizing Blackhawk Community Credit Union with our Editor's Choice™ Award for Community Commitment.
Promoting Financial Literacy to Students via High School Branches and Youth Apprenticeships
"For many people, there's a mystery to how money works but there shouldn't be," Stumpf said.
Blackhawk Community Credit Union works to remove the air of mystery surrounding finances by offering robust financial literacy resources, starting at an early age.
For more than 10 years, the credit union has maintained branches in two Janesville, Wisconsin, high schools that are staffed by student volunteers. The high school branches are open during school lunch hours and expose high school students to the real world of personal finance.
"At the time, the state of Wisconsin did not require a financial literacy component for graduation," Stumpf said. "So our mission was to open these student branches for schools to recognize how important financial literacy was for students before they graduate."
She said Blackhawk's focus on bringing financial literacy to high school students led to financial literacy components being incorporated into Janesville school curriculums. The financial literacy requirements then spread to other nearby school districts before being adopted by the whole state of Wisconsin just a year later.
"We also come in and teach classes, and we also teach the students who work in our student-run branches to be advocates for their peers in school," Stumpf said. "There's a lot of financial literacy programming going on there."
The credit union also runs Youth Apprentice programs where students can earn high school credit and real-world experience while working as tellers or in other roles. Stumpf said the organization recently opened up an intern program for college students as well.
One of the main projects for the interns is archiving artifacts from the old GM assembly plant, Stumpf said. The credit union plans to launch a museum to commemorate its GM roots and the car manufacturers' deep ties to the Janesville community.
Donations and Volunteering Go Hand in Hand
Stumpf said that Blackhawk Community Credit Union donates to hundreds of charities each year in 13 counties served through its 12 branches.
"But we have a rule that we don't donate unless we're willing to back it up by being there physically for those organizations," she said. "And that's really what organizations want. Other people can just spend money. But the fact that we show up along with providing financial support is really impactful."
Stumpf said the credit union likes to support charities and organizations that are well-run, understand their mission, know their purpose, and work hard to make an impact in the community.
"That's kind of our gauge," she said. "We want to make sure the outcomes that they're promising are actually happening. And we'll send out a crew of people to support the organizations for fundraising efforts and other activities."
The credit union annually supports the United Way, the Children's Miracle Network, Habitat for Humanity, Meals on Wheels, the American Heart Association, and the American Cancer Society, just to name a few.
"Blackhawk is proud to also actively engage in civic organizations and community initiatives to support and enrich them," according to the website. "Throughout the year, we collaborate with local organizations to promote affordable housing, children at risk, fighting hunger, animal welfare, health and wellness, and community outreach."
It also gives special attention to programs that promote financial literacy among youth.
Early Head Start is a recent addition to causes that Blackhawk supports, and it's one that Stumpf said she's particularly passionate about.
The program works with pregnant women, infants, and children up to the age of five.
"It focuses on boosting healthy prenatal outcomes, advancing the development of infants and toddlers, and enhancing healthy family functioning," according to the Early Head Start website. It aims to elevate children's social and cognitive development.
Stumpf said Blackhawk donates a gift of brain development tools, books, and toys to help support the program.
The Next Step Program Takes a Personal Approach to Helping Members Get on the Right Financial Path
The General Motors assembly plant shut down its operations in 2008, but Janesville area residents are still feeling the impact of the closure. Stumpf said some residents who depended on the plant for their livelihood were financially derailed by the closure and have never gotten back on track.
For those people, and others struggling to stay ahead of their finances, Blackhawk Community Credit Union offers the Next Step program.
"The program works closely with members who have had some kind of life circumstance that has affected their credit," Stumpf said. "For some people, there's a shame factor to overcome and they've been hesitant to reach out, but we want to reduce the stigma around the issue."
The program takes a hands-on approach to assessing a member's financial situation and works with the member to customize a plan to overcome his or her credit issues and even obtain financing for immediate needs.
"This approach provides education about behaviors that affect your credit score, how to maintain your personal budget, and what specific steps are necessary to qualify for standard financing down the road," according to the website.
Blackhawk Community Credit Union states that it's there for its members in the long run, and its commitment doesn't end when members leave the Blackhawk offices.
"If you've experienced hardships and feel like there's nowhere to turn, know the Next Step department is willing to listen and understand your situation, is here to offer a hand in repairing what's going wrong, and show you there's light at the end of every tunnel," according to the website.
Blackhawk Community Credit Union demonstrates its commitment to the community over and over again in countless ways. In fact, in 2004, the credit union officially changed its name from Blackhawk Credit Union to Blackhawk Community Credit Union to further emphasize its commitment.
Among all the other programs and volunteer efforts, the credit union is working hard to curate its Legacy Center collection.
"We recovered a lot of items from the GM plant before it was demolished," Stumpf said. "And we're working with General Motors to get some artifacts from them as well. And there are so many people in the community who have donated memorabilia including uniforms, tools, identification cards, and cars."
Advertiser Disclosure
CardRates.com is a free online resource that offers valuable content and comparison services to users. To keep this resource 100% free, we receive compensation for referrals for many of the offers listed on the site. Along with key review factors, this compensation may impact how and where products appear across CardRates.com (including, for example, the order in which they appear). CardRates.com does not include the entire universe of available offers. Editorial opinions expressed on the site are strictly our own and are not provided, endorsed, or approved by advertisers.