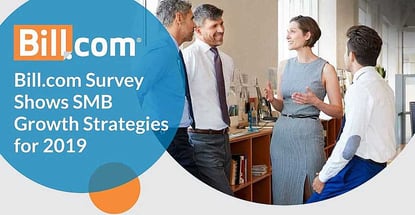 In a Nutshell: Digital business payments provider Bill.com recently released survey results that revealed growth strategies for small and medium-sized businesses for 2019. Overall, the survey showed that SMBs are entering the new year with a positive outlook. A majority of SMB respondents — 71% — indicated they are embracing new technology and will increase their investment in cloud-based tech in the coming year. Nearly half of SMBs plan to expand either their customer footprint or vendor relationships globally. And, 64% feel it is a good time to add permanent employees, while 74% indicated they will be hiring contractors.
When I was in grad school, I balanced my studies with a part-time job at a small business that catered its products and services toward college students and professors. During that time, I saw technology advancing in a way that the small business struggled to keep up with.
The company hadn't planned for the rapid shift from traditional to digital educational materials, and it wasn't long after I moved on to a different job that the location I had worked in closed for good.
Small and medium-sized businesses (SMBs) must constantly evolve to increase profits and keep up with rapidly changing technology, the latest industry trends, and customer needs. As a payments platform specializing in bringing efficiency and innovation to the back office, Bill.com has a vested interest in this space. A recent Bill.com survey of SMBs revealed some of the main strategies businesses said they intend to implement in the coming year.
We spoke with Bill.com's Vice President of Corporate Marketing, Tanya Roberts, recently, and dove deeper into the survey results which revealed SMB plans to focus on technology, international growth, and talent acquisition.
"As we look towards 2019, we wanted to learn more about the current business trends driving SMB growth and investment," Roberts said. "We are pleased to see that despite varying sentiments of economic uncertainty in the U.S., most SMBs are optimistic as they look towards 2019."
The company surveyed close to 1,700 members of its Business Payments Network in September 2018. "The Bill.com Business Payments Network is made up of technology-forward business owners and managers from across the United States, 83% believe now is a good time to be making business growth investments," according to Bill.com.
SMBs are Embracing Technology and Focusing on the Cloud
Bill.com's survey showed that small and medium-sized business are continuing to embrace new technologies in their efforts to facilitate growth. For 71% of the businesses that participated in the survey, that means investing in cloud-based technologies in 2019.
"From an investment standpoint, the results clearly indicate that businesses are willing to invest in newer, more innovative technology to improve business efficiencies so they have more time to dedicate to growing their business," Roberts said.
Efficiency, profitability, and gaining competitive advantage were major motivators behind the businesses' strong commitment to broadening the implementation of technology, according to a Bill.com press release. Most businesses — 53% — indicated they plan to invest in cloud-based technology for marketing software. Sales software came in second place at 39% and payments software came in at 25%.
"As our network continues to grow, we're constantly seeing SMBs adopt digital business payments services, like Bill.com," Roberts said. "As the industry evolves, payments will become more integrated into everyday technology and software."
Bill.com currently integrates with major accounting software providers, including Intacct, QuickBooks, NetSuite, and Xero. Bill.com also offers customers digital accounts payable and accounts receivable capabilities to help them save time and get paid faster, she said, which makes it simple for SMBs to grow their business by streamlining and controlling the payments process.
"If the trend continues, businesses will continue, as the data shows, to invest in digital payments to gain efficiencies, save time and receive payments even faster," Roberts said.
Thinking Globally with Plans to Grow the Customer Footprint and Vendor Relationships Internationally
Next, the survey indicated that SMBs are becoming less constrained by geographic borders and have plans to expand across the globe. In 2019, 46% of participating SMBs have plans to grow their international customer footprint while 41% anticipate boosting their vendor relationships outside the U.S.
"International expansion is a trend we've seen growing at a fast rate, especially with our customers," Roberts said. "The need to process international payments is increasing every day for businesses of all sizes."
Of the SMBs surveyed, 70% said technology was a driver in their evolution toward a more global model, as it is crucial in their vendor relationships in other countries.
Roberts said that, to help meet their customers' needs, the company launched Bill.com International Business Payments earlier this year, which allows customers to make cross-border business payments to international vendors electronically.
"International payments through a bank require a separate bill payment process with a ton of extra steps," she said. "We introduced a solution to that problem with a simple, efficient and streamlined way to pay vendors around the world."
Bill.com is constantly updating its products and offerings to cater to its customers' needs, Roberts said, and the company was very excited to begin offering international business payments.
Speaking of global expansion, Roberts said the survey also asked SMBs which tech titan they would most value receiving one-on-one business advice from. Jeff Bezos, Founder and CEO of Amazon, topped the list with 28% of the vote.
"As Amazon continues to evolve and expand its market offerings, Jeff Bezos is becoming a more prominent leader in the tech industry and a role model for SMB leaders," she said.
Businesses Will Add W-2 Employees and Contractors to Meet Planned Growth
Businesses of all sizes must weigh the pros and cons of hiring permanent employees versus hiring independent contractors. When categorized appropriately, companies often save money by hiring contractors over permanent employees. But, when employees are misclassified, the costs to a company can climb.
Companies are less likely to bring on new employees of any kind when their growth and financial outlook are not positive.
"According to the survey results, 64% of respondents said that now is a good time to add permanent W2 employees to their payroll," Roberts said. "Simply put, this is a strong indicator of the confidence SMBs feel about business growth as they enter 2019."
Additionally, 74% of the respondents believe now is a good time to hire 1099 contractors, she said.
"This also supports business growth optimism but is reflective of the companies that foresee seasonal or project-based influxes," Roberts said. "It is also another reason that SMBs are planning to invest in technology."
She said, paying contractors through digital business payments services like Bill.com helps them get paid faster and saves time for the business so they can continue to focus on growth.
With the current state of our economy, the survey results reiterate that there is strong confidence and positivity looking forward to 2019, Roberts said, and it also emphasizes the fact that SMBs have a strong appetite for more innovative technology that helps improve efficiency and workplace productivity.
"Heading into the new year, we're excited to continue enhancing digital business payments for SMBs, and working alongside them to help improve their businesses," Roberts said.
Advertiser Disclosure
CardRates.com is a free online resource that offers valuable content and comparison services to users. To keep this resource 100% free, we receive compensation for referrals for many of the offers listed on the site. Along with key review factors, this compensation may impact how and where products appear across CardRates.com (including, for example, the order in which they appear). CardRates.com does not include the entire universe of available offers. Editorial opinions expressed on the site are strictly our own and are not provided, endorsed, or approved by advertisers.