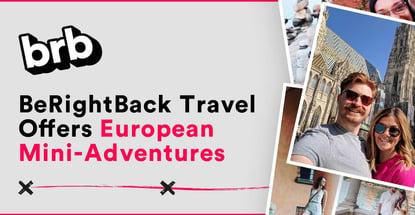 In a Nutshell: BeRightBack is an innovative travel subscription service that offers UK residents travel options in Europe without the planning hassle. Members build a profile that includes the cities they'd like to visit, pay a monthly fee, and the service delivers a high-quality two-night adventure in one of 65 continental destinations three times per year. And the subscription pricing model allows credit card rewards enthusiasts to effortlessly earn points simply by putting money toward their next trip. BeRightBack's customization and careful attention to every travel detail keep customers coming back for more.
Adventure-minded UK residents know that Europe is just across the channel, and many think it's easy to get there for occasional long weekends or a midweek jaunt filled with fun and new experiences.
But even those short trips involve much more than just packing a bag. If travelers want to get the most out of their journeys, they've got to do some planning — and that takes time.
That's why many people sign up for BeRightBack, a travel subscription service that enables UK residents to easily take trips to unique European destinations three times a year.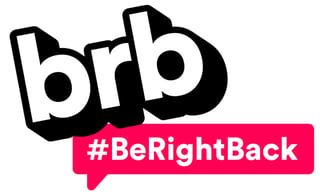 Each two-night travel package includes a round-trip flight, a hotel, and a personalized guide to one of more than 65 surprise destinations. And those who put BeRightBack's modest monthly service fee on a travel rewards credit card can earn even more rewards points to spend on their vacations as they pay over time.
BeRightBack Founder and CEO Gregory Geny's own frustrations as a travel enthusiast sparked the idea for the innovative platform.
"Somehow, I was spending more time researching and planning my weekend breaks, which felt counterintuitive," Geny said. "I was like, 'Well, I've been traveling for years, and I've learned a lot, so what's wrong with this picture?'"
The problem was that travel sites were making the planning process harder and harder. The onus was always on Geny to filter hundreds — or thousands — of transportation and lodging alternatives and settle on an itinerary.
"Do you need to put in 10 hours of work to enjoy a 40-hour weekend break? I don't think so," Geny said.
Build a Destination Bucket List and Experts Do the Rest
Launched just two years ago, BeRightBack has already earned a positive reputation in the industry.
When people plan an epic, weekslong family vacation, a bit of due diligence is expected. But when they're looking to enjoy more frequent European long weekends or midweek trips — whether it's as a solo traveler or with a partner — that's when time becomes more precious.
BeRightBack brings more efficiency to travel planning without compromising on the quality of the experience. Instead, the service goes to great lengths to deliver trips that are unique for each traveler. That is even more important when card rewards are on the line. And many credit cards allow cardholders to convert their points into cash, so they can also have a little extra spending money on their trip.
BeRightBack subscribers can start by selecting preferred experiences that emphasize culture, romance, nightlife, food, the outdoors, and more — the service even accommodates travelers interested in Instagram-worthy adventures.
Then, subscribers can build a destination bucket list. BeRightBack travels to almost every EU nation and to scenic Switzerland. It focuses on destinations that offer unique authenticity, including cities like Split, Croatia, and Seville, Spain. The service also arranges jaunts to Paris.
A month before each scheduled trip, BeRightBack mails customers a postcard with information on their destination, including flight check-in info, accommodations, and a personalized online activity guide with recommendations on things to do. Then it's time for subscribers to pack their bags.
"Your travel is sorted on multiple levels," Geny said. "It's a package — it's not just your flight or your hotel. And it's tailored to you; it's not the trip that everyone else is going to get. And you've got comprehensive financial protection. If anything happens, you're covered."
Fixed-Price Subscription Model Saves Money and Time
Travelers also select two UK airports from where they're willing to fly and must commit three months before departure. Customers can pause their subscription if three trips a year are too many, or they can book more.
All accommodations are carefully selected and have at least a 3.5 rating on TripAdvisor, with 70% of customers staying in four- or five-star hotels located near the center of a city. What's more, the service will never send someone to the same city twice unless the customer requests it.
"And every single hotel we pick is an amazing property," Geny said.
Another BeRightBack advantage is that its fixed-price model successfully addresses cost uncertainty stemming from dynamic pricing in the airline and hotel industries. Card rewards holders can more predictably allocate their hard-earned points.
"Conventionally, the price of travel is determined by the level of demand," Geny said. "But what a lot of people don't realize is that when you do all that research searching for flights and hotels, you're also essentially telling the companies that are selling the products where the demand is."
That is useful because travel companies, especially independent hotels, must compete for a spot on the third-party aggregator sites they depend on for business.
BeRightBack helps independent vendors compete with Airbnb and other homestay operations that carry lower fixed costs. More predictable occupancy rates and revenues mean these vendors can charge lower rates — savings that BeRightBack passes on to consumers.
"Direct, more cost-effective relationships with only 500 hotels across Europe allow us to scale to more than 100,000 subscribers," Geny said.
Personalized Experiences That Surprise and Delight
BeRightBack customers ultimately receive experiences that reflect their unique preferences. And they accomplish that with a fraction of the effort that traditional avenues take.
"If you're going to go down the subscription model route, you have to delight your customers," Geny said. "So it's in our best interest to truly understand who they are."
Gathering information on user preferences when they subscribe to the platform is just the beginning, according to Geny. The service builds relationships with its customers by capturing their preferences during and after the journey.
BeRightBack uses email surveys to gain customer feedback, and it collects even more telling data from the social media sphere.
"It's one thing for someone to tell us they're adventurous, but if they sign on using their Instagram account, we might see that the vast majority of their posts are about weekend brunches," Geny said. "In the future, we want to add that extra layer of information."
Meanwhile, the element of surprise also distinguishes the BeRightBack model. That means offering destinations that travelers may not have thought about and then using customer knowledge to bring it to life.
"Here in the UK, everyone goes to Barcelona and Amsterdam, and they're great places. But plenty of other destinations are more local and authentic, and offer much better value for the money. They are going to give you a deeper cultural understanding," Geny said.
The service eliminates the hassles otherwise inherent in repetitive travel. The platform has received a stellar Trustpilot score and excellent or outstanding ratings from 94% of respondents. And BeRightBack is a sure choice for credit card holders looking to redeem their rewards.
"The idea of collecting points every month where you don't even have to think about it — it's quite a compelling approach for the savvy traveler," Geny said.
Advertiser Disclosure
CardRates.com is a free online resource that offers valuable content and comparison services to users. To keep this resource 100% free, we receive compensation for referrals for many of the offers listed on the site. Along with key review factors, this compensation may impact how and where products appear across CardRates.com (including, for example, the order in which they appear). CardRates.com does not include the entire universe of available offers. Editorial opinions expressed on the site are strictly our own and are not provided, endorsed, or approved by advertisers.