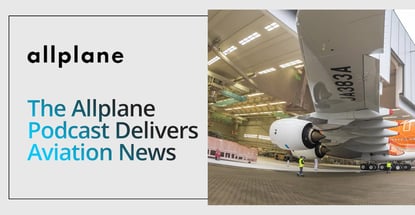 In a Nutshell: Here at CardRates, we love cashing in our credit card rewards for travel. Of course, 2020 has been a challenging year on that front. But Allplane — a blog, podcast, and consulting firm that covers all things aviation — is there to provide travelers with the latest industry developments. The website began life as a humble blog but quickly gained traction in the industry. Founder Miquel Ros provides flight reviews on Allplane where he explores new planes, new airlines, and multiple flight experiences. While the aviation industry has suffered a downturn due to the COVID-19 pandemic, Miquel is optimistic that the industry will regain its footing sooner than later.
Travel enthusiasts around the world have found 2020 to be a particularly challenging year. The COVID-19 pandemic essentially brought leisure travel to a standstill in the spring.
Then, as countries around the world handled the pandemic in various ways, safety precautions and government regulations also varied — and fluctuated as the pandemic ebbed and flowed.

Here at CardRates, one of our favorite ways to use our credit card rewards is by applying them toward travel. That means anything from scoring a deeply discounted hotel room or using points to knock down the cost of a pricey flight.
Needless to say, choosing when and where to use our credit card rewards for travel hasn't always been easy in recent months.
Thankfully, we recently learned about Allplane, a website, blog, and podcast, that covers all things related to air travel. While 2020 may have put the brakes on traveling for many, it's been a busy year for Allplane Founder Miquel Ros as he worked hard to stay abreast of changes in the industry and keepup with travel trends around the world.
We had a chance to speak with Miquel about Allplane, his passion for aviation, and how the COVID-19 pandemic has impacted the airline industry. Miquel also includes firsthand flight reviews on Allplane, so when the time comes for us to cash in our credit card rewards for our next trip, we'll know where to turn for research on which airlines to book.
From Blogging to Podcasting
Although Miquel had long been interested in the aviation industry, he began his professional career as an economist. He launched the original Allplane blog as a hobby to explore his leisurely interest in the world of flight.
"I had no intention when I started writing about aviation of actually making it a professional thing," Miquel said. "It was just a hobby at the time, but it kept growing. It was just a very simple Blogspot blog. Then it started getting some traction, and I got invitations to write from some media, so that's what I was doing."
Miquel then came across an opportunity to help launch an airline in Russia, he said. During this time, he got to experience the aviation industry from the inside, he said.
Miquel said his time with the new airline came to an end due to a shifting geopolitical climate in the region. But he walked away from the experience with a whole new perspective to combine with the independent expertise he had built up over the years.
He could also turn his full attention to Allplane, which today is an independent media and consulting business specializing in the aviation and air travel industries.
"The Allplane blog is a well-respected source of news, analysis, and stories about the aviation industry," according to the website. While Allplane Consulting provides, together with its partners and associates, a wide range of services to firms in the aviation, airline, and travel industries. Areas of focus include market research, international business development, digital marketing services, as well as support in technology procurement and other corporate operations.
Miquel also launched the Allplane podcast in May in which he explores the wide world of aviation with a number of industry experts.
"Learn the secrets of the commercial aviation industry directly from those that work in it!" according to the Allplane website. "In each episode an expert professional talks about his or her area of expertise within the aviation industry."
Flight Reviews Offer Valuable Firsthand Insight
Miquel also writes and publishes reviews of the flights he takes on Allplane.
While it's true that anyone with internet access can write a review for an airline and post it somewhere online these days, it doesn't mean that they should.
Sifting through the virtually anonymous flight and airline reviews isn't necessarily the best way to get an objective viewpoint on one's experience. Many amateur reviewers find their way online because of a particular complaint they want to vent about. Others may have other, unknown reasons for giving an airline a positive or negative review.
Allplane reviews provide a fair and objective take on Miquel's aviation experiences. As an industry professional, his detailed and informative reviews provide much more insight and expertise than your average anonymous review.
"Normally, when I fly either a new airline that I haven't flown before or a new type of aircraft, for example, I write up a review," he said.
He also makes a point to provide reviews on multiple airlines from different angles, including business class, economy class, long flights, and short flights. Miquel said he will also write reviews when airlines offer new products and services for their flights.
Miquel said he takes notes of his experiences before, during, and after each flight and takes photos while on board the plane.
"The reviews tend to be quite popular, actually," he said. "It's something that people have an interest in. I see lots of people searching for this type of information, like what you can expect when you fly with a certain airline."
Air Travel in the Age of COVID
Of course, the COVID-19 pandemic interfered with travel for people and companies all over the world. Miquel discussed the challenges the industry and is facing and what he thinks the future holds.
"It's difficult to speak for all airlines because each of them has a bit of a different situation. But the common thing is, of course, that they are all facing the largest crisis ever in the history of the aviation industry — in 100 years," Miquel said.
But he added that he is optimistic that the industry will begin to regain its footing sooner than later, and while it's certainly down, it is not out. Miquel said he thinks that people will become more comfortable with air travel again in the near future, whether it's because of a coming vaccine or airlines and governments will learn how to optimize safety for workers and travelers.
"I think that the desire for people to travel and to see the world and connect with other people is still there. And, provided that people have the means to do it in a relatively safe way and they don't have too much red tape, the demand is going to come back." — Miquel Ros
Unfortunately, this doesn't mean that every company in the industry will come out on the other side of the pandemic. Miquel maintains an ongoing blog post on Allplane detailing the likelihood of certain airlines able to weather the storm — or not.
"Even in these very dire times for the commercial aviation industry, even if some of those airlines were still suffering from chronic problems well before coronavirus hit, there is still people plotting and scheming to bring back to the fore airlines that had been all but written off," writes Miquel, "in parallel to this, a number of those airlines that were sort of written off already may still be poised to make a comeback."
Whether you're ready to don a mask and hop on a flight next week or you're holding on to your credit card rewards for a return to normalcy, Allplane can provide you with valuable information on the state of the aviation industry.
Advertiser Disclosure
CardRates.com is a free online resource that offers valuable content and comparison services to users. To keep this resource 100% free, we receive compensation for referrals for many of the offers listed on the site. Along with key review factors, this compensation may impact how and where products appear across CardRates.com (including, for example, the order in which they appear). CardRates.com does not include the entire universe of available offers. Editorial opinions expressed on the site are strictly our own and are not provided, endorsed, or approved by advertisers.