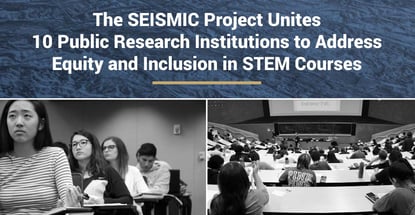 In a Nutshell: Science, technology, engineering, and mathematics — also known as the STEM fields — are extremely important to the advancement of society and national economies. The STEM fields have suffered from a lack of equity and inclusion over the years, but thanks to funding from the Alfred P. Sloan Foundation, future STEM demographics may look a bit different. The Sloan Equity and Inclusion in STEM Introductory Courses, or SEISMIC project, is bringing together 10 large public research universities to address these problems. The project also cuts across academic disciplines and is arranged into three major working groups to deliver significant change in the STEM fields.
The STEM fields — science, technology, engineering, and mathematics — are grouped together to increase focus on these important areas of study and to help give countries a competitive edge in certain industries.
STEM's counterpart is the humanities — areas like art, literature, and social sciences. Most people would agree that the humanities are essential for a well-rounded, culturally relevant society. But any country that falls behind when it comes to STEM fields cannot compete in today's global marketplace, which is driven by innovation and technology.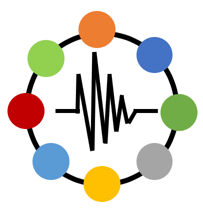 In the U.S., large research universities offer foundational STEM courses that introduce students to those areas of study, which then serve as gateways to majors. The classes are often taught to hundreds or thousands of students at a time.
"They strongly influence career choice and present persistent challenges to diversifying STEM fields," according to the Sloan Equity and Inclusion in STEM Introductory Courses (SEISMIC). "They are often taught in industrial ways, with little recognition of or response to the diversity of students. As a result, outcomes disappoint everyone involved."
That means students who don't fit the model of their successful STEM predecessors struggle to achieve goals or receive the support they need. These large, impersonal courses ultimately result in less diverse, inclusive groupings at the college level, and ultimately at the professional level as well.
Still, the course structure is appealing to campus leaders because of the financial benefits of education at scale.
The Alfred P. Sloan Foundation spearheaded the SEISMIC project with funding to directly address these conflicting issues and the lack of diversity in STEM.
Nita Kedharnath, Project Manager for SEISMIC, told us the project coalesced around the notion of advancing equity and inclusion in STEM through multi-institutional efforts rather than in isolation.
"That way we can take advantage of the different work that we're all doing and also the availability of us to collaborate to create a larger impact," she said.
Uniting Voices from an Array of Large Universities
Kedharnath explained that the SEISMIC Project Director Tim McKay was essential in formulating the program's approach and uniting the 10 large research universities participating in the project.
"He has worked on previous grants with the Sloan Foundation and has been working in education research for some years, focusing on equity and inclusion," she said. "So this came out of previous projects he's worked on. So, he worked with the Sloan Foundation again and we got funded in the fall of 2018."
Kedharnath said the initial SEISMIC team reached out to various research universities that team members had a prior relationship with or were known to be willing to do this kind of work.
"A big part of this collaboration is that we want to look at institutional data and make similar kinds of analyses across institutions," she said.
The 10 partner institutions that became part of SEISMIC are the University of Michigan — where McKay is the Arthur F. Thurnau Professor of Physics and where Kedharnath is based — Indiana University, Michigan State University, UC Santa Barbara, the University of Pittsburgh, UC Irvine, Arizona State University, Purdue University, University of Minnesota, and UC Davis.
Next, Kedharnath and McKay traveled to each partner institution where they presented on SEISMIC and held workshops to learn what kinds of equity and inclusion work the local campus teams were interested in, and why they might be interested in joining SEISMIC.
And by early 2019, the SEISMIC project was underway.
"This spring, more than 100 faculty, staff, students and administrators from 10 top public research universities have come together to address this problem by launching a multiyear collaboration focused on equity and inclusion in large introductory STEM courses," according to a University of Michigan article. "Using a million dollars in support from the Alfred P. Sloan Foundation, the Sloan Equity and Inclusion in STEM Introductory Courses (SEISMIC) project aims to 'shake up' the way in which students begin their careers in STEM."
How A Sustained Multi-Disciplinary STEM Research and Development Collaboration Can Move the Needle
"We propose to address this problem in a new way, launching a sustained multi-institutional, multi-disciplinary STEM education research and development collaboration," according to the SEISMIC website. "This collaboration will be motivated by a clear-eyed, openly stated focus on equity and inclusion in large foundational courses as the central goal of the reform process, harnessing a higher level of collective passion from the students, faculty, staff, and administrators who participate."
The project aims to help define a new standard for STEM reform projects through the understanding that a class cannot be successful unless it is equitable and inclusive.
Kedharnath said the multi-institutional approach is important but perhaps just as valuable is the fact that the project cuts across disciplines as well.
"Participants will connect through parallel data analyses and data sharing, coordinated experiments, continuous exchange of speakers and graduate student researchers, and extended annual meetings," according to the project.
Coordinated experimentation will also be explored across multiple institutions as well as multiple disciplines, according to SEISMIC.
"Continuous exchange of speakers and annual meetings will accelerate research, build community, enhance the spread of ideas, and reinforce our focus on equity and inclusion as a central metric for STEM reform success," according to the website.
SEISMIC's approach to this issue is based on research that shows how efforts that go beyond individual instructors but instead promote change within an institution at the department level can help deliver positive cultural changes.
The approach has had significant success and faced notable challenges, according to SEISMIC. Some departments have been transformed in potentially sustainable ways, while others have reverted to previous cultural norms once the programs of change ceased.
SEISMIC aims to make significant — and sustainable — changes to the STEM fields.
"By establishing this collaborative structure, we hope to foster change at the level of environments and structures," according to the SEISMIC website.
Organizing Efforts Into Three Working Groups
Of course, taking on such a huge issue, across numerous institutions and fields of study requires a strong organizational structure.
Kedharnath said this takes the form of three major working groups.
"These Working Groups capture three main themes of work for SEISMIC," she said.
SEISMIC's Measurement Working Group focuses on measuring and characterizing equity and inclusion in STEM.
"This group will use traditional student data from the institutions as well as data from other sources, such as online homework systems, Canvas, or ECoach," according to SEISMIC. "This group will also execute parallel data analyses across all the collaboration institutions to measure equity and inclusion."
SEISMIC participants in this group tend to be learning analytics experts and education researchers, according to the project website.
Next, the Experiments Working Group will address structural challenges to equity and inclusion in STEM.
"Some common challenges will be course structure (i.e. high stakes exams, timed exams), space structure (i.e. large lecture halls unsuitable for class discussions), expense (i.e. costs associated with grading many students in authentic ways), style of instruction (i.e. lecture-based vs. studio-style vs. flipped classroom), and technology," according to SEISMIC.
The group will spearhead experiments and interventions directed at these and other structural challenges. Participants in this working group tend to be discipline-based education researchers and practitioners.
Finally, the Structures Working Group supports reform by creating the structures and narratives needed for culture change, according to the project.
"This group will study what institutions are already doing to support reform and share lessons learned from the efforts of collaboration institutions," according to SEISMIC. "It will generate a description of these reform movements, leading up to trying out new reform support structures as experiments at different institutions."
Additionally, the group will assess the impact of course reform on university, department, faculty, and student culture and record valuable narratives. Most of the data will be gathered through reports on previous and current efforts, interviews with course stakeholders, and experiments with new efforts. Members of this group are often education reformers, faculty development experts, and administrators related to developing policy and creating culture, according to SEISMIC.
With funding from the Alfred P. Sloan Foundation, some of the national top public research universities, and coordinated efforts to bring about real change, SEISMIC may just have what it takes to make some waves in the STEM fields.
Advertiser Disclosure
CardRates.com is a free online resource that offers valuable content and comparison services to users. To keep this resource 100% free, we receive compensation for referrals for many of the offers listed on the site. Along with key review factors, this compensation may impact how and where products appear across CardRates.com (including, for example, the order in which they appear). CardRates.com does not include the entire universe of available offers. Editorial opinions expressed on the site are strictly our own and are not provided, endorsed, or approved by advertisers.