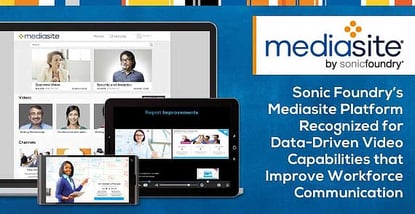 In a Nutshell: As large retail chains well know, a globally distributed workforce presents communication challenges. From training to internal meetings, distributing consistent messaging to everyone in a company was once difficult. With its Mediasite Video Platform, Sonic Foundry is giving businesses, schools, and hospitals the tools to capture, edit, share, and make sense of video through collected data. Understanding employee and customer needs gives organizations the ability to deliver content in a way that's both educational and engaging. For creating a video platform that's helping improve corporate communications, we're recognizing Sonic Foundry with our Editor's Choice™ Award.
A major challenge for retail chains is overcoming geographical separation. The world's largest brick-and-mortar chains can have hundreds, or even thousands of stores, spread out all over the world. Each location has its own set of employees, which can make it difficult for a company to get everyone on the same page.
A trend that's exploding in retail is the concept of capturing and using data insights to better understand customers and deliver more personalized experiences. This same concept can be applied to businesses understanding and informing their own employees.
"One of the biggest challenges in retail is how dispersed the employees are, which makes it much harder to understand, 'How much do they know?' and 'What are they interested in learning?' and 'What are their questions?'" said Rob Lipps, EVP Worldwide Sales and Marketing for Sonic Foundry.
His company's Mediasite Video Platform is helping users capture and manage video data that can be combined with other data sets to reveal insights that have only recently become attainable. Rob's background is in business intelligence and analytics, and he told us the popularity of video puts Sonic Foundry in prime position to help inform decisions.
"I'm enamored with video because of the potential for analytics you can get around the highly visual medium of communication that everybody seems to prefer," Rob said. "If you're trying to figure out how to fix your lawn mower, you're more likely to go to YouTube and search for a video than you are to find yourself in a chat room or looking up the manual from the manufacturer. And corporate entities know this."
When it comes to internal messaging, such as producing and distributing training materials, it's important for retailers, particularly those that operate at an enterprise-level scale, to control their own message. Sonic Foundry's Mediasite Video Platform gives businesses the ability to create, edit, and distribute their own videos, while collecting important data in the background — which is why it's earned our Editor's Choice™ Award for Data-Driven Video Communication Solutions.
"I like to tell people that we're known for video and solutions for training and communications, but we're really a data company," Rob said. "To us, video technology is the means by which we gather data."
How Retailers Leverage Mediasite for Greater Engagement
While Mediasite certainly has retail and business applications, it's also become a versatile tool in other fields. Professors and students are using it in higher education to capture lectures and broadcast campus events. Doctors and other healthcare professionals are also making use of it for continuing education and recording and broadcasting procedures.
Mediasite's primary benefit for retailers is as an internal training tool, but it's also being used to preserve corporate knowledge and as a way to get long-term benefits out of conferences and other live events.
Internal Communication and Training to Connect Your Workforce
Retailers are using Mediasite to create vast video training libraries accessible to employees who need it improve their job performance. This is particularly useful for onboarding new employees, but even company veterans need to brush up on new concepts with technological advances and new products coming out all the time.
And because data is such a fundamental part of what Mediasite does, the analytics behind video usage by employees can reveal interesting and unforeseen insights, such as identifying where there's a need for further education.
"In Mediasite, a recording can give you a heat map of where the most viewership is happening even within that one recording," Rob said. "If you can see that everybody is watching the 22- to 26-minute mark over and over again, either that's something they feel is very important to them or something that wasn't explained very well. You could then produce a new learning object immediately on the fly and put it into the system or you can elaborate a bit more on that topic for the audience and give them what they seem to be asking for without asking for it."
Expanded Reach Through Live Event and Conference Broadcasting
Going beyond training, Mediasite is also used in business environments for corporate communication, making it simple for thousands of employees or customers to access a video message from a CEO who could be on the other side of the globe.
Appearances at conferences or other live events can also be preserved via video, which is important because popular breakout sessions can fill up fast.
"In the events business, the thing that keeps event organizers up at night is standing room only or when people can't get into a room because they underestimated the capacity of demand of the audience," Rob said.
Recording speakers at events is not only valuable for those who can't be in the room on a particular day, but it can also be useful for decision-making the next time an event rolls around.
"If you recorded last year's event, you can look at the viewing behavior from all those breakout session videos and say, 'This particular presenter had very little viewership, so either the topic wasn't relevant to the audience or the presenter was not effective,'" Rob said.
Enabling Brands to Harness Video Data to Make Informed Business Decisions
Sonic Foundry understands the value of analytics and is helping businesses collect data that could be even more important in the near future.
"We tell people that even if your intent is not to use the data today, it doesn't mean you shouldn't start collecting it because it'll be there tomorrow when you need it," Rob said.
With advancements in machine learning and related technologies, it's more important than ever for businesses to accumulate data — from video and elsewhere — to better understand and deliver on customer needs.
"Sometimes knowing who they are and what they're searching for is as important as what they found," Rob said. "That's kind of the holy grail of video — understanding the needs of your audience so you can deliver and cater to those needs."
Sonic Foundry allows users to easily engage with videos through improved navigation capabilities, and this idea goes beyond sliding a scrubber bar back and forth to skip around a video.
"You can actually search within the video. You can search for text in the video. You can search caption files in the video," Rob said. "All of that metadata about the video is what becomes searchable. And if you give users the ability to search, then the analytics can tell you things about what they're searching for."
Retail to Benefit from Educational Trends in Content Creation
With its data-driven approach and wide set of uses, Mediasite is helping industries improve communication among employees spread out across different time zones.
The versatility of the platform is apparent, and Rob told us about another way Mediasite is used in the fields of healthcare and higher education. The concept is peer-to-peer education: the idea that learning is easier when the content is being internally generated and distributed.
"At hospitals, what they're finding is that if you deliver centralized training to a hospital staff — like all the nurses in an ICU — those nurses would learn better if the person on the video were one of their peers inside their department," Rob said.
Rob believes this could be the next big thing for internal training in retail and other business settings.
"Our whole mission has been to enable people to actually create video locally," Rob said. "I can see a world where a company like Home Depot says, 'We're going to produce corporate training, but instead of it being a news anchor-type personality that's going to train you, wouldn't it be great if it was your manager?'"
Retail might not be far behind, thanks to the tools built into the Mediasite platform. Sonic Foundry has created a platform that makes all of this possible, which is why we're recognizing Mediasite for its versatility in improving workforce communication.
Advertiser Disclosure
CardRates.com is a free online resource that offers valuable content and comparison services to users. To keep this resource 100% free, we receive compensation for referrals for many of the offers listed on the site. Along with key review factors, this compensation may impact how and where products appear across CardRates.com (including, for example, the order in which they appear). CardRates.com does not include the entire universe of available offers. Editorial opinions expressed on the site are strictly our own and are not provided, endorsed, or approved by advertisers.