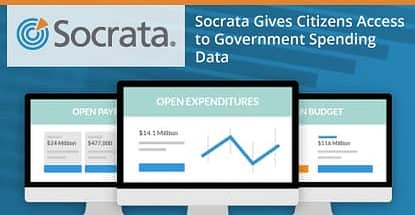 In a Nutshell: The signs of road improvement abound on city and state thoroughfares: the clutter of heavy machinery, the orange traffic cones lining the shoulder, and the ubiquitous "Your Tax Dollars at Work" electronic display signal. But what exactly does the sign mean? Socrata introduced its Open Finance suite of solutions in 2017 to inform citizens of exactly how their tax money is being used, and to help streamline government access to data often scattered among different departments. The Capital Projects Explorer was developed for the city of Seattle and is now being used by many other cities to give a detailed rundown of every project currently using capital funds. The products give transparency and accountability to government spending that has in the past been shrouded in mystery. //
There's a road a few miles from my neighborhood that's seemingly been under construction for years. Five or six large trucks are regularly parked by the two-lane slab of asphalt near a yellow metal sign with bold, black letters that reads "Your Tax Dollars at Work."
I can't recall ever seeing a construction worker present as I commute to and from work each day. During each trip, I have to maneuver my car so as to straddle the potholes to keep from ripping my tires to shreds.
You'd think the sign is a sarcastic addition to the scenery by an angry driver, but it isn't. The local government in many cities places these signs on the sites of capital projects to assure citizens their tax and toll dollars are going to good use. But what happens when those projects seemingly sit dormant and without apparent oversight for years?
That issue is one of several that led to the creation of Socrata's Open Finance software. The program organizes government data, like expenses and project information, and democratizes it by making it available to citizens and civil servants alike.
An early adopter, Seattle launched Socrata's open data platform in 2010, and the site recently received a redesign to make it easier for users to locate public information. Massachusetts' financial transparency platform, CTHRU powered by Socrata, opens up a host of payroll and spending data, among other information, so citizens and staff can quickly understand it. The company is growing quickly and constantly adding new clients around the country.
"What Socrata really strives to do is allow the government to have access and understanding of their data," said Clare Hegg, Senior Manager of Product Marketing for Socrata. "By opening the data to the public, it allows transparency and accountability, but it also allows the public to become an extra set of hands and an extra set of eyes."

Socrata started in 2013 with its Open Budget product that eventually evolved into a suite of solutions under the umbrella of Open Finance in 2017.
Open Finance gives policymakers at every level of government access to tools that streamline reporting and enhance internal goals, while applications like Open Budget, Open Expenditures, and Open Payroll make their jobs easier and more efficient.
Hegg said a main selling point for the product is its ability to organize data previously scattered among files in different buildings into one digital portfolio that is intuitive to use.
"We have a firm belief that even the government doesn't have the proper access to its own data and information," she said. "It's amazing how frequently our products are used by employees — whether the finance professionals or someone on the performance side of government work — to access information because it's much more streamlined than their current methods of storage."
An Intuitive Display of Client Cities' Capital Projects
Hegg said her favorite, and of the most useful features on Socrata's platform, is the Capital Projects Explorer.
Originally developed under a contract with the city of Seattle, the application has since been adopted by several other towns and cities to organize and display capital funded projects, including road, building, and sewage construction.
"This allows all of the capital projects in a city to be displayed in a mapping dashboard that looks familiar to most people," Hegg said.
The tool shows all of the projects on one map that can be narrowed down to a section, or even a single neighborhood, of the city. Hegg says she's personally used the program to track the progress of a construction project near her neighborhood.
In addition to listing the project, the platform includes information on whether the job is on time and on schedule to be completed, whether it is meeting its budget, and what stage of the construction process the job is in.
"The tool is really useful for both government officials and for citizens," Hegg said. "You can even tell exactly what levy the project is being funded by. It adds a layer of transparency and accountability that typically doesn't exist."
To compile the massive amounts of data needed to develop a tool like this, Socrata works closely with different departments within each clients' government — including the city council, construction departments and the department of transportation.
The app is hosted on Socrata's platform but features a white-label design that makes it look as if it's part of the city's website. The amount of time it takes Socrata to compile the necessary data varies by how each city currently stores and files its information.
"It's super dependant on how a city functions," Hegg said. "The interesting thing, and the thing that causes the most headaches for us, is that each city is so different that when we're going in and finding the right data sets to pull, it might be vastly different from city to city."
Replacing Excessive Paper Documents with Digital Files
The idea behind Open Finance came about during a partnership with Thomas G. Shack III, Comptroller of the Commonwealth of Massachusetts.
"He wanted a better view of what was going on under the hood in this area, but all he had were lots and lots of paper reports," Hegg said. "All of those reports had to be put online in a PDF checkbox form."
During the process of digitally converting those paper reports, that included reports on traffic patterns, public safety, incident reporting, and more, Socrata started developing the open-budget software that made the company more useful to government financial departments.
Since then, the software has exploded in popularity as citizens use it to keep track of government spending and city officials use it to streamline mobile access to data that once took days or weeks to find.
"We noticed that city council members will actually pull up Capital Projects Explorer to help them answer questions from the Legislature or citizens while they're sitting in session," Hegg said. "Before that, they would have to ask somebody to go and pull the report, hope that it wasn't outdated, and maybe be able to get back to the person with current information."
Democratizing Data Access for Taxpayers and Civil Servants
For years, governments around the country have collected tax money to fund projects that citizens had little input in. The lack of transparency led to trust issues between government officials and the public they serve.
Socrata's Open Finance Software attempts to bridge the gap between the two by providing open access to government financial data on a traditional web browser or mobile device.
The suite of products is used by the city of Seattle and scores of other government clients to gather data once scattered among different departments into one intuitive platform. Hegg said the solutions go a long way toward helping elected officials do their jobs in an easier, more productive manner.
"The government is trying so hard to solve these massive problems, and they're given so little resources to work with," she said. "Civil servants want to do everything they can. Our mission is to give them the toolkit they need to solve those massive problems."
I only wish I had access to such a tool for my city. Maybe then would I have an idea when that road by my neighborhood will stop putting my tax dollars — and my tires — to work.
Advertiser Disclosure
CardRates.com is a free online resource that offers valuable content and comparison services to users. To keep this resource 100% free, we receive compensation for referrals for many of the offers listed on the site. Along with key review factors, this compensation may impact how and where products appear across CardRates.com (including, for example, the order in which they appear). CardRates.com does not include the entire universe of available offers. Editorial opinions expressed on the site are strictly our own and are not provided, endorsed, or approved by advertisers.