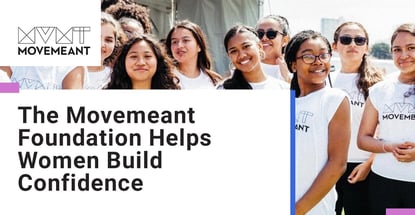 In a Nutshell: The societal pressures on women and girls to have the perfect body are everywhere. The Movemeant Foundation counters that by celebrating female diversity in all its facets and championing female bodies through the power of movement and fitness. Credit card donations help the foundation build inclusivity in the fitness and competitive sports communities and encourage all women and girls to move proudly and strongly through life.
Thanks to advertising and social media, girls and women are exposed to images that dictate they must look a certain way to be accepted by society. So it's not surprising that many women grow up with low self-esteem and body image issues.
The Movemeant Foundation's mission is to overcome that pervasive social pressure and empower women and girls to feel proud and confident. Through the power of movement and fitness, the Movemeant Foundation teaches women and girls self-esteem, self-confidence, and body positivity.
Credit card donations help the foundation drive diversity and inclusion in the female fitness industry, support fitness workers who have been uprooted from jobs during the COVID-19 pandemic, and assist girls in reaching their full potential in fitness and competitive sports.
You can make a tax-deductible donation directly on Movemeant Foundation's website by using a credit card. Several card issuers allow cardholders to redeem their credit card rewards as a charitable donation to a nonprofit of their choosing or as a statement credit to cover a charitable contribution.
Movemeant Foundation's Generation Confident, a body-positive curriculum for middle school girls, will return to in-person sessions when the pandemic is under control, as will donations and volunteer opportunities. Plus, the foundation's signature large-group fitness events, known as We Dare to Bare, will resume spreading the word about the vital connection between female body acceptance and female power.
Founding Partner and Interim Executive Director Charina Lumley met her business partner and Movemeant Foundation Founder Jenny Gaither at a spin class, where they connected over their struggles with self-esteem and body positivity. The foundation grew out of their shared desire to make a difference in the lives of girls and women who feel the negativity of social judgment.
"Especially today in this age of social media, women feel judged on their looks and body type," Lumley said. "We're out to change the shape of their mindset — not necessarily their bodies."
Grants Drive Fitness Diversity and Inclusion
Movemeant Foundation's mission starts with body acceptance but extends to other frameworks of inclusion. Its goal is to erase the barriers to female fitness, whether those barriers are based on body shape and race, national origin, sexual orientation, gender identification, or economic status.
Donations, including those generated by redeeming credit card rewards points for cash or statement credit, help in several ways.
In 2018-19, in-person activities, including We Dare to Bare fundraisers and middle school curricular programs, exemplified the foundation's work. The onset of COVID led the organization to pivot toward financially supporting groups within the fitness community who were marginalized by the pandemic.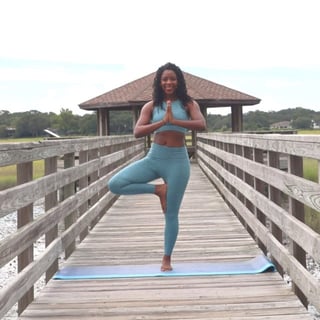 Through the BIPOC Fitness Grant Program, for example, the Movemeant Foundation supports women of color entrepreneurs and organizations that encourage health and wellness inclusivity for female BIPOC (Black, indigenous, people of color) communities.
And because the pandemic continues to hurt the viability of fitness businesses, the foundation also extends COVID-19 Relief grants to female fitness instructors.
"Because fitness instructors are not considered essential workers, they have not received the sympathy and empathy they have needed," Lumley said.
Other grants encourage girls and young women — especially from diverse ethnic and economic backgrounds and those in marginalized communities with limited access — to access health, wellness, and fitness programming, and pursue their passions in organized sports.
"What we've found is there's no greater time to be in a nonprofit organization than in a time of crisis where we can do our best work," Lumley said.
Promoting Better Body Ideals For Girls and Women
Credit card donations can change the lives of girls and women by encouraging fitness habits that are key to living emotionally and mentally balanced lives.
Those positive connections between body and mind counter the impact of social pressure and free women and girls to pursue their dreams. Funding supports all Movemeant Foundation impact programs, but donors can also channel donations into different buckets.
Support for the BIPOC fitness community, for example, enables Black and other people of color to shine in fitness disciplines, including yoga, meditation, and spin, among others, where they're currently underrepresented. Funds that go to young athletes help high performers overcome the expense of participating in the Junior Olympics and even reaching for the Olympics.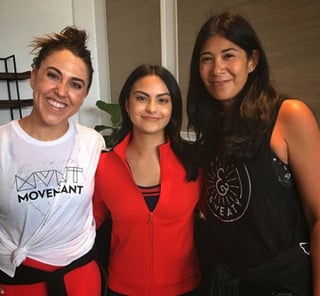 "There are loads of different ways to have an impact," Lumley said.
Another area where support is needed is Generation Confident, the foundation's middle school curriculum. A 14-week program that imparts knowledge and skills for inner strength and resilience to help girls feel confident in their bodies at perhaps the most impressionable point in their lives.
Generation Confident depends on facilities being open and accessible because it's built around volunteers working with teachers, school administrators, and in community centers. As COVID recedes, work will ramp up to help more and more middle schools become environments of acceptance.
"Most of the schools are Title I schools that don't have physical education programs because their budgets were cut," Lumley said.
Centered around learning hip-hop dance routines, Generation Confident also confronts issues of beauty and identity, offers instruction on good nutrition, and engages girls in discussions about their development.
"If there are hand-raisers through this article who are interested in bringing this to their school, that's fantastic," Lumley said.
Unifying Fitness with Emotional and Mental Health
The sale of custom sports bras on display at We Dare to Bare events was the original source of funds for supporting the school and community curricular programs. At first, the events were coastal — one was based in San Francisco, and one was based in New York City every year. But expansion was underway when the pandemic hit.
The return of We Dare to Bare will renew the Movemeant Foundation's most audacious initiative: promoting female body inclusivity and positivity and the connection between fitness and emotional and mental health.
Women and girls of all ages and from all walks of life gather at We Dare to Bare to celebrate their diversity — by revealing their sports bras together.
"We Dare to Bare was born out of the idea that we don't have to hide, that we should celebrate all of our bodies in every shape, size, or form," Lumley said. "They are what's given to us, and regardless of our shape, we are all capable of doing amazing things."

Hundreds and even thousands of participants at We Dare to Bare engage in whatever fitness activity they prefer. There is no signal given during the event to indicate to women that it's time to uncover their sports bras and celebrate.
"It literally happens organically, and the experience our women have is so powerful," Lumley said. "They may have never thought they would be able to do it, but they look around and see they're surrounded by others who are confident and willing to try."
It's a feeling of release in an environment of unity.
"There are many modalities of fitness happening simultaneously, all driven by music and energy, and it's loud and vibrant and vivacious, and everyone is just having a good time," Lumley said. "It's amazing."
Advertiser Disclosure
CardRates.com is a free online resource that offers valuable content and comparison services to users. To keep this resource 100% free, we receive compensation for referrals for many of the offers listed on the site. Along with key review factors, this compensation may impact how and where products appear across CardRates.com (including, for example, the order in which they appear). CardRates.com does not include the entire universe of available offers. Editorial opinions expressed on the site are strictly our own and are not provided, endorsed, or approved by advertisers.