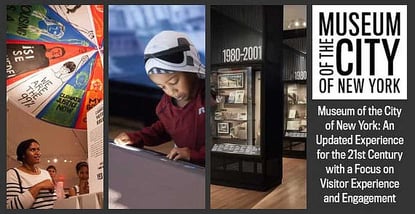 In a Nutshell: The word "museum" often conjures up images of old buildings filled with ancient artifacts. But the Museum of the City of New York is changing that image with its friendly, interactive, and inviting atmosphere. MCNY is a place to learn how the city's past is impacting the present, and how it will affect the future. The museum is also focused on engaging its audience and uses technology to impact audiences outside of New York City. With this unique approach, MCNY is providing the blueprint for museums to be more dynamic and engaging rather than static.
The Museum of the City of New York has a unique relationship with its visitors and a special responsibility bestowed upon it by the city itself.
"We are the official museum of New York; which means we're one of a kind," said Sheryl Victor Levy, VP of Marketing & Communications at the Museum of the City of New York.
No city in the world is as diverse as New York City in its people, language, food, art, or fashion. The Museum of the City of New York adds to — and celebrates — that uniqueness with an updated take on connecting with visitors. The museum capitalizes on social media and visitor-centric experiences to share its artifacts and present them in engaging, award-winning exhibits.
"We embody, cover, reflect, and celebrate what makes New York special through a variety of lenses," said Sheryl.
The New York At Its Core exhibit, which encompasses all three galleries on the first floor, is the foundation of the Museum of the City of New York. It serves as the starting point for visitors to explore the diversity of New York and see how the city has evolved over the last 400 years.
The Port City gallery shows the evolution of New York from 1609 to 1898 and explains how it became the nation's economic and cultural capital. Interactive exhibits allow patrons to learn about past New Yorkers who held important roles — both large and small — in building the city. One-of-a-kind artifacts give visitors a glimpse of life in the past, and digital projections show that, while much of the city has changed, some features remain the same.
The World City gallery showcases New York's growth between 1898 and 2012 and explains how cycles of crisis and prosperity molded the city's present state. A video installment with interactive touchscreens tells the stories of public figures — from Andrew Carnegie to Jay-Z — who embody the themes of the exhibition: diversity, money, creativity, and density.
The third gallery, Future City Lab, presents visitors with the major challenges the city faces in the future such as: "How can we foster a more inclusive city?" and "How can New York enhance its natural environment and cope with climate change?" Visitors can interact with these exhibits to learn how other cities and countries have tried to solve these problems.
The ground floor exhibits help the Museum of the City of New York achieve its goal of highlighting the city's past, present, and future. The museum uses other exhibits to keep New Yorkers engaged and maintain a focus on societal shifts while also providing the historical context necessary to understand them.
Engaging Visitors with Thoughtful Exhibits and Programs
The upstairs galleries at MCNY house ongoing and rotating exhibits, including Activist New York, which explores how New Yorkers have banded together to affect social issues like the wage gap, religious freedom, sexual orientation, and civil rights. The Art In The Open gallery showcases public artwork that exists throughout the city, presenting the works through photographs, video, renderings, and models.
The museum aims to be "thoughtfully opportunistic" in its response to current events. As the official museum of the city, it has a large collection of artifacts and can put exhibits together quickly when necessary. When the travel ban targeting Muslim-majority countries went into effect in early 2017, the museum used pieces from its vast collection to create an exhibit entitled Muslim in New York.
Some of the long-term exhibits, including Activist in New York, have content added throughout the year. Not only does this provide the visitors with a different experience each time they return, but it also allows the museum to keep exhibits relevant. On average, the museum creates nine new exhibits each year. Each is carefully considered and created to reflect the multitude of perspectives and diversity of the city.
The museum also works with schools to help students understand and engage with their city. More than 50,000 students, educators, and families participate in programs run by the museum's Frederick A.O. Schwarz Education Center.
During the summer, MCNY partners with local DJs and businesses to present Uptown Bounce, a slate of free, themed block parties to engage neighborhoods and unite New Yorkers. Book talks, panel discussions, performances, tours, and film screenings — which tie in with current exhibits — are held on a weekly basis.
By engaging city residents through these activities, the museum reaches more people and can bring in a steady stream of new visitors.
MCNY's Online Presence Shares Relevant Content
MCNY doesn't limit learning about history and culture to exhibits inside its three-story building. The museum has embraced technology to connect with people locally, domestically, and abroad.
People who can't visit in person can read about exhibits on the museum's Stories blog or watch past live events on its YouTube channel. Patrons can also stay updated on current and future exhibits by following the museum on Twitter, Instagram, and Facebook.
"For many international visitors, the museum is their first stop in New York City because it's the foundation of the city," said Sheryl.
And the museum has translated much of its content for international visitors, as well.
"Maps, audio guides, signage, and digital marketing are done in multiple languages," Sheryl said. But it doesn't rely on word-for-word translations; professionals ensure that the content makes sense and is both culturally and contextually appropriate for each language. Building up its in-house translation capabilities has been an area of focus.
The blog and social media presence also allow the museum to listen. The museum follows what people are sharing, discussing, and creating online, then designs exhibits and programs that reflect what the public wants.
"We are in tune with our audience," Sheryl said. "Our exhibits are living, not static."
Connecting Feedback and Trends to Further Expand Its Reach
While its exhibits stretch back to the city's origins, the Museum of the City of New York is focused on two main areas moving forward: visitor feedback and societal trends. The museum views visitor feedback as a valuable source of honest assessments. And staying attuned to local and national organizations, cultures, and movements helps to determine future exhibits.
"We ask ourselves, 'What are we doing to make an impact in the immediate and the long term?'" Sheryl said. By responding to feedback and connecting it with what's happening in the world, the museum can create educational and captivating exhibits that reflect New York City's past, present, and future.
That approach has helped the Museum of the City of New York remain a can't-miss attraction. It showcases the city's vibrant transformation over time, engages visitors interactively, and uses technology to share its content with the world. Sheryl said she is proud to work for an organization that focuses on the future while imparting knowledge from past generations.
"This is the job I've been waiting on my whole career. I am passionate about organizations and people that do good work, and that's why I'm here," she said.
Advertiser Disclosure
CardRates.com is a free online resource that offers valuable content and comparison services to users. To keep this resource 100% free, we receive compensation for referrals for many of the offers listed on the site. Along with key review factors, this compensation may impact how and where products appear across CardRates.com (including, for example, the order in which they appear). CardRates.com does not include the entire universe of available offers. Editorial opinions expressed on the site are strictly our own and are not provided, endorsed, or approved by advertisers.