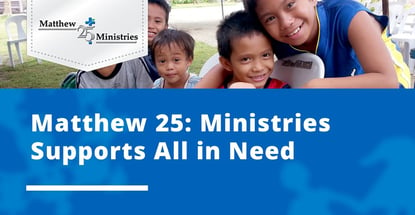 In a Nutshell: Rev. Wendell Mettey grew accustomed to dealing with poverty as a pastor in inner-city Cincinnati. But when he traveled to Nicaragua in 1990, he was shocked by what he saw. So he started Matthew 25: Ministries to do something about the level of deprivation and poverty around the world. Today, M25M offers humanitarian aid and disaster relief in more than 60 countries, including the U.S. The charity has also emerged as an important source of personal protective equipment for essential workers and families as the Covid-19 pandemic impacts the world.
Cincinnati minister Rev. Wendell Mettey accompanied a group of doctors and nurses on a relief mission to war-torn and economically devastated Nicaragua in 1990. Although Rev. Mettey had an inner-city ministry with a mission to serve the poor, it didn't prepare him for what he saw on that trip. While a few Nicaraguans lived in privilege, even the basic necessities were out of reach for the vast majority of the population.
He was particularly haunted by an encounter with a man who had been sitting for hours in a hospital waiting room holding his severely burned baby, waiting for scarcely available care.
Rev. Mettey returned home with a new determination to serve, and he founded Matthew 25: Ministries to help him achieve his goal. After starting M25M as a suitcase ministry and hand-delivering medical supplies on return trips to Nicaragua, Rev. Mettey began drawing on his college training in economics to devise ways to tap into the world's abundance. He started by acquiring outdated, lightly damaged, or otherwise no-longer-needed items routinely discarded by corporations in America.

M25M grew from a few suitcase deliveries to using U.S. Air Force cargo planes to transport its aid. Now, aid is shipped in 40-foot seagoing containers and by semi-trailers
Today, M25M is a global humanitarian aid and disaster relief organization led by Rev. Mettey's son, CEO Tim Mettey. The ministry delivers more than 13 million pounds of humanitarian aid each year and helps more than 18 million people in need in the U.S. and other countries yearly.
And the Covid-19 pandemic hasn't changed the charity's focus, according to Tim Mettey. M25M still plans to ensure protection for essential workers, their families, and the people they serve.
"Right now, everyone needs Covid-19 help," Tim Mettey said. "So we're going to ensure we're taking care of people who are taking care of their families or who are just scared and need assistance themselves."
A Faith-Based Mission to Care for All Others in Need
Rev. Mettey described M25M's assistance model as "caring for a needy world with the things we throw away." That mission helps disaster victims and the poorest global citizens regardless of race, creed, or political persuasion.
"Our organization is based on the scriptures of Matthew 25:34 to 25:40, in which Jesus is talking to his disciples about the inheritance of the Kingdom," Tim Mettey said. "When you care for the least of our brothers and sisters, Jesus said, you, in turn, take care of Him. And so the whole premise behind what we do is that we need to care for others no matter what."
The verses in Matthew reference providing the hungry and thirsty with food and drink, taking in strangers, clothing the unclothed, caring for the sick, and visiting the imprisoned.
"It doesn't matter what faith they are or who they are," Tim Mettey said. "We do it because we care, and we want to make sure that everyone stays safe and well."
In a world where division manifests itself from the level of relations between nations down to personal beliefs, M25M addresses needs and provides disaster relief across localities and borders.
"It is the way it should be," Tim Mettey said. "Because there's too much discrimination. That was something important to my Dad, and it still is to all of us — to ensure we're caring for all people who are less fortunate or caught in a disaster."
Corporate and Individual Donations Drive a Charitable Delivery Chain
The sense of inclusiveness also governs M25M's approach to managing the processing and distribution work at its 200,000-square-foot facility, located in Blue Ash, Ohio.
"In a non-Covid-19 year, we have about 70,000 volunteers come through our building," Mettey said. "We pretty much have an open-door policy — anyone is allowed to volunteer."
M25M receives donations of products and finances from more than 400 U.S. corporate and organizational partners and individuals who offer financial and in-kind contributions.
Those corporate connections are at the core of the M25M mission. According to Tim Mettey, his father stumbled onto the charity's distribution relationships almost by accident.
"He went to a place to get some bandages, and while he was waiting, he started talking to a forklift driver," Tim Mettey said. Rev. Mettey learned the driver was gathering some products for disposal because a promotion related to it had run its course, and it was now superfluous.
"He was like, 'No, don't do that, I'll take it all,' not really knowing really how he was going to do it," Tim Mettey said.
That was the beginning of a win-win-win for corporations, the environment, and people in need.
"He was helping companies get rid of stuff they were throwing away anyway," Mettey said. "He was preserving landfill space and getting tax write-offs for companies and helping people at the same time."
On the other end of the chain are the many local organizations that receive those goods from M25M.
"We could set up our own local distribution channels, but it would take us years to get to know the communities and understand the poverty and the need," Tim Mettey said.
Addressing the Covid-19 Crisis with a Focus on Underserved Populations
The efficient M25M system has garnered top ratings from Charity Navigator, the largest and most trusted U.S. evaluator of charities. And M25M remains ready to fulfill needs in the U.S. and around the world — even during the pandemic.
While Covid-19 has upended established distribution channels, M25M began preparing to meet the U.S. crisis in advance of Americans hearing much about it.
"It turned out it moved a lot faster than anyone anticipated," Tim Mettey said.
U.S. Covid-19 assistance from M25M includes providing personal protective equipment — masks, gloves, and hand sanitizer — to frontline health workers and families and to people in food service and other essential roles. M25M has worked with celebrities, including Tina Knowles Lawson, to stage testing events focusing on minority communities in Houston and Seattle. It has helped healthcare facilities when their supplies have run short.
"We focus on populations that may be overlooked and have worked with more than 1,000 businesses and organizations and sent out over 2 million pounds of supplies," Tim Mettey said.
Driving resources domestically does not mean those in need elsewhere have been forgotten. M25M has set up sewing centers in five countries to produce hundreds of thousands of masks for local distribution.
"We're giving them to anybody in need, including our partners and hospitals, because in developing nations, they don't really talk about it," Tim Mettey said.
Meanwhile, donations still fuel M25M's mission, and as Covid-19 makes its way across the globe, other essential activities continue.
"Covid-19 is on top of what we normally do," Tim Mettey said. "We want to make room for everyone who needs care."
Advertiser Disclosure
CardRates.com is a free online resource that offers valuable content and comparison services to users. To keep this resource 100% free, we receive compensation for referrals for many of the offers listed on the site. Along with key review factors, this compensation may impact how and where products appear across CardRates.com (including, for example, the order in which they appear). CardRates.com does not include the entire universe of available offers. Editorial opinions expressed on the site are strictly our own and are not provided, endorsed, or approved by advertisers.