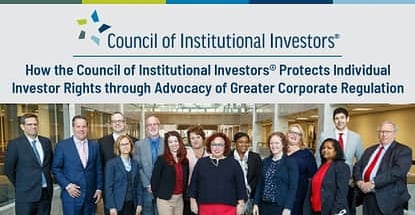 In a Nutshell: If you're one of the millions of Americans who has money saved in a pension or 401(k) retirement plan, you may not know the work taking place every day to keep your funds properly invested and growing. The Council of Institutional Investors (CII) is a nonprofit, nonpartisan group that has fought for corporate governance standards and practices since 1985. The Council has been successful in creating change in the ways corporations elect their directors and report important information to the public. CII's membership includes some of the largest pension fund and money managers in the world, with nearly $25 trillion in combined assets under management. The Council's goal is to keep the financial markets fair and transparent for everyone involved. //
Every day, millions of Americans go to work with the expectation that they will one day be able to retire. Most people put money aside into pensions and 401(k) plans every paycheck while hoping the funds will be enough to cover a comfortable post-work life.
A group of public pension fund officials established the Council of Institutional Investors (CII) in 1985, guided by the belief that investors, the markets, and other stakeholders benefit when corporations provide robust oversight of management and when directors are accountable to their shareholders.
Today, the Council boasts a membership that includes the largest money managers in the world — many of whom control a large portion of Americans' retirement savings — and continues to work toward greater oversight of corporate governance.
"CII is a nonprofit, nonpartisan association that aims to be the voice for effective corporate governance standards and practices, strong shareholder rights, and fair and vibrant capital markets," said Amy Borrus, Deputy Director of CII.
In short, the Council aims to ensure that important shareholder information gets to the marketplace promptly and transparently, so that the markets remain a fair place for investors of any financial means.
To achieve this goal, CII recruited an impressive list of board members, as well as associate members who do not have voting powers, but still have a say in important decision-making processes.
"We have a diverse membership," Borrus said. "Because of that, we focus on big-tent issues where there's agreement among the members — primarily around issues related to voting and voting rights."
"But," Borrus interjected, "we also have more than 130 non-voting associate members who include some of the largest global asset managers. These are firms like BlackRock, State Street, Vanguard, and T. Rowe Price."
Collectively, associate members have more than $20 trillion in assets under management.
"Most consumers are invested through mutual funds and their 401(k) plans," Borrus said. "Those funds are directly invested through these asset managers or through other funds."
So, while CII fights for a more transparent corporate structure for investors, it is also fighting for individuals' portfolios and retirement plans.
Affecting Change in Corporate Voting Standards
The Council's work has played a major role in creating change within the corporations that make up a majority of popular index funds. Borrus pointed to CII's role in changing voting standards for corporate directors in uncontested elections as a key victory for the Council.
"Ten years ago, directors at even the largest companies were not elected by majority vote," she said. "They were elected using plurality voting, which means you only really need a single vote to win. There was no way to vote against a director, and you could only vote for a director. CII really got behind the cause of majority voting for directors in uncontested elections. We wrote to all of the companies in the S&P 1,500 about this."
Within a few years, 90% of S&P companies began electing their directors by majority vote. A growing number of small- and mid-cap sized companies now do the same.
"The SEC adopted greater disclosure rules around executive compensation in part because of immense pressure put on by folks like the CII and investors to bring CEO pay out of the dark," Borrus said. "CII has always looked for ways to defend the rights of investors."
$25 Trillion in Combined Assets Under Management
While CII's associate members don't hold voting rights, this powerful group of money management firms still has a say in the decisions the CII's board makes.
"When the policies committee considers changes or a new policy, it circulates a draft to all of our members, both voting and non-voting, seeking comment," Borrus said. "Oftentimes, the final product reflects the suggested changes in the comments."
With nearly $25 trillion in combined assets under management, CII's money manager members manage a large portion of Americans' retirement and long-term savings. Despite the power that comes with such responsibility, Borrus stressed that the money managers are supposed to do what is best for their clients.
"Our pension fund members are fiduciaries, and that's important to remember," she said. "They have an obligation to invest in the best interests of plan participants and beneficiaries. They are forever investors, meaning they have 30-year horizons or longer. Many of our members invest in passive funds, like index funds."
Buying into these funds, which collect shares of multiple companies in similar sectors or across broad portions of the market, means the pension fund managers depend on the corporate structure behind the companies to remain fair and honest in their reports and business practices.
"Our members can't do what is called the Wall Street Walk, where they sell their shares and walk away if they're unhappy with how a company is governed," Borrus said. "That's what drives their interest in corporate governance because membership in our organization is one way they can impact how a company is governed and how it performs."
The CII keeps its members informed on corporate governance and investment issues, as well as what's happening in Washington regarding regulation and legislation through its newsletter, educational programs, webinars, and other programs.
"We support investor-oriented corporate governance policies in public companies and transparency in corporate reporting," Borrus said. "We send comment letters to the SEC and other relevant committees on Capitol Hill on important issues to our members."
Urging Consumers to Stay Informed of Their Investments
Borrus said that individual investors have a greater voice when they're educated about the companies they invest in. Whether through a money manager or self-invested, she said that knowledge is the first step toward becoming a better investor.
"The most important thing is to stay informed," she said. "If you own shares of a company, either directly or through an index fund or 401(k), read the annual report and read up on the company. You have a right to attend the company's annual meeting. Write the company if there's an issue that you're particularly concerned about — either directly or through your money manager."
Borrus said the financial crisis of 2008 was an eye-opening experience for most investors, but without proper oversight, a similar dip in the markets isn't out of the question.
"Over the last few years, we have been very concerned by efforts from Congress to water down shareholder protections that were put in place to protect investors after the financial crisis of 2008," she said. "Citizens should take note of that. Reach for your wallet when companies and banks claim they're fine and can regulate themselves. We need strong regulators keeping an eye on the markets."
Advertiser Disclosure
CardRates.com is a free online resource that offers valuable content and comparison services to users. To keep this resource 100% free, we receive compensation for referrals for many of the offers listed on the site. Along with key review factors, this compensation may impact how and where products appear across CardRates.com (including, for example, the order in which they appear). CardRates.com does not include the entire universe of available offers. Editorial opinions expressed on the site are strictly our own and are not provided, endorsed, or approved by advertisers.