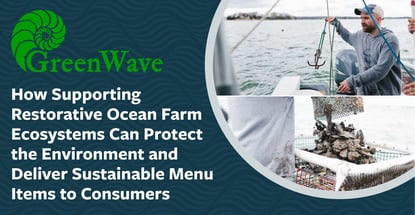 In a Nutshell: GreenWave's Co-Founder Bren Smith went from being a commercial fisherman to a restorative ocean farmer whose underwater 3D model has made a splash across multiple industries. The model produces seaweed and shellfish without the need for fertilizer or feed, and it is sustainable and restorative. GreenWave's 3D ocean farms can also be easily reproduced and scaled to work on virtually any coast. Smith and GreenWave's innovative practices have received numerous accolades for the organization's potential to reshape how the world approaches ocean farming and to protect the environment.
Bren Smith, a Newfoundland native, was just 14 years old, he dropped out of high school and took to the seas for a life as a commercial fisherman.
He traveled the world learning the ropes of the industry he had been surrounded by as a child. Over the years, Smith's journey went from tracing a course on a map to a personal odyssey.
His individual quest also mirrors the rise, fall, and ongoing challenges facing the fishing and aquafarming industries today.
In his early days as a fisherman, Smith wasn't driven by any particular environmental ideology. He followed the norms of the industry, including fishing in protected waters and working trawlers that ripped entire ecosystems from the sea floor.
Just when the destruction was becoming too much for him to bear, the North Atlantic cod stocks crashed in the late 1980s. Smith took it as a queue to move on to a better approach to fishing.
At the time, aquaculture — farm-raised fish — was seen as the answer to the industry's problems. But Smith soon realized raising nutritionally deficient fish in overcrowded waters, which he calls Iowa pig farms at sea, was not the answer.
For a while, he found a happy balance as an oyster farmer, but Smith had to once again reevaluate his position after his oyster crops were devastated by hurricanes.
"That's when I really remade myself as a restorative ocean farmer," Smith said. "I started to grow multiple species underwater — things that I didn't have to feed, that I didn't have to fertilize — and that really helped play their own part in addressing the climate crisis by sequestering carbon, things like that."
Smith's experiments with restorative ocean farming eventually led him to co-found the nonprofit, GreenWave, which promotes Smith's award-winning 3D ocean farming model.
A Self-Sustaining Underwater 3D Farming Model to Produce Nutritious Food and Reduce Carbon Emissions
Through a series of trial-and-error experiments off the coast of Connecticut, Smith hit upon an underwater 3D ocean farming model that requires zero inputs — no freshwater, feed, or fertilizer — and actually gives back to the environment.
"The idea behind the 3D model was really to take 20 acres and figure out, what are all the things I could grow that wouldn't swim away and I didn't have to feed, and didn't really take a complex system to make work," Smith said.
The whole system is buoyed by — well, buoys — but also a system of underwater scaffolding made of ropes and held in place by hurricane-proof anchors. A horizontal rope is suspended about six to eight feet below the surface, Smith said, which is where seaweed, kelp, and gracilaria grow vertically downward.
"Next to those, we have mussels in mussel socks, scallops in lantern nets, and then below, we have our oyster cages at the bottom, then clams down in the mud," he said. "We're just trying to use the entire water column."
Smith said the 3D model lends itself to a number of benefits, including a low aesthetic impact since it's all underwater. The model helps keep oceans beautiful and pristine, he said, and anyone can boat over the farm and even swim through the kelp forest.
"Some of the best recreational fishing in the area is on our farm because we created a whole reef ecosystem," he said.
Being able to replicate the system is key to its success. Smith said anyone can start a farm with $20,000 to $30,000, a boat, and 20 acres. And because there is no overhead for feed, fertilizer, or fresh water, maintenance costs are minimal.
"It's also scalable," he said. "We envision GreenWave reefs where you have 25 to 50 small scale farms in a region, a processing hub and hatchery on land, and a ring of buyers and entrepreneurs. Then you take that reef and replicate it up and down the coast."
Smith said that's the future he would like to see.
Finally, the farms are restorative. "Kelp is the sequoia of the sea — it soaks up massive amounts of carbon, shellfish filter nitrogen out of the water column, and the reef serves as a storm surge protector," he said.
Replicating GreenWave's Practices and Training the Next Generation of Farmers
"One of the first things we decided to do was open source the model because climate change is bearing down," Smith said. "The clock is ticking, and we knew we had to replicate this as soon as possible."
Smith uses his Thimble Island Ocean Farm in Connecticut as a floating classroom through which GreenWave provides a seed-to-harvest Farmer-in-Training (FIT) program. He said the organization is also in the process of developing an online Ocean Farmer Toolkit to increase their capacity to train farmers outside of the FIT program.
To date, GreenWave has trained and supported about 50 farmers in New England, Alaska, California, the Pacific Northwest, and the New York area. The nonprofit provides the two-year training program for free, along with two years worth of seed, permitting support, free winter gear from Patagonia, and access to GreenWave's network of buyers.
Smith said the organization also gets involved with policy work. GreenWave is teaming up with other environmentally focused organizations to work on a sea trust.
"Like a land trust, you carve out a couple hundred acres where you can have small-scale ocean farms, and the farmers are also doing reforestation of reefs," he said.
He said there are opportunities for investors in each of the artificial reefs as well, and GreenWave's role is to be the dating service between entrepreneurs and investors.
Research and development is another key component to GreenWave's work. Smith said the company is involved in a lot of work involving embedded sensors.
"We have embedded sensors in four states to help produce better farmers," he said. "The challenge is that we can't see the crops, and the soil turns over 1,000 times a day. We need sensors to help us learn how to get better."
Making Waves on the National Scene with Its Innovative Approach to Farming
The GreenWave 3D model is more than a niche innovation touted to industry insiders in pay-to-play trade magazines. The model's innovative design and potential for real, positive impact have been noticed and praised across the mainstream.
Smith sat alongside Elon Musk, Kamala Harris, and other innovators and thought leaders on "Rolling Stone's" 2017 list, "25 People Shaping the Future." And GreenWave's 3D ocean farming model was named one of Best Inventions of 2017 by "Time Magazine."
Smith won the Buckminster Fuller Challenge, which is an annual international design competition that recognizes innovative, whole-systems approaches to pressing global problems. He is also an Echoing Green Climate Fellow, as well as an Ashoka Fellow for championing "innovative new ideas that transform society's systems, providing benefits for everyone and improving the lives of millions of people," according to the Ashoka website.
Smith and his work with GreenWave have been profiled in more than 50 publications.
GreenWave's attention-grabbing innovations don't stop at the ocean surface. Market innovation is also important to the organization. Smith said some businesses face gaps called a valley of death where the product is not investable, and GreenWave is addressing how to confront the issue on some of its farms.
"3D Ocean Farms are used to help soak up is used to help soak up pollution like nitrogen and heavy metals," Smith said. "You have waste coming from the farm that is not food grade, but it is still useable. What do you do with that?"
GreenWave partners with the Hope Project to build a worker-owned fertilizer plant in the South Bronx to provide organic fertilizers to New York City parks.
Smith is also exploring ways to put kelp and seaweed on more Americans' dinner plates, as healthy, sustainable menu items.
How to Support GreenWave's Efforts to Restore and Sustain Ocean Life
Smith said as a nonprofit, GreenWave strives to spread its innovative model through a mix of philanthropic funds, investment money, and donations.
"We have literally thousands of people in the U.S. who want to start farms and at the moment we have to tell a lot of them no because we don't have the capacity," he said. "People are really, really eager to hop on board to do this. It started as this crazy little experiment, and it's really taken off."
Those interested in supporting GreenWave can visit the donations page on its website, or contact the nonprofit donations@greenwave.org.
"We also welcome folks who want to learn more to visit our website, sign up for our newsletter — "Catch of the Month" — or follow us on Twitter, Facebook, and Instagram (@greenwaveorg)."
Smith's odyssey has taken him around the world, and with his 3D ocean farming model's sustainable and restorative qualities, it's no exaggeration to say he may play a significant part in saving it.
Advertiser Disclosure
CardRates.com is a free online resource that offers valuable content and comparison services to users. To keep this resource 100% free, we receive compensation for referrals for many of the offers listed on the site. Along with key review factors, this compensation may impact how and where products appear across CardRates.com (including, for example, the order in which they appear). CardRates.com does not include the entire universe of available offers. Editorial opinions expressed on the site are strictly our own and are not provided, endorsed, or approved by advertisers.