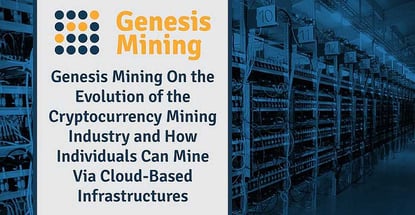 In a Nutshell: To the casual observer, it may seem like the cryptocurrency industry sprung up out of nowhere, but Bitcoin's first release was nearly 10 years ago. Still, consumers have a lot of questions around the seemingly complex world of cryptocurrency and the process — known as mining — of excavating new crypto coins. We spoke with Raoul Andersson, VIP Manager from Genesis Mining, about the evolution of mining as well as cloud-based mining, which Genesis specializes in. Andersson also addressed some cryptomining criticisms, including its high utilization of energy and how Genesis is using green energy to confront the issue.
As with any new technology, the world of decentralized digital currencies can be a tricky topic to wrap one's head around. A couple of years ago, I went through a phase where I read just about everything I could get my virtual hands on about cryptocurrency, and it left me a little dizzy.
It doesn't help matters that the technology and markets are rapidly evolving, sometimes on a daily basis.
But, I learned there are some basics that remain fairly constant and that anyone interested in crypto will benefit from understanding — blockchain technology and cryptocurrency mining. One doesn't exist without the other, and without them, Bitcoin is a bust along with most of the other cryptos.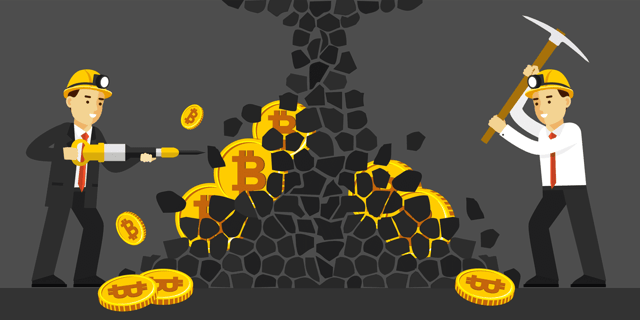 "There are two entry points into the cryptocurrency industry," said Raoul Andersson, VIP Manager at Genesis Mining. "Either you purchase cryptocurrency on an exchange or you acquire cryptocurrency through the process of mining."
As its name implies, Genesis Mining specializes in the latter approach via a cloud-based infrastructure. We spoke with Andersson to learn more about the blockchain, the concept of cryptomining, and how Genesis Mining fits into the whole scenario.
Cryptocurrency Mining Powers the Blockchain as Miners are Rewarded for Verifying Transactions
The concept of digital currency is nothing new, but it became fully realized only recently. Cryptographer David Chaum introduced the idea of untraceable digital currency in a 1982 paper. Over the years, companies and individuals made a number of attempts to implement a digital currency system, but they eventually fell flat.
One of the major challenges of digital currencies was the problem of double spending. If a person made a purchase with a digital currency that wasn't held in a bank, what was to stop them from using the same currency to make another purchase? Unlike a bank transaction or cash exchange — which are easy to verify — there was not a straightforward way to trace transactions.
Cryptocurrency miners solve the double spending problem by recording transactions to a public ledger, which confirms the currency has already been spent for a particular use.
"With cryptomining, you have this proof of work algorithm, and someone has to confirm the transaction on the blockchain," Andersson said. "There is no other way it works. And miners have to have specific computing equipment that confirms the transactions by solving these blocks."
In return for mining a block, as it's known, miners receive predetermined amounts of cryptocurrency. For example, Bitcoin's block reward began at 50 coins and halves every 210,000 blocks. Currently, about 83% of all Bitcoins have been mined and the block reward is 12.5 Bitcoins. It is estimated that the next reward halving — down to 6.25 Bitcoins — will occur around May 2020.
"Nobody would be mining if there wasn't some incentive," Andersson said. "The incentive is the block reward. The whole system depends on the miners."
The Demand for More Resources and Computing Power has Grown as Mining has Become More Complex
Between 2009 and 2011 — the early days of Bitcoin mining — the average person could mine cryptocurrency from home with a decent PC or laptop. Results and enthusiasm varied for home miners at the time, as Bitcoins were still valued at pennies. Many didn't think it was worth the effort, while others toiled away.
Over the years, Bitcoin mining became a more complex prospect for the casual miner. As more Bitcoins became available, mining blocks increased in difficulty and time.
"When you look back at 2011 or so, you could still put a pretty decent mining rig together at home, or even mine with your laptop," Andersson said. "Today, the only real mining operations have huge infrastructures that can handle the computing power needed and have solved the cooling problem. They have taken out the small-scale miners."
Andersson touched upon some of the major criticism often leveled at the practice of cryptocurrency mining — the vast amount of electricity required to mine cryptos, the massive amounts of heat produced by mining rigs, and the costs to keep them cool. A 2018 analysis by Elite Fixtures estimated — based on the price of electricity — that it costs $4,758 to mine one Bitcoin in the U.S. And, the United States ranked as the 41st cheapest country for Bitcoin mining.
Genesis Mining Offers a Cloud-Based Mining Infrastructure and Relies on Green Energy
Genesis Mining fits into the complex world of cryptocurrency mining by bringing mining capabilities back to the individual through its cloud-based infrastructure. The company has several mining farms in which it maintains all the high-powered servers and equipment necessary for an effective mining rig.
Users simply create an account, select a contract, and begin mining their chosen cryptocurrency through the Genesis Cloud Mining Service.
As far as environmental concerns, Andersson said Genesis's largest operations use green energy. For example, they have a mining farm in Iceland that is completely powered by thermal energy, and another one in Sweden operates on hydro energy, he said.
"We're happy that we've been able to turn some of mining's negative points into something positive," Andersson said. Genesis Mining is also exploring other options to offset the environmental impact of cryptomining, he said.
Established in 2013, Genesis Mining is one of the longest-running cloud-based mining companies around, Andersson said. Unfortunately, he said, many of the first companies that claimed to be cloud-based mining operations turned out to be scams or Ponzi schemes. Oftentimes, the companies didn't even have the equipment required to mine. These companies gave some crypto enthusiasts a negative view of cloud-based mining, but Genesis Mining is working to change that perception.
"We wanted to show our customers that we are a legitimate company," Andersson said. "We actually flew customers and the media out to our mining farm in Iceland to show them our operation."
Genesis Mining currently offers mining services for Bitcoin, Dash, Ethereum, Litecoin, Monero, and ZCash.
Andersson said cryptocurrencies are mined using various algorithms, and Genesis Mining customers choose the algorithm when purchasing a Hashpower contract, which then allows them to mine certain coins directly. They can also switch to other coins via a trading option, he said.
As Cryptomining Evolves, Genesis Mining Continues to Refine its Technology
Earlier this year, Genesis Mining implemented Radiant technology to power its algorithms, Andersson said, which makes mining more efficient than ever for its customers and helps to keep mining productivity high in all markets.
He said the cryptocurrency and mining ecosystems are still evolving and Genesis Mining is constantly looking for ways to improve.
"Even when the markets were very high at the end of last year, we were working hard on developing Radiant," Andersson said. "We don't want to rest during those high times. We want to maintain a sustainable product for our customers no matter what."
Advertiser Disclosure
CardRates.com is a free online resource that offers valuable content and comparison services to users. To keep this resource 100% free, we receive compensation for referrals for many of the offers listed on the site. Along with key review factors, this compensation may impact how and where products appear across CardRates.com (including, for example, the order in which they appear). CardRates.com does not include the entire universe of available offers. Editorial opinions expressed on the site are strictly our own and are not provided, endorsed, or approved by advertisers.