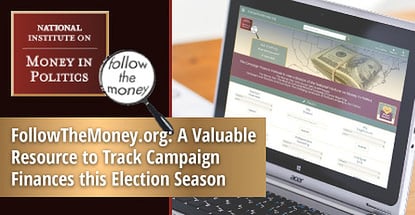 In a Nutshell: With election season upon us, eligible voters can be inundated with information about political candidates and causes. A voter can learn a lot about a candidate by knowing where his or her campaign finance funds are coming from. FollowTheMoney.org is a website established by the non-partisan, non-profit National Institute on Money in Politics to help voters and other interested parties do just that. The website compiles campaign donor and lobbyist information from government disclosure agencies and makes the information easily accessible to the public — a valuable resource in supporting a fair and accountable democracy. //
The months leading up to an election can be an overwhelming time. Personally, it seems like I receive more political mailers in my mailbox each day, while TV commercials, radio ads and signs lining the side of the road multiply by the hour. While I may be familiar with some of the candidates, a lot of new names and faces have entered in the fray as well. Voters can usually get an idea of what a candidate is like based on his or her political affiliation, but it can be just as important to know where the candidate's funding is coming from.
That's where FollowTheMoney.org comes in.
The website — part of the non-partisan and non-profit National Institute on Money in Politics — provides access to its extensive database from the disclosure agencies with which candidates in all 50 states must file their campaign finance reports, including federal contributions.
The National Institute on Money in Politics has documented more than $100 billion in campaign contributions and more than 2 million annually registered state lobbyist-client relationships.
"We collect the reports filed by every candidate running for state and federal office across the country," said FollowTheMoney.org Managing Director Denise Roth Barber. "And, as you get closer to the election, more and more reports are filed."
And in this election season?
"We're swamped," she said of her and FollowTheMoney's team of approximately 20 employees.
FollowTheMoney.org processes and compiles the publicly disclosed reports to present the data in a wide variety of ways on its site. The site's goal is to help give voters as complete a view of campaign financing as possible and to promote an accountable democracy.
See Which Industries & Individuals Donate to Candidates
FollowTheMoney.org makes tracking campaign funding easier by compiling information from many sources across the country, but Roth Barber said site employees also add value to that data by standardizing and coding certain aspects of it.
"We take the data disclosed by state governments and assign industry codes to the donors so that you can figure out how much money is coming from a particular industry, like real estate or health care insurance," she said.
Additionally, the organization standardizes the names of donors because Roth Barber said one entity may donate to multiple candidates and can appear in state data in a variety of ways.
Standardizing and coding can also help to make it easier to compare election races.
"Florida's gubernatorial race has attracted X amount of dollars, is that a lot?'" Roth Barber said. "How much have they raised in the past and how much do other gubernatorial races across the country cost, typically?" We provide both an historical and geographical perspective about the money being spent."
FollowTheMoney.org also provides its own analysis of the data and produces numerous reports of its own to help voters make sense of all the information.
State Scorecards Help Increase Accountability
In the US, each state has its own laws regarding public disclosure of political campaign funding. Some states have a high level of transparency and accessibility to funding data, while others do not have laws in place that make the information readily available to the public.
In addition to its role in providing information to the public, FollowTheMoney.org assigns each state a disclosure scorecard with a letter grade. The grades  (A, B, C, D, F) reveal how well or poorly they are doing to make thorough and accurate data accessible to the public.
Roth Barber said her office has had positive feedback from state agencies regarding the scoring process, even if the state in question receives a bad grade.
"If a state gets an F on disclosure, you might think that an agency would be frustrated. But agencies actually thank us, because they can then demonstrate to their state legislature that they need stronger disclosure laws," Roth Barber said.
The state agencies can then take steps to strengthen their laws and hopefully improve their score while doing a better job of serving the public.
The scorecards can also be used by states to assess how they compare with neighboring states on public disclosure.
Donors Can Still Hide Their Campaign Contributions Through Independent Spending
Although FollowTheMoney.org does what it can to promote transparency in campaign finances, there are ways around the public disclosure process.
According to Roth Barber, if donors want to hide their political finance ties, they can do so through independent spending.
"So, if a well-heeled donor or company wants to spend a lot of money to influence an election but does not want their fingerprints all over it they can just give to an independent spending committee," Roth Barber said. "They could give to or create a 501(c)(4) because it's not going to be disclosed."
She said FollowTheMoney.org receives a couple of phone calls per month from campaign donors asking to have their contribution removed from the site.
"Unless the information is incorrect and they can prove to us that it's incorrect by having the donation recipient file an amended report, that's public information and people have the right to know who contributed what and when, so we don't take it down," Roth Barber said.
It's Important to Follow the Money All Year Round
Of course, even folks who aren't the most politically minded pay closer attention to politicians, causes, and campaign finances during election season. And while election season is their busiest time of year, Roth Barber pointed out that the value of the data provided by FollowTheMoney.org lives long beyond Election Day.
"We always try to encourage people to follow what's happening in their state legislature and take advantage of the tools at FollowTheMoney.org to see if the money raised by lawmakers in the previous elections has any bearing on the decisions they are making in the legislature," Roth Barber said.
Their MyLegislature tool makes it easy to follow this process. The resource breaks down data state-by-state from 2015 to 2018. Users can then further access more specific data by breaking it down into categories that include lawmakers, legislative leaders, top contributors, recent giving by party, and more.
FollowTheMoney.org also has an abundance of other tools, reports, research, and graphical data to help the public get a variety of the most complete campaign finance information possible.
Roth Barber said the majority of FollowTheMoney.org's funding comes from various foundations, but it gladly accepts individual donations. If you want to show your support for the great work the site is doing, visit FollowTheMoney.org to make a donation. She added that donations from corporate entities or political party candidates are never accepted.
While I imagine my mailbox will eventually be overflowing with political mailers in the coming months, it's reassuring to know that a resource like FollowTheMoney.org is there to help make sense of it all.
Advertiser Disclosure
CardRates.com is a free online resource that offers valuable content and comparison services to users. To keep this resource 100% free, we receive compensation for referrals for many of the offers listed on the site. Along with key review factors, this compensation may impact how and where products appear across CardRates.com (including, for example, the order in which they appear). CardRates.com does not include the entire universe of available offers. Editorial opinions expressed on the site are strictly our own and are not provided, endorsed, or approved by advertisers.