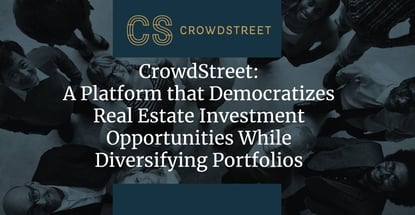 In a Nutshell: Once limited to the most elite of investors, commercial real estate is now becoming available to a broader audience thanks to CrowdStreet. The platform allows accredited investors to diversify their portfolios by investing in individual projects or funds for as little as $25,000. Investors who are new to the commercial real estate asset class can feel confident knowing CrowdStreet's team of professionals carefully analyzes every project it approves to appear in its Marketplace. Conversely, CrowdStreet allows developers to take advantage of its technology to raise capital through its public Marketplace or through their own private investors.
Budgeting, saving, and investing are a few simple guidelines to follow when it comes to living your best financial life. And with the technology available today, consumers have more ways than ever to do all three.
In recent years, fintech startups have helped bring more investment opportunities to the average person via platforms with simple interfaces and by lowering or eliminating many fees traditionally associated with trading.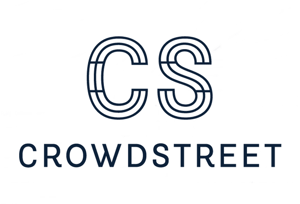 Nevertheless, commercial real estate (CRE) investing has remained in a more elusive and exclusive class of investments until now.
CrowdStreet is helping to democratize commercial real estate investing through its convenient platform that puts real opportunities in the hands of accredited investors.
"Going back in history, commercial real estate investing has basically been a — quote, unquote — country club activity," said Brent Hieggelke, CrowdStreet's Chief Marketing Officer. "If you weren't in the right circles with real estate developers, you didn't get the opportunity. You just didn't have access to it."
The idea for CrowdStreet arose from the Great Recession when the company's founders — Tore Steen and Darren Powderly — realized the value of diversifying investments outside of the stock market. And with the creation of the JOBS Act, the duo envisioned a new way to invest and raise funds in the commercial real estate world.
"The JOBS Act basically made it legal for developers to solicit investment in their offerings, which is what gave birth to CrowdStreet," Hieggelke said. "There was this ability to create a marketplace where we can match offerings with investors who might be interested in those offerings."
Since CrowdStreet launched in 2014, the company has posted over 360 projects on its Marketplace and has raised more than $800 million from thousands of investors, he said.
Commercial Real Estate Investments Can Play an Important Role in Diversification Strategies
Hieggelke discussed the benefits of investing in commercial real estate, noting that it can provide returns at almost double the stock market when viewed over a 20-year period.
"And it can be less volatile because it's not subject to the same ups and downs of the stock market's publicly traded equities," he said.
CrowdStreet indicates a total average annual return rate of 25.5% across all fully realized deals, according to the company website. The company believes markets are stronger when they are more accessible, transparent, and efficient.
"We also believe the economy is strengthened when real estate developers and operators are less dependent upon traditional capital markets to fund projects, have greater access to capital and spread investment opportunities and risk across a larger pool of investors," according to the website.
Hieggelke said commercial real estate — a multitrillion-dollar industry — is the third-largest asset class following stocks and bonds. And following the theory that a good investment portfolio will be composed of diverse types of investments, commercial real estate is an important consideration in this strategy.
"It's not to say that it's better than any other asset class, but it's a really important third leg of the stool that people should consider looking at," he said.
Additionally, many of the top investment managers in the world who handle massive pension funds and endowments worth millions of dollars commonly maintain 20% to 30% of their investments in commercial real estate, according to Hieggelke.
"When you look at what most professional investors in the world are doing, they're putting a big chunk of their portfolios into commercial real estate," he said. "It's just foundationally wise to have diversification, and to have something that's diversified and not highly correlated with the stock market."
CrowdStreet's Investment Opportunities are Curated by a Team of 16 Commercial Real Estate Professionals
Commercial real estate is a very complex investment asset, Hieggelke said.
"Just like anything, it's important to know the ins and outs of how the system works," he said. "And there are lots of variables to consider. You've got the sponsor — who's the developer of the project — you've got the project itself, and other considerations like what submarket is it in, what are the growth rates, what's the business plan on the building? There's so much to know."
It can all be a bit daunting to new investors, Hieggelke said — and that's where CrowdStreet's unique expertise comes in.
"We have an investment team currently made up of 16 professionals from commercial real estate who basically dig into each potential project in detail," he said. "They go through the sponsors and the sponsor's track record."
The team also works to understand each project's goals, analyze the comparables for each project, read through business plans, validate assumptions, and much more.
"We call it a quality control process," Hieggelke said. "We go through as many details as we can to determine the value of each project. Basically, out of every 100 projects that we encounter, about five of them make it onto the CrowdStreet Marketplace."
He explained that CrowdStreet isn't endorsing one project over another or even saying they are good investments, but by posting them on the platform the company is saying that its team has researched the project and they've determined it's worth presenting to investors on the Marketplace.
"That's a ton of research available for the investors," Hieggelke said. "For somebody new to these investments, that provides massive value."
CrowdStreet investments are open to accredited investors, per federal guidelines, Hieggelke said. And most of CrowdStreet's projects require a minimum $25,000 investment.
How Companies Can Use the Platform to Raise Capital
On the other side of the commercial real estate equation — and the CrowdStreet platform — lie the companies seeking to raise capital with the help of investors.
CrowdStreet provides a single platform for raising capital and securely managing investors, according to the website. And sponsors can select to raise funds online through the CrowdStreet Marketplace or use the company's white-label portal to raise funds with a private network of investors.
"Our Marketplace is one of the largest and most active direct-to-investor marketplace for commercial real estate investing," according to the company. "This model, preferred by our investors, allows for direct access to individual investors resulting in more control and lower long-term cost of capital."
With CrowdStreet's active online community of more than 71,000 individual investors, projects gain significant exposure on the platform's Marketplace.
CrowdStreet also helps companies structure deals with the right terms to maximize investor acquisition while meeting their capital raising goals, according to the company website. And it will also support projects through marketing campaigns.
"Our team takes your investment documents and builds a media-rich offering page to attract and convert interested investors into active offers," according to the company. "Through hosted webinars, emails and advanced digital targeting, CrowdStreet will increase your offering visibility to the right audience."
And CrowdStreet allows those who prefer to raise funds in their own private networks to tap into the same technology powering its public Marketplace.
"Your private portal allows you to invite existing or new investors to view your offerings, automate the transaction process, easily raise funds online, and increase deal flow," according to the website. "And you can fundraise online with confidence, CrowdStreet maintains an audit trail of all documents and fundraising activity."
Newbies Can Begin Their Commercial Real Estate Education at the CrowdStreet Website
Hieggelke said that if somebody has investable dollars, is an accredited investor, but is not investing in commercial real estate, they likely don't understand it or haven't taken the time to learn about it yet.
But for those who want to learn more before ponying up investment dollars, he recommends that they visit the CrowdStreet website and see what the platform has to offer.
"Come to the CrowdStreet Marketplace and start looking at the deals and the different options — all that is free to look at," Hieggelke said. "If investors don't find a particular deal they like, or they don't know which deals to pick, a lot of investors end up putting money into a blended portfolio — that's an easy decision for them to get to."
Advertiser Disclosure
CardRates.com is a free online resource that offers valuable content and comparison services to users. To keep this resource 100% free, we receive compensation for referrals for many of the offers listed on the site. Along with key review factors, this compensation may impact how and where products appear across CardRates.com (including, for example, the order in which they appear). CardRates.com does not include the entire universe of available offers. Editorial opinions expressed on the site are strictly our own and are not provided, endorsed, or approved by advertisers.