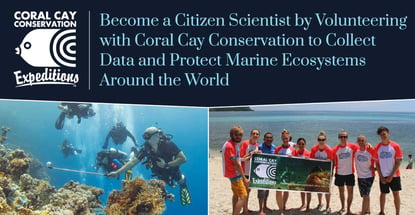 In a Nutshell: With coral reefs dying at an alarming rate, Coral Cay Conservation is doing its part to sway the momentum through its research and actions. The organization has worked all over the world and is currently focused on establishing and safeguarding marine protected areas in the Philippines. Volunteers can join the organization to participate in research that directly impacts the actions of Coral Cay Conservation and local governments to protect and sustain reefs. If volunteers do not have diving experience, the organization will train them as part of their training program, which also includes identifying fish, invertebrates, and substrates.
Coral reefs are beautiful underwater wonders that host some of the most diverse marine ecosystems on the planet. And they are dying. Rising ocean water temperatures have caused significant "bleaching" events in recent years on Australia's Great Barrier Reef. And other human activities have damaged other reefs around the world.
For more than 30 years, Coral Cay Conservation has been working to combat damage to coral reefs, restore their ecosystems, and bring about all the positive benefits — to both oceans and communities — that come with coral reefs.
"Providing resources to help sustain livelihoods and alleviate poverty through the protection, restoration, and management of coral reefs and associated ecosystems​" is how the organization puts it on its website.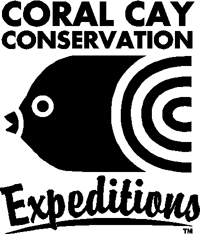 But Coral Cay Conservation isn't just another group of scientists working in siloed conditions and presenting theoretical solutions to other academics. The organization allows nearly anyone to volunteer and help collect real-world data that is used to create marine-protected areas, restore reefs, and benefit communities around the world.
"When the organization was founded, the idea was that anyone could collect real, effectual, impactful data," said Tessa Dawson, Volunteer Coordinator for Coral Cay Conservation. "That's where this idea of the citizen scientist came about."
Dawson explained that citizen scientists don't have to have scientific backgrounds to participate in the organization's conservation efforts. Coral Cay Conservation would provide the knowledge and training needed to contribute to its efforts, oftentimes imparting lifelong skills along the way.
The organization has had a number of volunteers come through its program who changed their career paths to become marine biologists or applied their experiences to careers involving conservation.
Coral Cay Conservation began as a nonprofit based in Belize and has since worked all over the world. Today, the company is owned by the Lifesigns Group, Dawson said, but still functions very much like a nonprofit in its values and philosophies.
Establishing and Maintaining Marine Protected Areas in the Philippines
"Over the years, we've worked in a huge number of different countries and been involved in a number of very large efforts," Dawson said. "We assisted with the first large-scale marine reserve in Cambodia and were involved in the establishment of the UNESCO World Heritage Site in Belize."
She said the organization is currently based in the Philippines where it is working closely with the local government and communities, and has succeeded in creating 11 locally managed Marine Protected Areas (MPAs) with a view to creating a network of MPAs in Sogod Bay.
She said Coral Cay Conservation has been largely focused on efforts in the Philippines in recent decades.
"With so many islands, the possibilities of working in the Philippines are huge," she said. "We've been on our current site since 2008. We kind of want to work there forever. It's got a huge amount of promise and the Filipino people are extremely positive about marine protected areas."
The Southern Leyte Coral Reef Conservation Project (LRCP) was launched in the Philippines in 2002. The project is currently in its third phase, and its goal is to secure the benefits and services of coral reef systems, such as food security and supporting the livelihoods of those who live in the region.
This is accomplished by enhancing marine biodiversity and helping to alleviate poverty "through the evaluation, protection, and restoration of coral reefs and associated ecosystems in the province of Southern Leyte, the Philippines," according to the website.
"Up to 2018, a total of 11 MPAs were designated, ranging from 5 to 78 ha (hectares)," according to Coral Cay Conservation. "Efforts were further increased in education and outreach initiatives within local communities and schools with training programmes implemented through open days, workshops and CCC's Scholarship Programme."
With Phase III, the organization will quantify the effectiveness of its previous efforts and develop a critical understanding of routes to further protection, restoration, and enhancement in the region.
Dawson pointed out that Coral Cay Conservation is open to working anywhere in the world. She said they often go where they are invited by international organizations, local governments, or national governments who hear about the organization through word-of-mouth.
With No Diving Experience Necessary, Volunteers Work at the Forefront of Marine Conservation
Dawson said she is often asked what the typical Coral Cay Conservation volunteer is like, but she said there is not a typical volunteer. People who have participated in the organization's efforts over the years have come from a variety of different backgrounds and age groups.
However, volunteers must typically be at least 18 years old and know how to swim. But they do not need to have any research or diving experience. Coral Cay Conservation provides volunteers with all the necessary training, including dive lessons from its on-site scuba instructors.
"On the first few weeks of a project with us, volunteers tend to follow a very similar pattern," Dawson said. "The first couple of weeks or so are quite intensely scheduled to ensure that people get the training they need to help protect coral reefs in the Philippines."
This includes the PADI Open Water Diver course and continues into advanced open water training. Next, the newly trained divers are joined by volunteers who already have diving experience to undertake Coral Cay Conservation's skills development program, Dawson said.
"That's basically a program that we've devised that teaches people about coral reef ecology and about what Coral Cay is trying to do in-country; and about the difficulties and impacts that the Philippines faces," she said.
Volunteers are also taken through a species identification course where they learn how to identify a variety of fish, invertebrates, and substrates.
"They take tests to ensure that they are competent and are able to identify all the key species necessary to the research," Dawson said. "And then they go through our survey protocol, where they learn how to effectively collect scientifically accurate data."
Coral Cay Conservation also offers internship opportunities, independent degree research, and even scholarships to qualifying Filipinos.
How the Organization Conducts Research and Implements Real-World Actions
Once volunteers have received the required training, Coral Cay Conservations turns them into citizen scientists who can then go out and help deliver real-world results to its conservation efforts.
"The volunteers conduct underwater surveys, which are done by scuba diving," Dawson said. "Basically, a four-person team dives down — usually at six meters and at 12 meters deep — and each person on the team fulfills a different role."
One person will be responsible for observing and identifying fish while another looks at invertebrates, Dawson said. Another takes note of the substrate, and the fourth member collects information on visibility, temperatures, and other environmental data.
"By looking at specific key species, we can work out how a reef is performing — whether a reef is performing as it should or whether it needs to be more sustainably managed," she said.
The observations and data collected by volunteers are used to develop key strategies and determine the future actions of Coral Cay Conservation.
"Throughout Phase II of the LRCP, a total of 28 independent Barangay coastal waters were surveyed, resulting in 21 recommendations for various marine spatial management actions being delivered to local governing units, regional government, and local stakeholders," according to the website. "Of those 21 recommendations, 52% were acted upon, leading to the generation of 11 protected areas being established within Sogod Bay."
This is just one of many examples of how Coral Cay Conservation's volunteer research directly impacts real-world actions that go toward protecting and sustaining coral reefs, and benefiting communities.
The organization currently makes its most recent research publications available on its website but anyone interested can send a request for copies of earlier research, according to the website.
For those interested in joining Coral Cay Conservation in its efforts, the organization provides a wide variety of ways in which volunteers can participate. It offers the program dates and costs (which can vary widely, depending on the length of a volunteer's stay and other factors) on its website.
Volunteering for Coral Cay Conservation is a great option for those looking to gain valuable experiences and skills for a career in conservation or those who are simply interested in giving back in a way that delivers measurable real-world impact.
Advertiser Disclosure
CardRates.com is a free online resource that offers valuable content and comparison services to users. To keep this resource 100% free, we receive compensation for referrals for many of the offers listed on the site. Along with key review factors, this compensation may impact how and where products appear across CardRates.com (including, for example, the order in which they appear). CardRates.com does not include the entire universe of available offers. Editorial opinions expressed on the site are strictly our own and are not provided, endorsed, or approved by advertisers.