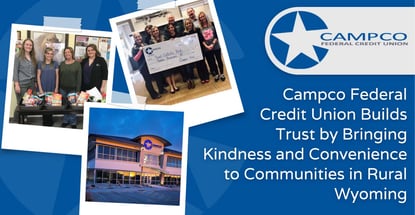 In a Nutshell: Campco Federal Credit Union started out serving teachers in Campbell County, Wyoming, and later expanded to serve the entire community. But the institution never lost sight of its educational roots. Today, the credit union provides financial literacy workshops, offers classes for both youth and adults, and participates in dozens of community events each year. The institution's mission is to put its community first, which is reflected in its thriving member base. For its dedication to the Wyoming residents it serves, Campco Federal Credit Union has earned our Editor's Choice Award™ for Community Commitment.
Every financial institution faces its own set of unique challenges. Some struggle with brand awareness, while others wrestle with economic downturns or technology issues that affect customer experience.
But Campco Federal Credit Union in Gillette, Wyoming, turned its biggest challenges into some of its greatest strengths.
Campco FCU serves more than 14,000 members in a rural area that is heavily dependant on the energy industry. And many of those members work long shifts, which can make it difficult for them to visit a branch during regular business hours.
And some of the surrounding areas are so remote that traveling to a bank branch could take an hour or more each way.
Campco FCU saw those problems and came up with solutions that helped all of its members. The credit union's three branch locations nearly 100 miles apart, are in Campbell and Sheridan counties. So it also ramped up its web capabilities to help members who relied on online banking services because they couldn't make it to a branch.
"We're very community-oriented," said Jesse Jacobs, AVP of Operations at Campco FCU. "Since we're so spread out, we focus heavily on technology so that people can communicate with us more easily."
That technology allows members to apply for loans, check account balances, and conduct other routine financial transactions online — at any time.
"We see lots of online loan applications come through at three or four in the morning," Jacobs said. "That's because those people are just getting home from work at that time. We know that's a big need for those people, so we try to be available 24/7 for them."
In many ways, Campco FCU's work never stops. In addition to its always-on internet banking, the institution also conducts financial literacy classes for youth and adults and supports many community charities and other organizations.
"We focus on building trust in the community and representing ourselves well," Jacobs said. "We want our buildings to look like a postcard that you'd be proud to send to somebody."
That dedication to service and pride in its work are just a part of the reason Campco FCU has earned our Editor's Choice™ Award for Community Commitment.
Random Acts of Kindness Program Makes a Difference
Campco FCU doesn't limit its community service to members. Through its monthly Random Acts of Kindness program, the institution and its employees serve various organizations throughout its footprint.
Past participation has included donating money to local charities, as well as popping into area grocery stores to buy food for families. Jacobs said that program is dear to her heart because she helped found the campaign.
"We target a community group at least once or twice a month and do something randomly nice for them," Jacobs said. "It's so important to us to find different groups, help our employees engage with them, and share it."
One recent act of kindness spurred good feelings all around Gillette when the credit union's employees wrote cards for people and placed them on car windshields around town.
"Someone in the community posted on their Facebook page that they were going through a hard time after losing a family member," Jacobs said. "They said that they walked out to their car and found the note, and it instantly made their day better. That's what we're trying to do."
Campco FCU also works with several Wyoming-based charities to sponsor events and run fundraising efforts for various causes.
"We partner with our healthcare foundation to raise money and awareness for cancer issues," Jacobs said. "We have various events and have increased our contribution totals every year."
The care that Campco FCU puts into its efforts also helps the institution grow its membership base, which increases the number of people it can impact. It also allows its employees to have a little fun, as evidenced by its growing Facebook presence and regular video challenges to other credit unions.
"We recently did the 'Git Up Challenge' and got several other credit unions involved," Jacobs said. "For every like, share, or comment we got on social media, we donated $10, up to $1,500. We raised our full amount within 24 hours, which was cool."
Financial Literacy Resources Help Residents of All Ages
At its core, Campco FCU is all about education. Perhaps that comes from the institution's early roots when it served members of the Campbell County Education system as Campco School Employees Federal Credit Union.
"Our original membership was tied to the education system," Jacobs said. "We've since changed to serve the whole community, but we still emphasize our original foundation. Whether that's providing financial literacy courses or anything else we can do to aid in education."
Campco FCU offers a robust set of online learning modules where anyone can study vital financial topics. The credit union also conducts workshops and classes for children to help them lay the groundwork for a healthy financial future.
"We teach them about creating a savings account and touch a little bit on credit," Jacobs said. "It's a basic course, but it's very engaging and is impactful for the kids who take it."
Part of the coursework uses Visa's Practical Money Skills website, which provides credit unions with access to financial literacy resources they might otherwise struggle to obtain. And Campco FCU conducts courses through Gillette's Council of Community Services.
"The council has its own programs set up, but may not have experts in every topic," Jacobs said. "That's when they'll call us to help teach about topics like credit scores or buying your first car."
The institution also understands how important it is for people to never stop learning. That's why it works closely with members who have made financial mistakes in the past, but want to work toward a brighter future.
"Our loan department tries to work with subprime borrowers because we know they're underserved and need help," Jacobs said. "Our best success stories are ones where people start with a very low credit score, and we help raise their score."
Campco FCU: Sharing Its Success with Community Members
Campco FCU contributes to its community and runs thriving fundraising campaigns, but it also shares its successes with members.
"A lot of credit unions don't share their success," she said. "As a movement, we need to do that and collaborate so that our mission stands true."
Part of Campco FCU's mission revolves around volunteerism. While the institution doesn't require employees to donate time to local causes, Jacobs said most do it because they want to.
"Our culture is very empowering," she said. "If people have ideas, we're willing to try them. We do everything we can to help our employees find ways to volunteer, get on boards, and take part in other community-oriented activities."
And quite often that volunteer work takes place during business hours. That's why Campco FCU adjusted its work environment to universally train employees. That way, associates can help out in various parts of the office when an employee is out working in the community.
"You never hear anyone say 'We're short-handed today' or 'We don't have enough loan officers,'" she said. "That's because we're all trained to pitch in. So if someone wants to volunteer during the day, we're all for it."
Whether it's working with charities or providing needed financial products in its three branch locations, Campco FCU understands the importance of community. That's why it strives to provide enterprise-level service to the people of rural Wyoming.
Advertiser Disclosure
CardRates.com is a free online resource that offers valuable content and comparison services to users. To keep this resource 100% free, we receive compensation for referrals for many of the offers listed on the site. Along with key review factors, this compensation may impact how and where products appear across CardRates.com (including, for example, the order in which they appear). CardRates.com does not include the entire universe of available offers. Editorial opinions expressed on the site are strictly our own and are not provided, endorsed, or approved by advertisers.