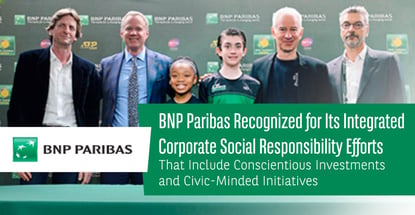 In a Nutshell: In recent years, more corporations have developed corporate social responsibility (CSR) policies that take into consideration factors such as sustainability and the impacts of their actions. BNP Paribas — one of the world's largest banks — takes its CSR efforts seriously by embedding them in the institution's investment and financing strategies. It also fosters an environment of diversity and inclusion and encourages its employees to take leading roles in its CSR efforts, as well. For its impressive efforts and accomplishments in these areas, we are recognizing BNP Paribas with our Editor's Choice™ Award for Corporate Social Responsibility.
The 1987 film, "Wall Street," summed up the corporate sentiment of the 1980s with the memorable quote by the character Gordon Gekko: "Greed, for lack of a better word, is good."
Now, more than 30 years later and following the 2008 financial crisis, times have changed. Shareholders and consumers have seen the downside of the unbridled pursuit of profit at all costs. They are becoming more conscious about what kind of businesses they support and which businesses they invest in.
Many corporations are coming around as well, adopting corporate social responsibility (CSR) practices that tend to focus on social, economic, and environmental factors that would have made Gekko cringe in his power suit.

In recent years, BNP Paribas — one of the largest financial institutions in the world — has been setting an example for other corporations with its corporate social responsibility efforts.
The long-running institution started out in the 19th century as two separate French banks before merging in 2000 to become BNP Paribas. As of 2017, the bank was ranked the 8th largest in the world with $2.19 trillion in assets, coming in just ahead of Bank of America.
That same year, BNP Paribas created its Company Engagement department with the goal of becoming a leader in sustainable finance and social and environmental responsibility. In the intervening years, it has demonstrated its continued dedication to these efforts in numerous ways.
Not only has the company developed multiple CSR initiatives that reach across its global network, but it also encourages diversity and inclusion, and has developed policies around being more conscious of the types of businesses it finances.
Because of these outstanding efforts, we are recognizing BNP Paribas with our Editor's Choice™ Award for Corporate Social Responsibility.
We recently had the opportunity to learn more about the institution's CSR efforts when we spoke with BNP Paribas Americas' Chief Sustainability Officer, Hervé Duteil.
Integrating Corporate Social Responsibility Into Core Business Practices
Duteil has been integral in shaping BNP Paribas's corporate social responsibility identity in the Americas. And he is uniquely positioned to do so.
Duteil, who is originally from Paris, began his career with BNP Paribas more than 20 years ago. He spent the bulk of that time in New York, where he specialized in trading derivatives and managing capital market activities.
His long history of being hands-on in the finance and trading aspects of the business set him up for a singular understanding of how CSR and investment banking can happily coexist and ultimately make the world a better place.
"As you can imagine, as a trader taking a position as head of CSR, I brought a mindset that is really rooted in business," he said. "And that mindset was to impact society through what makes up the core of our business activities and not through ancillary ones."
For Duteil, corporate social responsibility means going beyond simply donating surplus funds or volunteerism — both of which he supports, he said. It means impacting society and markets as much as possible through the Bank's business model and actions on a daily basis.
"If we're not doing that, then we're missing out on our primary corporate social responsibility," he said.
And what does the institution do on a daily basis?
"The core of our business in New York, for instance, is investment banking, which is a host of varied activities, such as derivatives and revolving credit facilities," he said. "We finance corporations and provide institutional clients with investment solutions, ranging from plain vanilla bonds to more structured securities."
But these actions are where Duteil sees BNP Paribas being able to make a difference on a global scale.
Maintaining Sustainability with a "Do No Harm" Policy and Enhancing Areas in Which the Bank Invests
"The first thing we do is safeguard the impact of what we do," Duteil said. "So that's assessing environmental and social risk associated with the clients we could potentially serve. We want to make sure that the clients we finance are contributing to a better future."
This means categorizing certain industries, such as mining, nuclear energy, conventional oil and gas, and a number of others as sensitive sectors. The categorization helps determine the specific policies BNP Paribas follows to decide how or whether it will support them.
The bank has announced, for example, that it is ceasing all finance and investment activities in the tobacco industry. Other industries aren't as clear-cut, and BNP Paribas analyzes each one individually.
For example, coal-fired power generation can contribute to the economic development of some countries and provide access to affordable electricity that would otherwise be unavailable.
At the same time, the bank acknowledges that "these countries must strike a balance between the growing demand for access to electricity and economic development, as well as the need to reduce CO2 emissions resulting from human activities — an essential step in limiting climate change."
BNP Paribas's policies on defense, palm oil, wood pulp, nuclear energy, coal-fired power generation, agriculture, the mining industry, and the tobacco industry can all be found on its website. The overarching priority is to do no harm, Duteil said.
Included on the same page is the company's policy on the unconventional oil and gas industry.
"BNP Paribas accelerates its support of the energy transition and announces a new global financing policy with regard to the exploration, production, and transport of unconventional hydrocarbons," according to the website. In addition, the Bank decided to mobilize €100 million of venture capital available to clean techs.
Duteil said the institution also looks for finance opportunities in what it considers to be positive effect businesses. This could translate to enhanced financing products for the client, such as reduced costs of funding and tapping into sustainability-minded investors.
"We want to push the envelope when it comes to having an impact through financing and the creation of investment products," he said.
One example is BNP Paribas's role in launching the first social impact bond in Connecticut, which aims to provide funding for the in-home treatment of parents dealing with substance abuse.
"The core of the treatment focuses on promoting positive parent-child interaction, developing emotional attachment, increasing parental awareness and understanding of child development, and ultimately sustaining parents on a path to recovery," according to BNP Paribas.
More recently, the bank participated in a social impact bond benefitting veterans in New York and Massachusetts.
Nurturing Employee Engagement to Positively Impact Communities Around the Globe
BNP Paribas is clearly taking the initiative to make positive impacts through its investment and finance choices, but Duteil said the institution actually doesn't want to do all the work itself.
"Instead, we want to make leadership opportunities for employees," he said. "We've set up working groups that have led to the implementation of some positive impact projects, including lending to microfinance institutions."
The U.S.-based working groups have also helped lead the institution into CSR-oriented partnerships with a number of nonprofits, Duteil said.
"This year we had a group of employees who managed to implement a dream five years in the making," he said. "We sent five volunteers for two weeks to one of the largest orphanages in Peru."
The orphanage hosts between 1,200 and 1,300 children from approximately ages 4 to 20 years old, he said. The BNP Paribas volunteers were able to bring their professional skills for sustained long-term impact, such as creating a website for the organization, formalizing accounting, and upscaling their fundraising efforts.
He said it was a very moving experience for the volunteers, who actually stayed at the orphanages with relatively meager accommodations and lacking basic amenities such as running water.
BNP Paribas also maintains a strong policy of diversity and inclusion inside and outside of the company.
And on civic responsibility: "The Group has a strong stake in society, through initiatives and projects which take its banking role one step further for the good of society: special assistance for underprivileged neighborhoods and marginalized areas, microcredit, support for charitable organizations and social economy enterprises," according to the website.
Going Beyond Green Bonds and Focusing More on Biodiversity
Duteil said BNP Paribas is constantly monitoring developing environmental and social issues and thinking about how it can develop products or policies that bring new solutions.
"The last few years, the big product of focus has been green bonds. Everyone talks about green bonds, but to some extent, they have some limitations," he said. "I think the focus is now going to switch more to supporting activities that are not green but can become less brown, as well as protecting biodiversity, on issues ranging from plastic pollution, deforestation, overfished marine areas, etcetera. Transition and Conservation will become the new topics."
Duteil believes this is the right path for the finance world to go down because it will be able to address a much broader set of challenges to see a clean, healthy planet in the future.
Times are changing and corporations and investors are realizing that sustainable practices and profitability can go hand-in-hand. Even Gordon Gekko, in the 2010 "Wall Street" sequel, has softened over the years after serving prison time for insider trading. Early in the film, he is shown on TV pitching his new book, "Is Greed Good?"
Advertiser Disclosure
CardRates.com is a free online resource that offers valuable content and comparison services to users. To keep this resource 100% free, we receive compensation for referrals for many of the offers listed on the site. Along with key review factors, this compensation may impact how and where products appear across CardRates.com (including, for example, the order in which they appear). CardRates.com does not include the entire universe of available offers. Editorial opinions expressed on the site are strictly our own and are not provided, endorsed, or approved by advertisers.