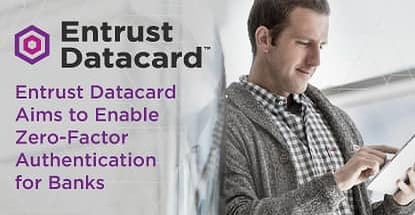 In a Nutshell: Financial customers are regularly treated to new technology and banking features that provide speed and convenience and make maintaining an account easier than ever. But with new services comes added hoops customers must jump through to prove their identity before accessing an account. Multi-factor authentication usually requires providing passwords, answering secret questions, supplying facial and fingerprint scanning, or typing in codes sent to an email or phone number. Entrust Datacard is a global leader in authentication services and creates technology with the ultimate goal of eliminating all of the factors surrounding account login. Many of Entrust Datacard's authentication solutions run in the background of a bank's mobile application and analyze up to 200 parameters to create a frictionless and frustration-free experience for customers. //
Anyone who regularly uses their bank's digital products and services can tell you that there's never been a better time to be alive and saving money.
The wealth of technology — most of which evolves and improves on a near-daily basis — makes conducting routine transactions easy and fast. From a cellphone located almost anywhere on the planet, customers can check and transfer funds, apply for a loan, or deposit a check without ever talking to another human being.
But that convenience comes at a cost that isn't measurable in dollars and cents. Widespread access makes accounts vulnerable to attack and fraud and requires tight security measures from financial institutions. Customers once accustomed to typing in a simple password to access their account now must answer security questions, swipe their thumbs along a secret pattern, or type in security codes sent to a linked email address. All these things take time and patience, two things most people today have little of.
The extra steps, also known as factors, customers must take to sign on to their accounts make up the steps in multi-factor authentication. Many Finserv companies have taken to adding two-factor authentication to their security procedure, while some have gone as far as adding three factors to the process. If Entrust Datacard has its say, login attempts of the future will require zero factors.
Entrust Datacard is a security solutions provider, whose extensive technology products solve issues related to the issuance of financial payment cards, e-passports, and secure access to financial accounts and networks for financial institutions, national governments, and corporate enterprises.
In all, Entrust Datacard issues more than 10 million identity and payment credentials daily and manages billions of transactions annually.
"Our work with financials goes back to the late '70s," said Ryan Zlockie, Global Vice President of Authentication. "As technology has gotten more involved, the conversations are no longer card-centric as much as they are identity-centric. Sometimes a card is involved, and sometimes a card is not involved. Still, the services and need to pay for something or deposit funds remains."

Entrust Datacard's security solutions provide market-leading authentication services for both internal and external use, with many of the top global financial brands already using the technology to protect sensitive company and client data.
"Our thought on enablement is to hit security from all aspects — from internal threats to access to sensitive systems to protecting customer and sensitive bank data," Zlockie said. "We also focus strongly on fraud detection to enable internet banking, mobile banking, and the new omnichannel ways that banks are trying to communicate with their customers."
The company's authentication suite has the ability to analyze more than 200 parameters in the background during an authentication process to determine if the action taking place is normal and occurring as expected from the user. If everything doesn't check out, the software can offer a step-up authentication prompt to confirm the user's credentials.
The tactics are tailored to provide a frictionless customer experience that increases account engagement and raises satisfaction scores.
Taking the 'F' Out of Authentication
There's a saying at Entrust Datacard that's pretty catchy. The company's main goal behind its authentication suite is to take the 'F' out of authentication. Let your mind play with that for a moment.
"If you go to your customers and tell them that you've increased security and added multi-factor authentication into your online banking world, they'll likely cringe," Zlockie said. "On one hand, it's good to have increased security, but on the other, it's a pain to go through the extra steps. Most people type in the wrong numbers and you have to do it multiple times or they forget the answers to their secret questions."
Zlockie said the multi-factor process often leads to friction and frustration — the two most-hated F-words in the Entrust Datacard lexicon.
"We're putting a lot of our investment dollars into how we can make security smarter and more transparent so we can add all the security without degrading the user experience," Zlockie said. "We want to make it easy, whether it's for a bank employee or the bank customer."
Entrust Datacard's solutions are easy for institutions because they are deployed on a single platform that works to solve all of the authentication problems banks and credit unions face. Zlockie said the time savings alone is significant since clients no longer have to juggle multiple solutions from multiple providers.
"We provide the answers to how you build more security around logging into internet banking, bill pay options, and all of the newer online options like remote check deposit and cardless ATM capabilities," he said.
Facial Recognition Among the Most In-Demand Tech Options
Zlockie said the authentication technology most talked about, and most requested by Finserv companies in the last year has been facial recognition. Users of newer smartphones, like Apple's iPhone X, are fond of using their face to sign on to their phone. Zlockie foresees a future when most consumers will be able to do the same to access their bank and investment accounts.
"What's really important right now is letting customers choose how they want to present themselves to the bank," he said. "This can be through fingerprint, password, or secret question and answer. For a majority of people, their face is a very easy way to authenticate."
Using the front-facing camera on almost any cellphone, an image of the phone holder's face can be taken in real time and compared to one previously taken and stored locally on the device. With a positive match, a digital credential on the phone can then be transparently sent to the bank to authenticate the user. The process can be repeated not only for login attempts but for any digital service provided by a bank.
"Facial recognition can be used to transfer money or sign for a transaction," Zlockie said. "Your face could be combined with a very easy to use mobile push acknowledgment for authentication. It's a really easy experience for the customer, who feels it's safe and secure."
While facial recognition isn't expected to completely replace all of the factors used to authenticate a sign-on attempt, it does provide a strong layer that, combined with other technology produced by Entrust Datacard, removes a lot of the friction from the user experience.
"Before the biometrics is even invoked, a lot of other security layers below it are being validated before we even ask for the face," Zlockie said. "The face is the last layer after a lot of other security checkpoints have already been passed."
Technology that Works Behind the Scenes for Better Results
While a consumer types their password, swipes a secret pattern, or scans their face, Entrust Datacard has systems running under the customer-facing layer of an application to be certain no fraud is taking place.
The depth and breadth of the authentication suite sets the company apart from others in the space and gives it a large market share in the security and authentication field. Zlockie said the company's future plans are to further expand its offerings increase user engagement and satisfaction.
"We want customers to have as close to a zero-factor security experience as possible so they can worry about whatever they want to do in their account," he said.
This customer-centric approach to security benefits institutions by taking the 'F' — friction and frustration — out of the authentication process while giving Finserv providers peace of mind in knowing that only authorized users are accessing accounts.
"If you build enough security and do enough of the right things around an identity, you get the ability to start conducting trusted transactions," Zlockie said. "Without that trust, you can't roll out new services or maintain current services because a lack of security, or the threat of a breach, stands in your way."
Advertiser Disclosure
CardRates.com is a free online resource that offers valuable content and comparison services to users. To keep this resource 100% free, we receive compensation for referrals for many of the offers listed on the site. Along with key review factors, this compensation may impact how and where products appear across CardRates.com (including, for example, the order in which they appear). CardRates.com does not include the entire universe of available offers. Editorial opinions expressed on the site are strictly our own and are not provided, endorsed, or approved by advertisers.