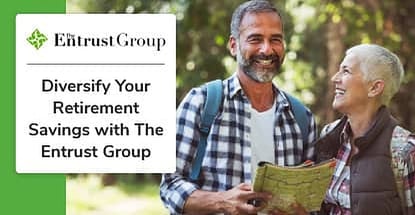 In a Nutshell: The Entrust Group has been helping everyday Americans take control of their retirement investments with self-directed IRAs for more than 35 years. From real estate to private lending to eco-friendly investments in solar and wind energy or biofuel — there are myriad investment options to explore when you're the one in control of your own IRA portfolio. The Entrust Group's investment professionals and Learning Center provide investors with the knowledge and the tools they need to diversify their portfolios and plan for the future of their funds. //
If navigating the world of retirement investing seems like a daunting task, know that you are not alone. John Paul Ruiz, Director of Professional Development at The Entrust Group, says that most Americans have no idea how many options are available to them when they set up their traditional and Roth IRAs.
The Entrust Group exists to lend a helping hand by shining a light on some of the lesser-known investment options that fall under the umbrella of individual retirement accounts, helping folks discover new ways to diversify their portfolios.
For instance: Did you know that it's possible to leverage an IRA to invest in real estate?
"Imagine if you had an apartment complex that you bought under a Roth IRA. Distributions from a Roth are tax-free, eventually. The moment you have a Roth for five years and you die — that provision makes all of your Roth IRAs tax-free. In other words, all of your beneficiaries are going to enjoy tax-free distributions from your retirement accounts," Ruiz said.
"So," he added, "imagine you were left an apartment complex which was purchased by someone who named you as a beneficiary. What if you had a stream of income based on the rent that apartment complex receives monthly, distributed to you on a tax-free basis for the rest of your life? Is that a powerful statement? That's built into the law and a lot of people don't know that."
Explore the Ocean of Retirement Investment Opportunities
For more than 35 years, The Entrust Group has assisted clients with record-keeping of what Ruiz calls "alternative investments" in their self-directed IRAs.
"Most of the time people think that they can invest their assets in some type of securities —stocks, bonds, mutual funds, or maybe privately held stock — but the investment world in the retirement space is actually open to a wider ocean," Ruiz said.
This "wider ocean" includes real estate investments like the aforementioned apartment complex; private placements in companies, stocks, land trusts, and more, and sustainable investments, including biofuel, solar energy, wind energy, and eco-efficient housing. In some cases, Ruiz said, even investments in precious metals — like silver, platinum, and palladium — are allowable by the IRS, and thus fall under the umbrella of IRA investment options.
"We are a platform provider that allows an investor to find their own investment. As long as it's allowable under an IRA, we will hold that particular investment under the name of their IRA, and hold it as a retirement plan asset [so that they] receive preferential tax treatment of those accounts," Ruiz explained.
Perhaps, Ruiz suggests, the investor has insider knowledge that compels them to invest in the "next Google or Facebook" — an example of a private placement investment that is, in fact, permitted within an IRA.
The Entrust Group acts as an administrator of the IRA. This gives the account holder the freedom to guide — or, in other words, self-direct — their own investments while ensuring that those investments, untouched by the IRA account holder, retain tax-deferred treatment as they grow under The Entrust Group's administration.
"In order for a retirement plan asset or investment to receive its preferential tax treatment, the IRA holder can't touch it. In other words, you have to put it in and allow for it to grow, tax-deferred. When it goes under your name or you touch it, it becomes taxable. That's why custodians and administrators very important," Ruiz said.
Become an IRA Expert with Entrust Group's CISP Certification Tools and Learning Center
Ruiz says that baby boomers, in particular, are becoming savvy to the wider ocean of investment opportunities available to them — but the landscape of retirement investment can be tough to navigate without a solid foundation of industry knowledge.
"There are about 78 million [baby boomers] born between 1946 and 1964. A lot of them invested in the stock market or mutual funds, sometimes not by choice, because those were the types of investments held in 401(k) plans while they were working," Ruiz noted.
"These individuals who are turning 60 are saying 'I can't handle another market crash. I know the market's doing well right now, but I want to put in an investment that I'm familiar with. I drive by this apartment complex every day. I wonder if it can be held under an IRA?'"
The Entrust Group's Learning Center is designed to help everyday folks educate themselves about the ins and outs of IRAs and the IRS so that they can become empowered to make smarter retirement investments.
"We have a school that prepares individuals to take the CISP [Certified IRA Services Professional] exam through the American Banking Association. It's a designation that certifies an individual has been vetted out as an IRA professional," Ruiz said.
"Mainly the education pieces we have are written by our people to talk about tax law. What's the difference between personal and a Roth IRA? Where do you look for guidance from the IRS? What pronouncements should you look at when engaging in this type of scenario?"
Answers to these questions and more can be found in whitepapers, FAQs, videos, blogs, and other resources designed by The Entrust Group in its Learning Center.
Learn How to Ask the Right Questions to Achieve Results
Ruiz says that one of the biggest pitfalls people encounter when they try to set up their retirement investment accounts is that they simply don't know how to ask the right questions of their financial and legal advisors.
"Sometimes, when they approach a CPA or legal advisor, they don't even know how to articulate their question. They don't know enough detail to be able to formulate what they're thinking, or to identify what they know or don't know," Ruiz said.
Although The Entrust Group does not position itself to give direct financial advice to individuals regarding their accounts, Ruiz said, "we try to educate, holistically, based on what our knowledge base allows" to provide investors with the knowledge they need to make their own informed decisions — or at least to communicate their questions, concerns, and desires to their CPAs and legal advisors.
"Some of these education pieces we have helped expose them to 'oh, aha! That's what that means. What about this?' We reserve the right to say, 'You know what, that would be a better question for your estate planner or legal advisor' — but we can arm them with the knowledge to ask the right questions," Ruiz said.
"The main type of feedback we've received from clients is, 'I kind of knew about this concept, but you've given me enough information that I could actually ask my tax professionals about it.'"
Learn today if opening a self-directed IRA might be the right choice for you with a free consultation from The Entrust Group.
Advertiser Disclosure
CardRates.com is a free online resource that offers valuable content and comparison services to users. To keep this resource 100% free, we receive compensation for referrals for many of the offers listed on the site. Along with key review factors, this compensation may impact how and where products appear across CardRates.com (including, for example, the order in which they appear). CardRates.com does not include the entire universe of available offers. Editorial opinions expressed on the site are strictly our own and are not provided, endorsed, or approved by advertisers.